Over the past few months, I have published a few of these Balance Sheet Bargain lists with the idea to explore this very basic filter set as a screen for value stocks. They have been published according to no particular schedule, and so judging performance and using the results to fine tune the screen has been hard to do. To make a more serious run at this, I plan to publish more frequently listing new stocks that join the list and doing a look back on the stocks previously mentioned. Once there is a track record of results, the screen can be modified and hopefully strengthened to find winning stocks.
Now for the results from last week. To judge the performance, and since we are looking for alpha here, I will use the SPY as a benchmark.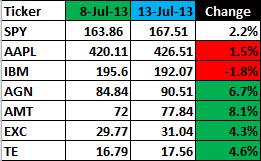 Last week, the SPY was up 2.2% and four of the six stocks handily beat it for the week, providing some much sought after alpha. Apple (NASDAQ:AAPL) and IBM (NYSE:IBM) underperformed, with IBM even losing for the week.
Since value investing is typically for longer than one week horizons, I will keep posting the performance so we can track the results.
The purpose of this screen is to identify strong companies with stocks that may have already, or very soon will be, bottoming. Trading stocks near the 52 week low carries higher risk, so this screen attempts to filter to the firms with solid financial foundations and therefore lowers risk. It might be loosely considered a value strategy.
So specifically, this screen looks for stocks with an average daily volume over 1 million, strong short term asset positions (quick ratio greater than one), the firm is profitable, the recent price is within 10% of the 52 week low, the price is greater than $5 (a threshold for many major investors and institutions), positive recent insider transactions (net purchases by the management team) and the firm pays a dividend (it is committed to returning shareholder value). In addition, to filter out stocks which are being targeted by short sellers and therefore carrying a higher risk, these stocks have low open short interest of the available float (<5%).
This screen yielded only 3 stocks this week - there were no new names and several of last week's names had enough upward price movement to take them off the list. For this review, I will exclude the two basic material stocks from the list, since these are being driven by global macro economics and are less likely to be a bargain by this screen's definition. Last week, two of the stocks made the screen - Freeport-McMoRan (NYSE:FCX) and Newmont Mining (NYSE:NEM).
IBM (IBM) makes the screen again this week with a 1.1 quick ratio, a 1.9% dividend and earnings scheduled for July 17th. IBM has a 52 week trading range of $181.85 to $215.90, so in some respects, to say it is within 10% of the 52 week low is true, yet the high is only within 18% above of the low. Still, this is a solid company with some downward price moves recently, and it may be ready for a bounce; however the price action this week did not follow through.
Now, for those who read last week's screen, you may ask, why publish the same information a second time? The answer is that every system or screen will from time to time yield no candidates. And sometimes doing nothing with your portfolio is the best action, albeit taking no action sometimes is the hardest thing to do. So as we continue to watch this screen evolve and decide if it really produces the alpha we seek, some weeks will tell us to hold steady.
Please share your thoughts on this screen - are there parameters that we should add, delete or modify ?
Disclosure: I am long AAPL. I wrote this article myself, and it expresses my own opinions. I am not receiving compensation for it (other than from Seeking Alpha). I have no business relationship with any company whose stock is mentioned in this article.
Disclaimer: I have no business relationship with any company whose stock is mentioned in this article. I am not a registered investment advisor and do not provide specific investment advice. The information contained herein is only my opinion based on personal research and offered for informational purposes. Nothing in this article should be taken as a solicitation to purchase or sell securities. Before buying or selling any equity, do your own research and reach your own conclusion. Investing includes risks, including loss of principal.