It was almost a year ago to the day when I cautioned investors that Intel (NASDAQ:INTC) could be cutting its yearly forecast at its Q2 earnings report. At that time, Intel analysts were expecting 5.4% growth in revenues during 2012, while Intel's previous guidance range was for 7% to 9% growth. It turned out that I was right, as Intel cut its revenue growth forecast to a new range of 3% to 5% when it reported second quarter earnings about a week later.
A year later, it almost seems if we are set up for the same thing yet again. Analyst estimates have continued to come down, and recently we've seen a number of negative notes. Today, I'll examine the current numbers by category, and try to figure out what the analysts are thinking. I'll wrap up by explaining why this could make Intel a short candidate at the moment.
Let's start at the top, with revenues:
We all know that Intel has struggled in a weak PC industry. In 2012, the company actually saw a decline of 1.22% in yearly revenues. It was originally looking for a rise in the high single digits. For a company that does more than $50 billion or so annually in revenues, that's not exactly chump change. You're talking about a $4 billion miss from what it originally thought would happen. That weakness has pushed through into 2013, with both Q1 and Q2 revenues expected to show declines. However, analysts were hoping for some sort of turn around, thinking that as 2013 continued, conditions would improve, and new product launches would help.
But those expectations have been tempered a bit as we've moved through the first half of the year. The following table shows the average 2013 revenue estimate for Intel over the past 8 months, and the growth that would represent over 2012 levels.

*Before Intel reported Q4 results in January, the growth number above was based on the expectation for 2012 full year numbers. So the first two growth numbers above were based on what analysts were expecting for 2012 revenues on that day. The April and July estimates reflect the actual number reported in 2012.
When Intel established 2013 full year guidance, it was stated that revenues would be a "low single-digit percentage increase". I usually take that as about 2-3%, while some might think that 1-4% would be a little broader range. Either way, analysts were expecting 1.7% at that time, which would seem like a fair number. Intel's Q1 guidance was a bit light, and that is probably why analysts have continued to take down their numbers. By the Q1 report, the April date above, analysts had come down to 0.7% growth for this year. At the Q1 report, Intel maintained its revenue guidance for the year, but analysts have continued to take down their estimates.
So right now, Intel analysts are expecting about a $150 million increase in revenues this year. That's not growth for a $53 billion dollar revenue company. We're literally one or two decent analyst cuts away from Intel's estimate being negative on the year. For now, that 0.3% growth is miniscule. In words, what is that, very low single digit percentage growth maybe? It seems that analysts are almost expecting Intel to guide to revenues being flat year over year. That would essentially be a guide down in revenue growth.
It does seem to me like Intel analysts believe a cut in the revenue forecast could come. Now does that come at Intel's Q2 report? It could, but only if Q2 was weak or if Q3 doesn't look good. Right now, Intel's revenue forecast being cut is possible, but I'm not going to go out and guarantee it will happen. If Intel just maintains its forecast, you might need to see analysts actually raise their forecasts. Intel's stock is up more than 18% so far this year (using adjusted dividend prices). Yes, the stock has come more than $2 off its recent high, but a lot of stocks did when the market pulled back on QE concerns. Lately, the couple of downgrades we've gotten have held back shares, which is why Intel is not back at its highs like some other names.
Gross margins - can the company do it?
If I had to pick one forecast to be cut, I think gross margins would be the most likely candidate. Why do I think so? Well, Intel guided to Q1 gross margins of 58%, which was part of its guidance for 60% gross margins for the full year in 2013. However, due to some inventory writeoffs as it got closer to product launches, Q1 gross margins came in at 56.17%.
That's more than 180 basis points under its expectation, but the company did not cut its full year gross margin forecast. Additionally, Q2 gross margin guidance was for 58%, which if you think about it, means the company needs a huge second half of the year. I've stated in past articles that I'd feel a little better about the full year forecast if it was around 58.50% in Q2, but we'll see if that happens. Q2 is really critical, because if it comes in around 57.50%, a full year forecast cut would seem fairly likely in my opinion.
I did some math to try and figure out what Intel needs to do here to reach its yearly expectation. Let's assume the following items:
Q2 revenues come in right at guidance, $12.9 billion.
Q2 gross margins come in right at guidance, 58%.
Full year revenue growth of 1%.
Under that scenario, Intel comes out at 57.10% gross margins for the first half of the year. Because Q3 and Q4 are higher revenue quarters, they carry more weight in the end, so Intel wouldn't need to be at 62.9% to average 60% for the year. There's also a slight benefit that Q1 was the lowest revenue quarter with the lowest gross margins, so some can be made up. However, if you use my 1% revenue number for the year, Intel would need to achieve 2nd half gross margins of approximately 62.60% to get that 60% for the year. Do you think Intel can achieve that kind of result? Well, in 2011 it managed 63.90% for the second half, and in 2012, it was down to 60.64%.
On the Q1 conference call, Intel stated that second half gross margins would be in the "low 60s". So it seems possible that it could achieve the result needed that I showed above. However, I'm not thrilled with the math here. I think that the probability of a gross margin cut is a little higher than a cut in the revenue forecast. What happened in Q2 will have a large say in whether or not Intel can achieve its 60% forecast for the year. However, I will say this. There is a possibility that it keeps the 60% forecast, knowing it might be slightly under it (think about rounding). If Intel thinks it'll be around the 59.75% level for the year, I don't know if it'll take down the forecast. Maybe it'll say "slightly less than 60%" or something like that.
One place where a cut might be good:
As we get further down the income statement, Intel may need to make up some lost ground if gross margins (and potentially revenues) fall short of expectations. One area it might have a shot is R&D plus MG&A spending, a fancy way really of saying operating expenses. Intel also has some amortization expenses that it includes in operating expenses, but the amortization expenses are on a much smaller level ($300 million for the entire year).
Intel guided to $18.9 billion (plus or minus $200 million) for R&D plus MGA expenses in 2013. However, part of that guidance was for $4.6 billion of that to come in Q1. Intel actually came in at $4.474 billion, which is $126 million ahead of its guidance. If Intel can beat its guidance for Q2 in this area, $4.7 billion, it might be able to lower its full year forecast. Cutting its expense forecast here, even by say $300 million, would definitely go a long way to the company's bottom line, and it could soften the blow if there is a cut from one of the two categories above.
Other financial items to consider:
I mentioned above that Intel expects $300 million in amortization expenses this year. This category is the least volatile, so you probably wouldn't expect Intel to change this forecast. However, if Intel comes in at say $295 million instead of $305 million, it could have a slight impact on the bottom line.
The next important item is so-called "other income/expenses". On Intel's income statement, this refers to the categories of "gains/losses on equity investments" and "interest and other". When you get this far down the income statement, some think that these items are not really that important. I can tell you that they most certainly are. In Q1 of 2013, Intel recorded a loss/expense from these two items of $76 million. While the reduced pre-tax income probably helped the tax rate a little, Intel missed earnings estimates by one penny. Had the net outcome of those "other items" been zero, Intel probably meets estimates. How these items shake out the rest of the year could help determine whether Intel beats, meets, or misses.
The final item to consider is Intel's tax rate. While its effective rate was just 16.3% in the first quarter, it has guided to 27% for all remaining quarters. Most of what that rate turns out to be will depend on Intel's financial performance. If you did a straight weighted average, you'd get a 24.3% annual rate. Since Intel will probably have more income in quarters two through four, you would figure the yearly rate would probably be closer to 25%.
Earnings per share and the buyback:
The current average estimate from analysts is $1.87 for the year. I'll discuss the longer-term meaning of that in a bit. But can Intel get to that figure? It does seem fairly reasonable to me. I'll try to figure out what the company could do, and here's some base assumptions:
Revenues are flat year over year.
Gross margins of 60%, Intel's guidance.
R&D plus MGA spending of $18.9 billion, Intel's guidance.
300 million of amortization expenses, Intel's guidance.
Zero impact from "other items", my estimation for the year.
Full year tax rate of 25%, as per explanation above.
Now I'm not doing anything really crazy there, and I'm being conservative in assuming no revenue growth. I'm making some slight changes to Intel's guidance, but only in areas where it did not give a concrete number. In this scenario, Intel has an operating margin just over 24%, and a net profit margin of exactly 18%, with just over $9.6 billion in net income.
Intel's earnings per share figure will also depend on the company's buyback when all is said and done. One of the things I questioned after Intel's first quarter was the rapid slowdown in the buyback. You can see how much the buyback slowed down in Q1 from the chart below.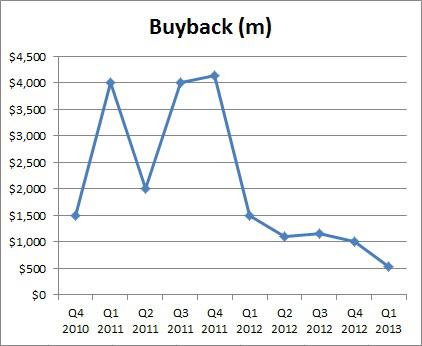 But there's another aspect to this. Share prices were fairly low in Q1. In Q4 of 2012, Intel spent $1 billion on its buyback. The average closing price during that quarter (not what it spent) was $20.47. In Q1 of this year, Intel spent $533 million on the buyback, with an average closing price in the quarter of $21.00. But in Q2 this year, the one it will be reporting, Intel's average closing price was $23.54. Intel might have made a mistake not using its buyback power in Q1, with higher prices in Q2.
Intel had a diluted share count of 5.16 billion in 2012. Remember, it is the diluted share count, not the outstanding share count, that is used to determine earnings per share. That number will come down thanks to the buyback. In the first quarter of 2013, Intel's diluted share count was 5.08 billion, compared to 5.192 billion in the year ago Q1 period. So let's go back to the numbers I calculated above, with the $9.6 billion or so in net income. If Intel gets the share count down to 5.1 billion for the year, it would have earnings per share of $1.883, more than a penny ahead of current estimates. If it could get the number down to 5 billion even, the earnings per share figure on that net income would be $1.921, about a nickel ahead.
What's my overall point here? Well, I assumed no revenue growth, 60% gross margins, and a R&D plus MG&A spending figure that seems a bit high at the moment. Combine that all with the buyback, and it seems like the $1.87 forecast Intel analysts have is a bit light. Do these analysts see a forecast cut coming? It could be possible.
Where a short case may exist:
The following chart shows Intel over the past year. When using the Yahoo! adjustment for dividends, Intel is up 18.26% year to date. A lot of those gains are due to the second half rebound that is expected, a rebound that analysts believe less in currently.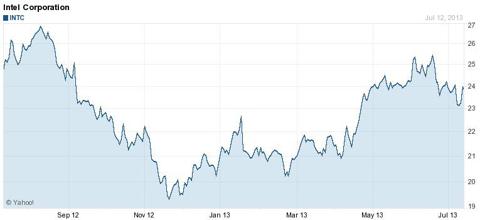 (Source: Yahoo! Finance)
There are two items to discuss for the short theory. The first relates to declining earnings per share and net income. I mentioned above that the current estimate for 2013 earnings per share is $1.87. That would represent a decent decline from the $2.13 we saw in 2012, and the $2.39 we saw in 2011. Don't forget the buyback, as last year's figure was boosted by a dime because of it. Net income is falling at a much faster rate. If Intel cuts its forecast, you could look at analysts dropping their forecast to $1.85 or maybe even towards $1.80. Add in two years of the buyback, and you realize that net income will have dropped quite a bit.
With lower net income, Intel is also not producing as much cash. In Q1, Intel's net income was down nearly $700 million from the year ago period. Some of that will come back from depreciation and other cash add-backs, but it still is a large drop. To be fair, Intel produced more cash from operating activities in Q1 of 2013, but a lot of that was due to certain working capital adjustments. If net income continues to be pressured, you could see a continued slowdown in the buyback, or perhaps a smaller dividend raise than expected. Intel's buyback certainly slowed in Q1 this year.
The second basis for a short idea would obviously be the forecast cut. Intel's stock has come down by a little more than $2 from its recent high, so I think some of a cut may be priced in. If Intel were to cut its gross margin forecast, for example, the stock could hold up if that's the only cut. If it leaves its revenue forecast unchanged, it would certainly help. Also, if it was to cut its gross margin forecast but also cut its "operating expense" forecast, I think things would be mostly priced in.
But if Q2 did not meet expectations, or Intel doesn't see as great of a second half as originally thought, multiple forecast cuts could do this stock in. I can't see Intel's stock holding up well if the revenue forecast is trimmed, the gross margin forecast is cut, etc. Intel is up more than 18% so far this year on the promise of a good second half. If Intel basically says that improvement is not coming, or not as much as was hoped, I think shares will lose some of their gains. I'm not calling for this stock to drop to $18 or $20, not anything like that. But if there is some disappointment, I do think we could see that $21 to $22 level again, and that's where shares traded before the latest rally.
When Intel cut its revenue forecast at the Q2 report last year, shares actually rose on the news. At that point, there were many signs that a cut was coming, including my article ahead of time. A cut was priced into the stock, and actually, many thought that the news could have been worse. However, as we all know, Intel's forecast proved to be too optimistic. Intel cut its Q3 revenue forecast in September, leading to a large decline that would send shares falling to their 52-week low of $19.23.
Final Thoughts:
Intel analysts have trimmed both their revenue and earnings forecasts in the recent months. It appears that some of these estimates are a bit below what Intel guided to, meaning analysts believe a forecast cut could be coming at some point. Will that be this Wednesday when Intel reports after the bell? That remains to be seen. However, we saw a forecast cut at last year's Q2 report, and this would seem like a logical time for a cut. With half of the year's results in, you would expect some of Intel's guidance to change. The company left most of its guidance unchanged at the Q1 report, and I find it hard to believe that Intel's forecast will continue to stick. Q2 will be crucial in my opinion to whether or not Intel can meet its gross margin forecast for the year, which is the most likely to be cut in my opinion.
Intel shares have rallied nicely this year, but are off their recent highs. That provides a little bit of support, in the sense that some of a forecast cut may be priced into the stock. However, if Intel comes out and cuts multiple forecasts, this stock could head lower. Everyone was expecting a good second half from Intel, but it seems like analysts are starting to believe Intel's rebound is not fully intact. In fact, the median price target right now is $23.00, meaning analysts think Intel shares will go lower from here.
Disclosure: I have no positions in any stocks mentioned, and no plans to initiate any positions within the next 72 hours. I wrote this article myself, and it expresses my own opinions. I am not receiving compensation for it (other than from Seeking Alpha). I have no business relationship with any company whose stock is mentioned in this article.
Additional disclosure: Investors are always reminded that before making any investment, you should do your own proper due diligence on any name directly or indirectly mentioned in this article. Investors should also consider seeking advice from a broker or financial adviser before making any investment decisions. Any material in this article should be considered general information, and not relied on as a formal investment recommendation.