The small E&P concerns profiled in these columns over the past month have done very well in the market as West Texas Intermediate (WTI) oil prices have had a nice run over the past couple of weeks. Triangle Petroleum (NYSEMKT:TPLM) and Emerald Oil (NYSEMKT:EOX) have provided investors with strong performance over the last month. Abraxas Petroleum (NASDAQ:AXAS) also is up since being profiled earlier in the week. Another E&P concern I recently bought also has a bright future ahead of it. The company is Midstates Petroleum (NYSE:MPO), which is currently trading at $6 a share. The shares are down from $9 earlier in the year. The company has strong growth in front of it and should greatly reward shareholders if oil prices remain at these levels.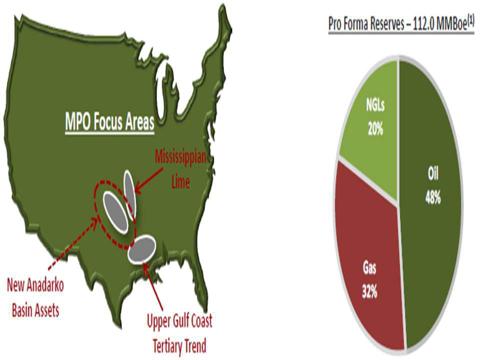 Company Overview:
Midstates Petroleum Company is a small ~$400mm market capitalization (~$1.1B enterprise value) company with oil & gas properties in the Mississippi Lime, Anadarko and Upper Gulf Coast shale regions. This E&P concern came public in April 2012.
Valuation:
Revenues are on track to more than double on organic growth and a major acquisition (see next section). Analysts also project ~45% sales increases in FY2014. MPO has a five year projected PEG of under 1 (.95). The stock is also selling near the bottom of its historical valuation range based on P/B and P/S. Finally, earnings are projected to expand rapidly over the next 18 months. MPO sells for less than three times operating cash flow.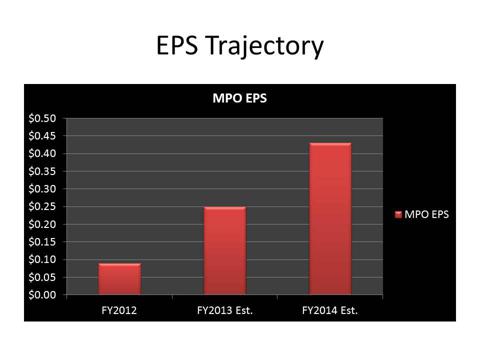 Major Acquisition:
In April Midstates acquired 8,000 BOE/D (Barrel of oil equivalent) and ~36mm BOE in proven reserves with acreage in Texas and Oklahoma for $620mm. The company was able to finance this purchase by a $700mm private debt placement that does not mature until 2021 in late May.
The acquisition provides several benefits to Midstates and its shareholders. First, it diversifies Midstates' production significantly.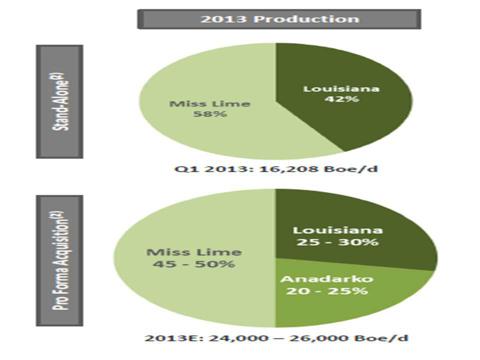 The acquisition also greatly expands Midstates' reserves and production. The reserve life of the company's properties now average over 12.5 years.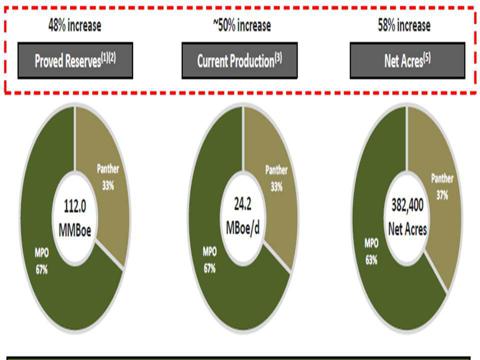 Analyst Commentary:
The twelve analysts that follow the stock have a mean price target of ~$11 a share on MPO. Ipsit Mohanty (A four star ranked analyst according to TipRanks) of Canaccord Genuity initiated the shares as a "Buy" in late April noting, "Acquisitions have now provided MPO with the prospects for a multi-year double-digit growth in production (58%/2013E, 39%/2014E), a decade-long drilling inventory that could multiply in multi-stacked plays, and a lower risk profile. We initiate MPO with a BUY rating and price target of $8. Our price target represents 37% potential upside over 12 months, with a 'bull case' of $9." C.K. Cooper also initiated the shares as a "Buy" in late May.
Balance Sheet & Ownership:
The company has strong insider ownership with officers & directors holding some 8% of the company's float. An officer recently bought over $200K worth of shares. In addition, private equity firms specializing in energy investments own almost 60% of the float leaving only a ~third of the float for other investors. The company has over $300mm of liquidity which should be sufficient to fund its drilling program. Midstates' debt is mainly long term with maturities far into the future and 80% of its 2013 production is hedged.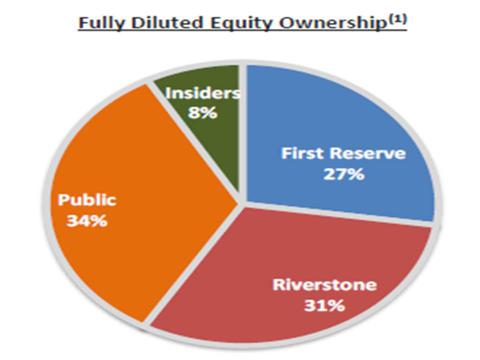 Summary:
Midstates Petroleum has declined by a third from its highs earlier in the year. It is currently priced significantly below analysts' price targets. It expanding drilling program should provide large returns if oil prices stay strong (See below). Its recent acquisition diversifies and expands its production. Patient shareholders should be rewarded as earnings rapidly rise over the next 12-18 months and if the company hits projections I think the shares can climb back up to $9 a share, which would be a 50% increase over the current stock price. BUY.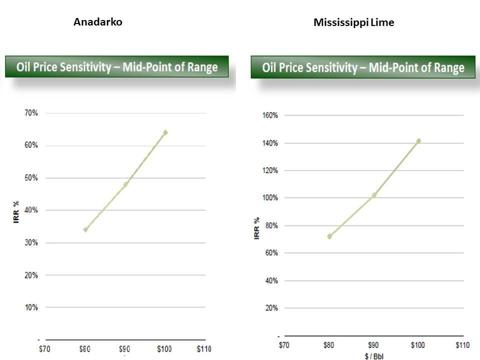 Disclosure: I am long AXAS, EOX, MPO, TPLM. I wrote this article myself, and it expresses my own opinions. I am not receiving compensation for it (other than from Seeking Alpha). I have no business relationship with any company whose stock is mentioned in this article.