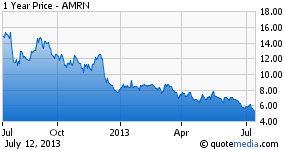 It was a one-two punch of news that investors didn't like for Amarin (NASDAQ:AMRN) longs last week. In the midst of that, I'm still bullish on Amarin leading up to the end of the year. I firmly believe that the stock is going to inch upward in anticipation of the FDA's approval or non-approval of Vascepa for use in its ANCHOR indication.
Monday, 7/8/13 after market hours, Amarin released two filings -- one that offers up Vascepa updates and another that introduces a 21.7mm share ADS offering.
Then, Thursday, it was reported by NBC News that fish oils may raise prostate cancer risks. On this report, the stock took another thrashing to end the week at $5.26 - four cents from its 52 week low. Amarin is now down 31.2% for the last three months and 63.9% over the last year. I'm glad I didn't buy after the FDA approval, but I have been a bit bullish late, with the stock in "bargain" territory.
From its website, "Amarin Corporation is a biopharmaceutical company focused on the commercialization and development of therapeutics to improve cardiovascular health. Amarin's product development program leverages its extensive experience in lipid science and the potential therapeutic benefits of polyunsaturated fatty acids. Vascepa (icosapent ethyl) is Amarin's first FDA approved product and is available in the United States by prescription."
After the drug's approval, the company failed to produce any major pharmaceutical partners, brought on its own sales staff, and is taking a stab at launching Vascepa on its own. So far, the launch is going pretty well; not astronomically well like some had hoped, but definitely not poorly for the situation the company was put into. Numbers continue to run commensurate to prescription predictions and the stock has continued its sharp decline from the $15 region to the $5 region of late.
Amarin confirmed after hours on Friday that it had closed its ADS offering and had net over $120 million. Seeking Alpha reported the press release:
Amarin Corporation plc ("Amarin" or "the Company") today announced that it had completed its previously announced underwritten public offering of 21,700,000 American Depositary Shares ("ADS"). The underwriters purchased the ADSs from Amarin at a price of $5.60 per ADS, resulting in net proceeds to Amarin of approximately $121.1 million, after deducting estimated offering expenses payable by Amarin. Amarin has also granted the underwriters a 30-day option to purchase an additional 3,255,000 ADSs. Amarin intends to use the net proceeds from this offering primarily to continue the commercial launch of Vascepa® (icosapent ethyl) capsules in the MARINE indication, prepare for and commercially launch Vascepa in the ANCHOR indication, if approved, advance the Company's REDUCE-IT cardiovascular outcomes trial, and for general corporate and working capital purposes.
Mr. Market seemed to truly be ambivalent about the news, as I wrote in an article earlier in the week. Just as investors were trying to figure out which direction the stock would trend on this jab, NBC News followed up with a right hook that sent the stock meandering downwards.
Amarin had weathered the news of fish oils not having any effect on heart disease, but this one is somewhat of a haymaker. NBC's article actually postulates that fish oils could raise prostate cancer risks. You can read the NBC News article here. It states:
But a startling study shows men who have the highest levels of these compounds - the kinds found in fish but not in vegetable sources -- have a higher risk of prostate cancer. Men with the very highest levels had a 71 percent higher risk of high-grade prostate cancer - the kind most likely to spread and kill, they report in the Journal of the National Cancer Institute.

It might be a sign that popping a pill is not only possibly a waste of money - it might be downright dangerous. And eating fish too often might be, also.

"These fish oil supplements in which some men getting mega, mega doses…in our opinion that is probably a little bit dangerous," said Theodore Brasky of Ohio State University Medical Center, who worked on the study with a team from the Fred Hutchinson Cancer Research Center in Seattle.
Again, this information is coming on the heels of an Italian Risk and Prevention study published in the New England Journal of Medicine from earlier this year that showed that fish oil doesn't show any benefit in reducing heart disease. MSN Money reported:
The Italian Risk and Prevention Study enrolled 12,513 patients with multiple cardiovascular risk factors or evidence of heart disease but no prior history of heart attacks. Half the patients were randomized to receive 1 gram per day of n-3 fatty acids (fish oil) or an olive oil placebo.

After five years of follow up, 11.7% of the patients taking daily fish oil died or were hospitalized due to cardiovascular disease compared to 11.9% of patients treated with a placebo. There was also no difference in any of the prospective secondary endpoints.

"On the basis of the results, we conclude that there was no significant benefit of n-3 fatty acids in reducing the risk of death from cardiovascular causes or hospital admission for cardiovascular causes," the researchers conclude.

Eric Topol, a well-known cardiologist at the Scripps Clinic who was not involved in the study, was even more blunt in comments made to TheHeart.org.

"Fish oil does nothing," said Topol. "We can't continue to argue that we didn't give the right dose or the right preparation. It is a nada effect."
QTR's Analysis
I still feel the company is oversold and worth buying at this point. Emotion is going to be getting involved towards the end of the year here, and like many biotechs often do, I'd argue that Amarin is going to inch upwards towards a binary event-laden end of the year.
The study, in and of itself, doesn't necessarily scare me - yet. I've been around long enough to know that if you search hard enough, you can find an article on anything, from any viewpoint. However, should more articles and more data of the sort start popping up and garner some serious headlines, it's going to be time for damage control and could be time for cutting losses.
Again, I'll restate my caveats that could easily shift me back to a bearish stance on the company:
Prescription data slows dramatically week-over-week (or total prescriptions start to regress in any facet) -- I'm going to be keeping an extremely close eye on week over week numbers. It's the lifeblood of the entire company and extremely important that data continues to trend upward.
The company reports a cash burn that is equivalent to last quarter's -- it needs to get its spending under control now that the launch is no longer in its beginning stages.
Prescription data winds up being a continued major product of discounts, giveaways and samples -- we need the data that we're seeing to be as true as possible.
Continued media and medical study that begins to consistently show that fish oil shows no benefit/does more harm than good.
Again, I currently have no position in Amarin, but am still bullish here. I covered my short and am now watching from the sidelines. I wish all investors, long or short, the best of luck.
Disclosure: I have no positions in any stocks mentioned, and no plans to initiate any positions within the next 72 hours. I wrote this article myself, and it expresses my own opinions. I am not receiving compensation for it (other than from Seeking Alpha). I have no business relationship with any company whose stock is mentioned in this article.