We are nearing the first anniversary of when the economy went into a free fall. Most economists argued a year ago we were not in a recession, and if we were it was not going to be bad.
The year-over-year (YoY) calculations soon will improve significantly beginning with August 2009 data. The media will start reporting economic turning points which do not really exist. Expect the economic clowns to spread a false message of recovery. The clowns will ignore the month-over-month (MoM) calculations which help define the economic trend.
This week's economic wrap focuses on the following topics:
The Commercial Real Estate Time Bomb

Employment Shows Economy Still in Crisis

Volume Increase in Home Sales

Manufacturing Close to Bottom

Consumers Are Unwilling Unable Scared to Drive Recovery
I purposely mixed the data between sources this week to demonstrate how many of our economic indicators are inconsistent. There is no perfect economic indicator. There are data-gathering errors, sampling errors, methodology errors, and analyst errors. There is no economic indicator which does not have error. All suffer from analysts and punters misusing or misrepresenting the message whispered in the data.
This does not make any of them a bad indicator. My favorite "whipping boy", the Institute of Supply Management (ISM) surveys, is still very useful – as long as you understand their shortcomings, and use it in conjunction with other data you are seeing, and then trend the results.
Even the jobs data this past week from the BLS had a certain aroma. It is possible to pick the corn out of the crap develop useful data.
~ ~ ~
There is little doubt we are close to the end of this recession's decline. Yet, the painful process of watching the data get less bad month after month continues. The end of recession needs to have a data low point (trough) in at least jobs and manufacturing.
This did not happen in July 2009.
~ ~ ~
The Commercial Real Estate Time Bomb
San Francisco Fed President Yellen said commercial real estate could once again increase the downside risks to the economy. Bank of Tokyo – Mitsubishi UFJ summarized the economic effect of Commercial real estate to date:
Residential construction has been a drag on real GDP since Q1 06, while commercial real estate just started to subtract from growth in Q4 08, 0.3 percentage points of the 5.4% real GDP decline, moving on to Q1 09, 2.3 percentage points of the -6.4% real GDP decline, and 0.3 percentage point of the -1.0% Q2 real GDP decline. This drag is a worry, but nominal GDP commercial construction has now declined 18.1% this cycle, similar in magnitude to past corrections in the 80s and 90s.
Commercial real estate decline will not end in 2Q 2009, and most likely there will be another 3 to 5 quarters of decline.
The banks are full of non-performing paper. We have never suffered a nationwide housing price decline, and this has bled the banking system of its reserves despite their recapitalization efforts. And this crisis is still not over. Combine this with the normal non-performing credit card debit defaults which accompany a severe recession.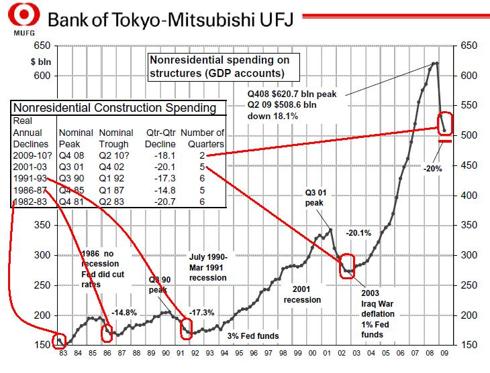 Now add Commercial loan defaults. The banking industry's bacon has been saved in the past by "V" recoveries. This takes the pressure off of the banks because the borrower's business picks up and increases revenue, the commercial property values increase.
There will be no "V" recovery in the "new normal".
Employment Shows Economy Still in Crisis
The headline: The government announces Unemployment rate falls 0.1% in July 2009 to 9.4% - Recovery Begins.

The reality is that non-farm civilian private jobs are still evaporating at the rate of over 4% per year, but this number is trending down from 8% earlier this year. Employment is less bad.
It is impossible for a expanding population to have unemployment rate fall while the number of jobs also falls. But it appears nothing is impossible in America. There is a methodology error which I have questioned in the past as this unemployment data is extrapolated from a detailed telephone survey. If it were my data I would have published it and disclaimed it as it did not make sense.
Trending the BLS employment data ("chart 2" graph above) and the ADP employment data (graph below), job losses and job gains should equalize in 2 to 4 months if current trends hold. This is an end of recession marker when this event occurs.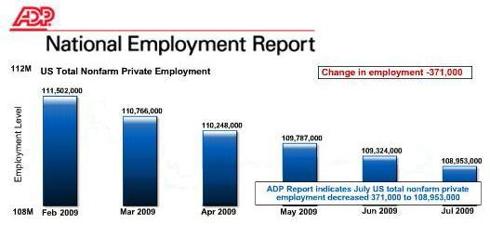 Our changing methodology in deriving the unemployment rate makes backward comparisons between past WWII recessions difficult – our current methods paint a rosier picture. When you encounter a statistic where today's situation is worse, you take notice. Hat tip to Mish and Calculated Risk for the graph showing workers who have exhausted their regular unemployment benefits (and maybe even the extended benefits)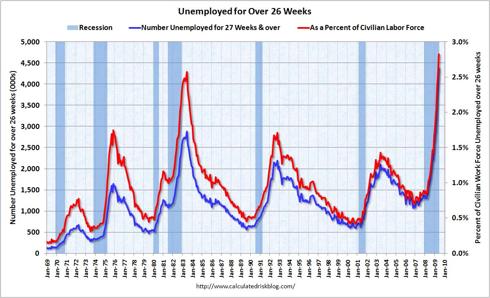 The 4 week moving average of advance initial unemployment claims decreased slightly to 555,250. The use of unemployment insurance data to project total unemployed as some analysts are trying to do will yield erroneous results. The use of this data is to trend initial claims only – it is a gauge of the rate people are becoming unemployed. This rate continues to trend downward, and this is simply sending an economic signal that the highest rate of decline of employment for the Great Recession has past.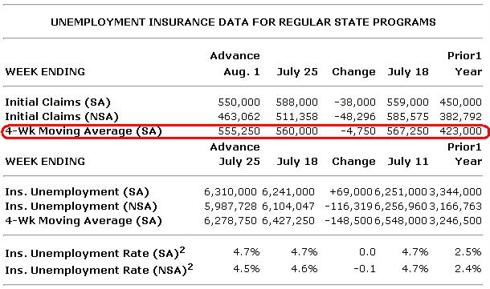 The best explanation of unemployment initial claims recent volatility was given by Bank of Tokyo – Mitsubishi UFJ:
A plunge in initial jobless claims occurred over the first half of July because the bankruptcy announcements of Chrysler and GM and the associated plant closings meant that the usual plant closings in July for retooling instead happened much earlier than is typical (pushing up claims to record highs in May and June). Historically, the BLS has always had difficulty seasonally adjusting the numbers surrounding the auto retooling each summer, and the early plant closings made the adjustment even more difficult this year. The weeks ending July 4th and 11th received a huge downward seasonal adjustment, while the weeks ending the 18th and 25th were bumped upward. Today's data is the first that reflects the true underlying level of claims.

For continuing unemployment claims, the huge drop in July that was also affected by seasonal adjustment issues suggests the unemployment rate will move down (temporarily) in July as well – even when you take into account the fact that much of the drop in continuing claims was due to benefit exhaustion (the current exhaustion rate lies around 50%) and not due to a pick-up in hiring.
Volume Increase in Home Sales?
Home sales volumes are in all probability increasing but precise data is not available.
The National Association of Realtors NAR says contracts signed for home sales in June 2009 are up 3.6% MoM, and up 6.7% YoY (seasonally adjusted). This data is for contracts for sale, and not actual sales which potentially would occur one or two months later. Normally, this type of data is ignored, but the markets are searching for green shoots.
In comparing the NAR pending home sales data to NAR's home sales numbers last week, the data does not correlate. Even if the existing home data is time shifted two months, the percentage changes over the preceding period and YoY do not match. Users of this NAR data should not draw any conclusions except for confirmation of general trends. The NAR needs to publish its range of error as its data gathering methodology appears ragged.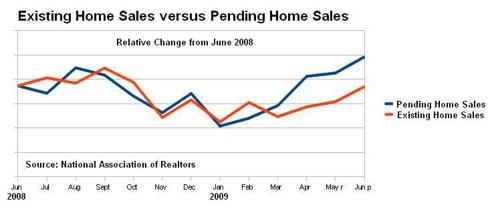 This pending home sales data also does not correlate to the June data of the Mortgage Bankers Association which show basically flat new mortgage application rate. This difference could be explained by more cash buyers, either:
Investors with cash looking for fixed income and not needing a mortgage; or,

Buyers' down-sizing and not needing a mortgage.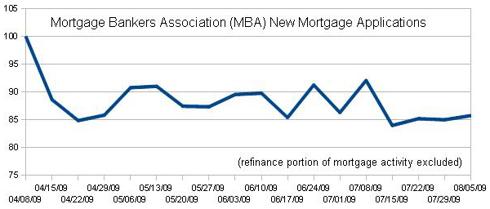 The new mortgage application rate remain relatively unchanged. The four week moving average of mortgage loan application volume (which includes refinancing) increased 1.2% WoW, and increased 4.1% compared with the same week one year earlier. The refinance share of mortgage activity increased slightly to 54.2% of applications. The average interest rate for 30-year fixed-rate mortgage decreased 19 basis points to 5.17%.
Manufacturing Close to Bottom
The Institute of Supply Management (ISM) manufacturing index, considered a key economic indicator, was contracting less bad in July 2008 at 48.9 (50 being manufacturing is neither contracting nor expanding).

Industrial production levels are at the lowest levels this decade – and industrial capacity utilization is at the lowest since WWII. The good news is that manufacturing is close to the bottom, and the reality is we are in a very deep hole. Both new orders and production now are growing according to this subjective index.

This index is an un-weighted average across all manufacturing sectors – it should be viewed as "bar room talk". Manufacturing now accounts for only 5% of our economy based on revenue and employment. Because of the multiplier effect into the service industries we continue to view manufacturing as a cornerstone of our economy. The American tragedy is that this may be no longer true.
But this ISM survey does confirm other manufacturing indicators which also paint a "less bad" and "close to a bottom" picture. There is no indication that ISM manufacturers believe the economy is going to start growing soon.
A segment of manufacturing, auto sales had a nice bump up in July 2009. This is the fourth month of increasing sales which is confirmation of a bottom. Light truck sales after having a bad month last month is up MoM – but not far above the Great Recession lows. Surprisingly, both Toyota (TM) and Chrysler increased market share at the expense of GM, Ford (F) and Honda (HMC).

Yet Ford had its first YoY sales growth.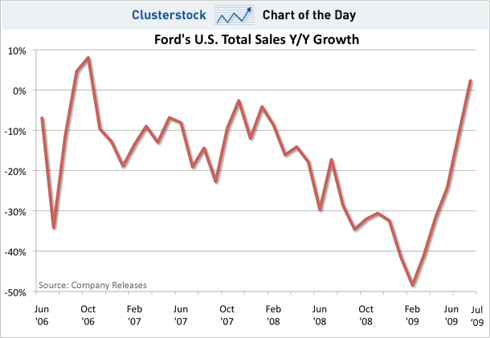 Preliminary June 2009 Census data on manufacturing released this week confirms manufacturing was still falling in June. The data remain confused as happens when manufacturing bottoms. New orders up slightly, shipments up (but due entirely to the increase in value of petroleum products), unfilled orders decreased slightly, and inventories down slightly. The good news in this data was that HVAC and electric generating equipment were the reason for the increase in unfilled orders – this is a definite end of recession activity. The biggest drag was the transport sector which normally signals the end of a recession by beginning to expand. Conflicting signals.
Consumers Are Unwilling Unable Scared to Drive Recovery
Economists believe that consumers who have confidence in economic conditions will spend more. As consumer spending accounts for 70% of the economy, consumers are continuously fed unrealistic economic hope to trigger spending. The latest ABC consumer confidence numbers show the brainwashing is not working:
Ninety-two percent say the economy is in bad shape, at or above the fearsome 90 percent mark since early October; 76 percent think it's not a good time to buy things; and 56 percent rate their personal finances negatively.

I see no reason consumers should have confidence. There is no apparent economic driver, and they have been misinformed about "green shoots". There is no data which indicates in any shape or form we will return to the economic good 'ole days of the past. Government spending is out of hand, and the consumers believe this is trapping them into a future of higher taxes and reduced economic growth.
Many of the economic indicators have the ability to recover relatively quickly, but personal income is not one. With our consumer driven economy, the more income consumers receive, the more money they can potentially spend. Personal income fell 1.8% MoM in June 2008. This decline raises more questions than answers as it backs out the gains of the previous month and puts personal income in 2009 into negative territory. One more reason not to react to individual month data, and to monitor trends.

Last weeks GDP release showcased government's failure to overcome consumer belief that the economy will remain bad indefinitely. David A. Rosenberg opined in John Mauldin's "Outside the Box":
Consumer spending came in at -1.2% annualized, twice the decline expected by the consensus. This occurred in the face of gargantuan fiscal stimulus and leaves wondering how this critical 70% chunk of the economy is going to perform as the cash-flow boost from Uncle Sam's generosity recedes in the second half of the year. Imagine, government transfers to the household sector exploded at a 33% annual rate, while tax payments imploded at a 33% annual rate and the best we can do is a -1.2% annualized decline in consumer spending in real terms and flat in nominal terms? What do we do for an encore? In the absence of the fiscal largesse, it is quite conceivable that consumer spending would have shrunk at a 10% annual rate last quarter! Nonresidential construction action sagged at an 8.9% annual rate and this was on top of a 44.0% detonation in the first quarter. Ditto for equipment & software 'capex' spending, also down at a 9.0% annual rate and this too followed a 36.0% collapse in the first quarter. Residential construction slumped sharply yet again, this time at a 29.0% annual rate. These are the guts of private sector spending and collectively, they contracted at a 3.3% annual rate -- the sixth decline in a row.
Consumer credit decreased at an annual rate of 5.25% in 2Q 2009. Revolving credit decreased at an annual rate of 8.25%, and nonrevolving credit decreased at an annual rate of 3.5%. This is a continuation of the trend which began 4Q 2008 when consumer credit began contracting. It was expanding at nearly 5% per year before 4Q 2008, and now is contracting at approximately 5% per year.
Chain store sales for July 2009 remained depressed. Data is normally expressed as YoY declines, and the recession was beginning to be felt in retail sales in August 2008. So expect a big improvement next month which is simply more smoke and mirrors.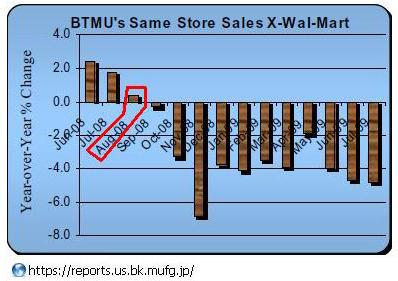 As a reminder, these same store sales figures do not include Walmart which is 40% of the chain store sales. Walmart has decided not to report monthly.
Additional Economic Data This Week
Shipping counts are a good validation of economic trends as goods must be shipped between users. The West Coast sea container counts are not rising, but are flat or slightly declining. There is no indication of recovery. Although rail counts are currently slightly improving, they remain below recessionary highs of earlier this year.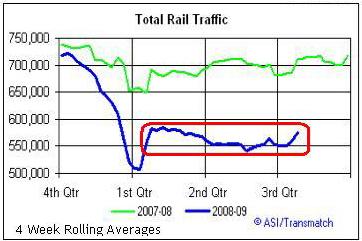 Construction spending had a slight bump up in June 2009. The dirty little secret was that it was caused by government spending – and not the private sector. Still, the decrease in private sector construction spending was a mere 0.1% MoM, and was the smallest decrease this year. One month does not make a trend.
Filing for Bankruptcy: eNucleus (ENUI), NanoDynamics (NNDY), Cooper-Standard Holdings, Security Bank (SBKC), Cygnus Business Media, Finlay Enterprises (FNLY). Bank failures this week:

Economic Forecasts Published this Past Week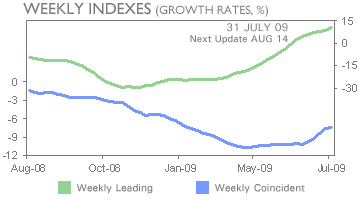 The Economic Cycle Research Institute (ECRI) released their Weekly Leading Index which continues its gain on this index's fresh 5 year high. Lakshman Achuthan, managing director at ECRI, provided the following statement:
With WLI growth soaring into the double-digit range, prospects for U.S. economic growth have brightened significantly.
Hat tip to Steve at MEMETICS & MARKETING for editing support.
Disclosures: long MMFs, AAPL, AMZN, ORCL, GOOG, EWZ, EWY, EWA, EWC, PIN, Physical Gold