(Editors' Note: This article covers a micro-cap stock. Please be aware of the risks associated with these stocks.)
Investment Rationale
I am absolutely convinced that today there is a chance to find future 5 and 10 baggers in the junior mining sector. Investors are selling shares of junior gold miners without any consideration of underlying intrinsic value.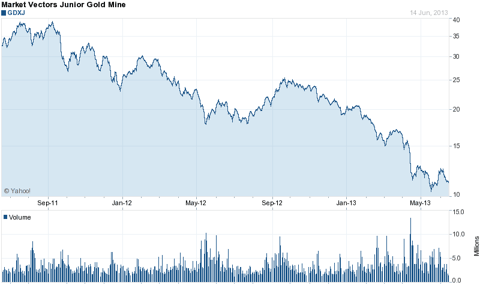 The market vectors ETF (NYSEARCA:GDXJ) that is made up of junior gold miners has dropped from $40 two years ago to under $10 today. The entire sector needs to be a four-bagger just to get back to where it was two years ago. There are plenty of stocks that would have to increase tenfold.
This is the kind of indiscriminate selling that we saw going into the generational market bottom for the S&P 500 in March 2009.
If an index with companies as large as those in the S&P 500 can double in value over a few years, imagine what is possible for the highly volatile companies in the junior gold mining sector.
What makes me think that this selling of junior gold miners is far overdone is that the price of gold while down is still not too bad versus where it has been historically.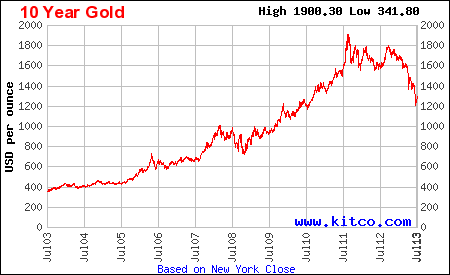 Today the price of gold is back to where it was two years ago. That is still twice as high as it was in July 2007. There were plenty of gold producers that were making money in July 2007 at half the current price of gold, so at $1,200 per ounce things can't be that bad.
Most of these junior gold miners are priced as though bankruptcy is just around the corner. I don't believe that is the case and when the market figures out that these companies are dramatically undervalued, I believe there is potential for a serious revaluation of the sector.
The hard part is finding the right company to invest in. One to consider is Pershing Gold (NASDAQ:PGLC) which has the following positive attributes:
- Low cost producer
- Located in a low risk jurisdiction
- Incentivized CEO who has built and sold a gold producer previously
- Large insider ownership
- Smart large shareholders
- Exploration potential
Pershing Gold - Business Model/Background
Pershing Gold has a business model that embraces opportunity and avoids exploration.
Pershing Gold Corporation was incorporated under the laws of the State of Nevada on August 2, 2007. On February 27, 2012, the Company changed its name to Pershing Gold Corporation. The Company is a gold and precious metals exploration company pursuing exploration and development opportunities primarily in Nevada. The Company is currently focused on exploration of its Relief Canyon properties in Pershing County in northwestern Nevada.
Pershing purchased its main asset the Relief Canyon Mine and Processing Facility out of bankruptcy. This move fits with Pershing's opportunistic business model that avoids exploration.
This is the purchase of a known and previously producing deposit that failed for two reasons:
- The prior operator's balance sheet
- Land constraints
The Pershing plan was to move quickly and get this mine back into production at a modest cost. Pershing also believed that there was considerable upside to the existing resource in place at Relief Canyon.
2012 was the first year of operations for Pershing as a publicly traded company. During the year ended December 31, 2012, Pershing focused primarily on expansion of the Relief Canyon Mine deposit, increasing their land position around the Relief Canyon Mine property and obtaining external funding. An overview of certain significant 2012 events follows:
| | | |
| --- | --- | --- |
| | - | Pershing drilled 113 holes totaling approximately 49,000 feet in 2012 and succeeded in expanding the Relief Canyon mine deposit to 32.5 million tons of mineralized material grading an average 0.017 ounces gold per ton, an increase of over four times the tons reported by the previous owner. |
·-

Pershing significantly increased its land position around the Relief Canyon Mine property originally acquired in 2011, acquiring approximately 23,000 additional acres of unpatented mining claims and leased mining claims and private lands. Pershing began to conduct sampling and other exploration activities on portions of these additional properties, which it believes are prospective, and have identified several targets that it believes warrant additional exploration efforts.

Pershing raised approximately $10.4 million in 2012 primarily through private placements of equity securities and approximately $4.9 million through the divestiture of uranium and gold exploration properties.
| | | |
| --- | --- | --- |
| | ·- | Pershing completed the resale registration of approximately 76 million shares held by Continental Resources Group in early 2013, and those shares have been distributed to Continental Resources Group shareholders of record on March 1, 2013. |
The Relief Canyon Property
The Relief Canyon properties are located about 100 miles northeast of Reno, Nevada. The nearest town is Lovelock, Nevada, approximately 15 miles west-southwest from the Relief Canyon Mine property, which can be reached from both Reno and Lovelock on U.S. Interstate 80. The Relief Canyon Mine property is reached from Lovelock by traveling approximately seven miles northeast on I-80 to the Coal Canyon Exit (Exit No. 112), then about 10 miles southeast on Coal Canyon Road (State Route 857, a paved road maintained by Pershing County) to Packard Flat, and then north on a gravel road for two miles. All of the Relief Canyon properties can be accessed by unpaved roads from the Relief Canyon Mine property.
The Relief Canyon properties are located in Pershing County, Nevada at the southern end of the Humboldt Range. The range is underlain by a sequence of late Paleozoic-to Mesozoic-age volcanic and sedimentary rocks. Gold-bearing rocks at the Relief Canyon properties are primarily developed within breccia zones along the contact between the Grass Valley and Cane Springs Formations.
The mine has had intermittent gold production dating back to 1984 with a total of 140,000 ounces of gold being produced.
Post acquisition, based on the work done by Pershing, the company announced a five-fold increase in the size of the Relief Canyon deposit:
Pershing Gold Corporation ... is pleased to announce that it has completed an in-house calculation of mineralized material in the Company's model for the Relief Canyon Mine in Pershing County, Nevada which estimates 32,541,000 tons of gold mineralized material at an average grade of 0.017 ounces per ton gold ("opt Au"). The Company's in-house technical staff calculated the estimate under SEC Guide 7, and the in-house estimate does not include identified material that is currently in the inferred category.

When Pershing Gold acquired the Relief Canyon Mine in August 2011, based on the 2010 Technical Report that Mine Development Associates ("MDA") prepared for the previous owner, Relief Canyon had an in-situ resource equivalent to mineralized material under SEC Guide 7 of 6,533,000 tons at an average grade of 0.017 opt Au. As such, mineralized material reported by Pershing Gold today represents a nearly five-fold increase in the size of the Relief Canyon deposit.
There is also considerable exploration upside around Relief Canyon.
In 2012, Pershing went to work establishing targets for exploration. Pershing generated targets through surface sampling, mapping, and geophysics at three specific projects at three Relief Canyon expansion properties: Pershing Pass, Pershing Packard, and South Relief.
In 2012, Pershing drilled four holes comprising approximately 3,000 feet and performed soil sampling, and geochemical and geophysical testing to identify new drill-ready targets for approximately $500,000.
Pershing's goal is to generate four drill-ready targets per year. Because the Relief Canyon expansion properties are at an early stage of exploration, it will take at least several years to perform sufficient exploration to determine whether these properties contain mineable reserves that could be put into production in the future.
Relief Canyon Processing Facility
One appealing feature of buying a previously producing mine out of bankruptcy is that you are buying a known resource and not taking exploration risk. Another appealing feature is obviously that there is less spending required to get to a cash flowing state.
Relief Canyon came with a heap leach processing facility. That is a huge advantage for Pershing.
Pershing's CEO Alfers was asked about the importance of the heap leach processing facility in an interview:
Question - Many compare Pershing's progress towards re-opening its Relief Canyon Mine to the successful re-opening of Allied Nevada's Hycroft Mine. Are there noteworthy takeaways from this comparison?

Answer - Another good question, yes, I think there are important similarities. Like Relief Canyon, the Hycroft Mine was a long-neglected, under-capitalized asset that had been previously mined. Similarly, there was a functional heap leach processing facility at Hycroft.

The presence of Pershing's permitted and constructed heap leach facility cannot be understated. It will facilitate a fast-track resumption of mining with minimal remaining capital investment. That was the key driver for Hycroft and will be the key for us as well.
In June 2012, Pershing began to prepare the Relief Canyon heap leach processing facility for recommissioning. The Relief Canyon processing facility was completed in 2008, is fully permitted, and is currently in a care and maintenance status.
Pershing Gold - Should Be a Relatively Low Cost Producer
Thomson Reuters GMFS recently published updated numbers on what the all-in cash costs for gold producers were in 2012.
At $1,211 per ounce, the average cost of production for the industry is not much below where the current price of gold is.
While mines do continue producing for a while at uneconomic prices because of the cost involved in shuttering production, that uneconomic production can't last for very long.
That will provide support to the price of gold not far off from current levels.
Pershing Gold operates in Nevada which is one of the most friendly jurisdictions in the world for miners. And not surprisingly (see chart below) North American miners have average cash costs that are considerably below the global average.
Doing business in North America is simply easier than trying to run a mine in the middle of Africa or some other remote locations.
Pershing has this location advantage and on top of that also has bought an existing mine rather than started from scratch.
This puts Pershing in a place where it should have all in costs of $800 to $900 per ounce of production which should give the company a big advantage with the industry average of $1,211 per ounce.
Valuation
Pershing is still pre-production, so valuation work is quite a bit more difficult than for a producing/cash flowing company. There are two metrics that we can use to ballpark how the market might value Pershing once production is up and running.
The first is that Pershing is projecting initial production of 50,000 ounces of gold per year starting in 2014. Assuming gold prices in the $1,300 to $1,400 range, Pershing would be generating revenue of almost $70 million. Given Pershing's expected $800 to $900 per ounce cost to produce, Pershing could be cash flowing up to $30 million in just its first year of production.
On Pershing's current enterprise value that would be a fairly reasonable 4 multiple. However, within a couple of years, that cash flow figure could double. That would mean at the current share price Pershing is trading at under 2x future cash flow.
The second data point is Pershing's 564,000 ounces of gold. On the current enterprise value of $110 million, Pershing is trading at $195 per ounce. How attractive you think that is depends on your view on future gold prices and how optimistic you are about Pershing increasing its resource figure. Given that Pershing expects that the Relief Canyon mine can be expanded in every direction, it seems likely that the resource estimate could increase over time.
Major upside to this valuation is going to come from the exploration work the company will be doing on the 25,000 underexplored acres around the Relief Canyon mine.
Management / Key Shareholders
For a company of its size, Pershing has a very experienced and successful man in charge. In accepting the job of CEO at Pershing Gold, David Alfers gave up a very high ranking position (chief of U.S. operations) at the multibillion-dollar Franco-Nevada Corporation (NYSE:FNV). Alfers has 30 years of experience in the mining industry in Nevada, and his move from a comfortable high paying job at a big company to this development stage entity indicates his level of belief in the project.
Before joining Franco-Nevada Corp., Alfers was president and CEO of NewWest Gold Corporation, where he developed a large portfolio of promising Nevada gold properties including Long Canyon, Sandman, and Northumberland. In 2007, Alfers orchestrated NewWest's sale to Fronteer Gold for CDN$186.9 million. This shows he can take a small company like Pershing and deliver a pay day for shareholders.
Alfers's employment contract with Pershing is structured so that he gets a big pay day only if shareholders also do well:
We entered into an employment agreement with Stephen Alfers on February 9, 2012 which was amended on February 8, 2013, pursuant to which Mr. Alfers shall serve as our Chief Executive Officer until December 31, 2015, subject to renewal. Pursuant to the terms of his employment agreement, Mr. Alfers is entitled to a base salary of $250,000 per year and was issued (I) 12,000,000 shares of the Company's restricted common stock and (ii) an option to purchase 10,000,000 shares of the Company's common stock with a term of ten years and an exercise price of $0.49 per share.
Alfers didn't move to Pershing for the salary, he would have made more and taken much less risk staying at Franco-Nevada as Chief of U.S. Operations. I would surmise he moved to Pershing because he believes in the Relief Canyon project and sees a chance for a big windfall. The man has spent 30 years operating in Nevada, so this is encouraging.
Shareholders
Common Stock (1)

Name and Address of Beneficial Owner

Shares Beneficially Owned

Percent of Class

5% Owners

Frost Gamma Investments Trust(2)

53,218,879

19.47

Officers and Directors

Stephen Alfers

15,000,000

(3)

5.20

Eric Alexander

-

(4)

-

Barry Honig

37,791,847

(5)

13.13

Alex Morrison

-

(6)

-

Officers and Directors as a Group (Four persons)

52,791,847

18.33
· Noteworthy Shareholder No. 1 -- Philip Frost
Almost 20% of Pershing is owned by Dr. Philip Frost. I think this is an important consideration for Pershing investors. Frost is a billionaire and has shown a willingness to help finance Pershing through this start-up phase.
Frost made his fortune by selling drug manufacturer Ivax to Teva Pharmaceuticals (NYSE:TEVA) for $7.6 billion in 2005.
Having Frost's deep pockets behind the company should greatly increase the chances that access to capital is always going to be available. His big financial interest in the company also lends credibility to the project.
The capital markets are not friendly to small resource players right now and Frost's involvement is a key advantage for Pershing.
· Noteworthy Shareholder No. 2 -- Coeur Mining (NYSE:CDE)
Coeur Mining is the largest U.S.-based primary silver producer.
Coeur purchased almost 11 million shares of Pershing in a June 2012 private placement. Not only does Coeur bring deep pockets like Philip Frost, but its expertise in the mining sector is a further sign that the Relief Canyon mine is more than just another high-risk development.
Coeur is also Pershing's immediate miner to the north and has intimate knowledge of the area which is obviously a great vote of confidence in the Relief Canyon property. Coeur's Nevada/Packard silver mine is one mile north of Pershing's property.
Continental Resources Group
A large percentage (29%) of Pershing's shares in 2012 were owned by a company called Continental Resources.
On March 1, 2013 Continental distributed those shares directly to its shareholders.
Pershing completed the resale registration of approximately 76 million shares held by Continental Resources Group in early 2013, and those shares have been distributed to Continental Resources Group shareholders of record on March 1, 2013.
This should eliminate some confusion as to the ownership of Pershing and the relationship between these companies as all Pershing shares previously owned by Continental are now in the hands of Continental's shareholders.
Risks
Pershing is a pre-production development stage gold miner. There are plenty of risks involved in investing in such a company. There are also risks specific to Pershing. These include:
- The mining industry is capital intensive and the ability to raise financing may not always be available. Pershing is going to need to continue raising some capital to get to first production
- Cost overruns continuously plague the industry
- Pershing's directors and management own over 37% of the company which gives them considerable control and limits outside investors influence
- The price of gold is a risk and is completely out of Pershing's control
A full list of Pershing's risks can be found in its S-1.
Final Thoughts
Pershing expects to bring the Relief Canyon mine to production in 2014. Becoming a cash flowing business would obviously be a tremendous catalyst for the share price.
If that production commencement coincides with the market starting to value junior miners as though they aren't all going bankrupt then all the better.
There is considerable risk to investing in Pershing given it is still pre-production. Having shareholder Frost and his billions behind the company is certainly helpful but this is definitely an idea for a diversified and not concentrated portfolio.
Disclosure: I am long PGLC. I wrote this article myself, and it expresses my own opinions. I am not receiving compensation for it (other than from Seeking Alpha). I have no business relationship with any company whose stock is mentioned in this article.