The 13 closed end fund (CEF) types on average were up 2.5% for the week ending 8/7/09. The S&P 500, as measured by the SPDR S&P 500 ETF (NYSEARCA:SPY), registered an increase of 2.4%. On an aggregate, unweighted basis, the weekly price increase for 634 CEFs was up 2.3%.
The weighted 51 CEFs comprising the Claymore CEF Index registered an average advance of 2.2% for the week. The 634 CEFs' aggregate, unweighted current distribution yield is 7.5% and is trading at a 4.0% discount—versus 7.8% and 4.9% the previous week, respectively. Year-to-date, CEFs on average have extended their price appreciation to 34.1%. (Click here for YTD CEF performance.)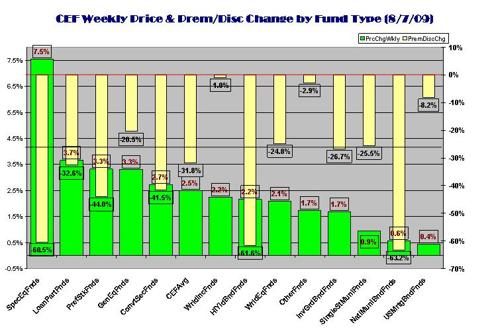 Click to enlarge
Market's Sentiment: The CBOE Volatility Index (VIX), which moves inversely with the stock market, eased throughout the week; it gapped down on Friday to close the week off 4.5%. The Eqcome CEF Fear Index also declined for the week. The unweighted average price rose 0.9% greater than NAV (2.3% versus 1.4%, respectively).
Price/NAV Weekly Spreads: The biggest spread between the weekly price and NAV change was for MVC Capital, Inc. (NYSE:MVC), 11.9%. (Price change 8.9% versus NAV decline of 3.0%). The change was a result of two separate events.
MVC filed an 8-K with the SEC stating its Fund Valuation Committee recorded a $.55 per share valuation decline in its portfolio holdings to $16.46 per share. Separately, it announced the acquisition of Energy Service Providers, Inc., by one of its portfolio companies, US Gas & Electric, Inc. The acquisition required no additional outlay of funds by MVC. (A positive spread between the price and NAV could be viewed unfavorably subject to other metrics, and visa versa.)
H&Q Healthcare Investors (NYSE:HQH) experienced a negative spread between its weekly share price/NAV change of -5.6% (-7.9 versus -2.3). During the week, HQH announced it suspended its managed distribution program of 8% of NAV due to lack of capital gains. HQH will payout distributions that would continue to qualify it as a CEF.
CEF Weekly Fund Type Performance: For the third consecutive week, all CEF fund types advanced. Investors' tolerance for risk increased; most of the debt oriented fund types lagged. The top performing fund type was SpecEqFnds up 7.5%.
SpecEqFnds were fueled by real estate oriented CEFs. Of the top 15 best performing CEFs last week, 12 were real estate related. The 12 real estate CEFs were up on average 20%. REITs recently issued $1.25 billion of unsecured bonds. This is being viewed by investors as potentially signaling some abatement in the industry's liquidity crisis as it seeks to refinance its maturing debt.
Premium/Discounts: Changes in premium/discounts were widely dispersed with an average fund type decline of 31.8%. (A decline represents a narrowing of the discount and visa versa.) This is consistent with the average unweighted positive spread of price versus NAV. As the discounts narrow, the percentage change from week-to-week magnifies. Three fund types experienced negative weekly changes to its discount of over 60%: NatMuniBndFnds (-0.3% vs. -0.8%); HiYldBndFnds (-1.1% vs. -2.8%); SpecEqFnds (-2.6% vs. -6.6%). WrldIncBndFnds had the least change in it discount, -1.0%.
Weekly Comparisons: For the old time chart watchers, the advance on Friday of the Dow Jones Transportation Average to its yearly high confirms the Dow Jones Industrial Average upward move. Under the Dow Theory it is usually interpreted as a bullish sign for the US equity markets.
However, on a global scale, the transportation indices are faring less well. The Baltic Dry Index, a measure of shipping costs for commodities, slumped 35 percent from this year's high on June 3. Chinese demand for shipments of coal and iron ore slowed. Some suspect commodity prices may slow globally as a result of China having restocked it shelves. (Click here for next week's economic calendar.)
ETFs: The ETF asset classes played-out pretty much as you'd expect in a robust equities market. Fixed income (Blue) performance was generally off as investors abandoned bonds and gravitated towards equities. Additionally, futures are trading as if there is going to be a hike in the Fed Fund rate.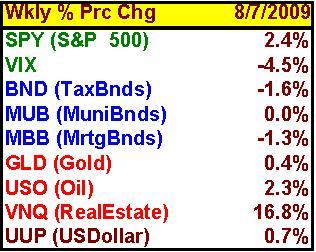 Commodities (Red) were on the plus sides with commercial real estate continuing to power due to greater debt market liquidity.

The US dollar improved not on uncertainty elsewhere, but on improved US economic performance. (Click here for ETF YTD sector performance.)
CEF High & Low: Cohen & Steers Quality Income Realty Fund Inc. (NYSE:RQI) was up 26.9% on the strength in the real estate sector. H&Q Healthcare Investors (HQH) was one of the week's biggest losers, down 8.0% as it suspended its managed distribution program—as mentioned above.
CEF Insider Trading: Insider trading reflected the summer doldrums with sleepy activity.
Some of the previous players added to their position in early August. Dan Neidich, a director of GAM, added another 2,800 shares ($60,024) to his recently established position at an approximate average price of $21.44. He is the only insider of GAM accumulating shares. GAM closed at 21.59 on Friday.
Participants of a proxy solicitation in MBIA Capital/Claymore Managed Duration Investment Grade Muni Fund (NYSE:MZF) added modestly to their position. The group added another 4,984 shares ($49,104) at an average cost of $11.98. The stock closed $12.02 on Friday.
Robert B. Macintosh, president of Eaton Vance Insured Muni Bond Fund (NYSEMKT:EIM) added 2,000 shares in 4 separate transactions at an average cost of 12.32 for an expenditure of $24,641. The stock closed at 12.56 on Friday.
There were several small individual buyers of some of the John Hancock advised funds. (Click here for CEF insider summary.)
CEF Focus for the Week: Boulder Growth & Income Fund Inc. (NYSE:BIF) is the focus stock of week. While it's been discussed here before as a result of heavy insider buying over the past year, there is now an additional reason for purchase. (Click here for previous report of BIF.)
Berkshire Hathaway, Inc. Class A represents approximately 23% of BIF's investment portfolio. Berkshire (NYSE:BRK.A) reported on Friday that its net income rose 14% in 2Q YOY, halting six straight quarters of declining profit. With a heavy emphasis on financial stocks, further improvement in the group would benefit Berkshire's results and BIF's prospects.
Currently, BIF is trading at a 14.3% discount. While the "knock" on BIF is its 2% management fee and the fact it has suspended its distribution late last year, it would take several years for the management fee to "eat through" the discount. It will eventually have to reinstitute its distribution program by virtue of its CEF status. Twelve months ago, BIF was trading at a premium.
Disclosures: Long SPY, GLD and BIF