The Canadian dollar is showing evidence of stalling after its recent rally against its U.S. counterpart. Helping drive the initial rally, however, was the upside swing in gold and the medium term bullish climb in oil. These commodities are highly correlated with the Canadian dollar, so for forex traders invested in this currency, it is also important to pay special attention to the SPDR Gold Trust ETF (NYSEARCA:GLD), and the United States Oil Fund LP ETF (NYSEARCA:USO) when anticipating future moves in the currency.
In addition to these supportive correlations, the Canadian dollar was helped higher by dovish comments from the U.S. Federal Reserve. With the high trading liquidity that is seen between the U.S. and Canadian dollars, bullish activity in one currency tends to weigh on the other. As a proxy for this, traders should remain cognizant of activity in the PowerShares DB U.S. Dollar Index Bullish (NYSEARCA:UUP). Last week's comments from Ben Bernanke suggested that the Fed is willing and able to continue pumping monetary stimulus into the economy -- even if we see improvements in regional economic data. So, when we take this in combination with the favorable moves in commodities, the bullish outlook for the Canadian dollar starts to build.
On the negative side, however, we do have weaker manufacturing data out of China, along with downward expectations in annual GDP figures and import/export numbers. Given Canada's massive trade relationship with China, this is one area that should be watched for those considering long positions in the CurrencyShares Canadian dollar Trust (NYSEARCA:FXC), which tracks the value of the currency. Looking ahead, we will have the latest interest rate statement from the Bank of Canada, which will be the first decision after new central bank Governor Stephen Poloz was appointed (Mark Carney in June).
Canadian dollar traders will also need to monitor market activity in bond yields, as weakness into the end of last week was propelled in part by the relative yield advantages of the 10-year note in the U.S. (12 basis points), as this currently shows a marked difference with numbers seen at the beginning of the month (19 basis points). This latter figure was the largest difference since 2011, so there is some potential here for volatility in the Canadian dollar to increase based on how markets move next in these areas. Yields on a global scale have been on the rise, while in Canada yields are moving in the opposite direction, so this could easily have long-term implications for the currency.
Chart Perspective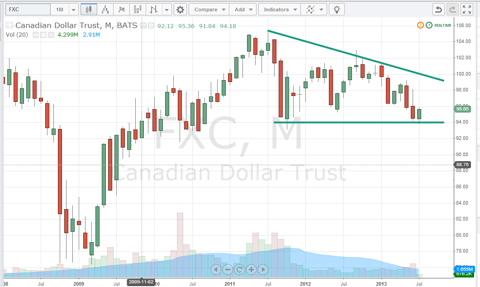 Click to enlarge
(Click to enlarge)
The Canadian dollar is looking vulnerable if further weakness in seen, and a loss of 93.95 in FXC will start to accelerate losses. The ETF is still a buy at current levels but risk should be kept tight, using modest upside targets. If we see a downside break of 93.95 in FXC, the next target can be seen with a test of support at 91.80.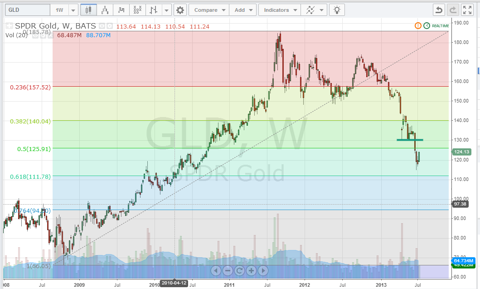 Click to enlarge
(Click to enlarge)
Prices in GLD could see small increases in the short term (a supportive element for the Canadian dollar), but further upside here is limited as well and breaks of support at 120 darkens the outlook. In GLD, medium term upside is capped in the 130 region, so any approaches here should be viewed with caution.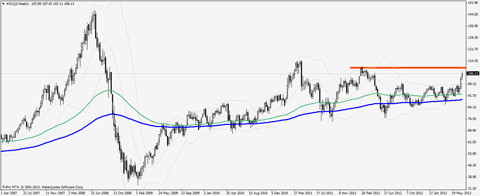 Click to enlarge
(Click to enlarge)
Oil is Canada's largest export, so the medium term bull run in the commodity is one of its most supportive elements for the currency. Currently, oil is trading firmly above the previous resistance at 100.50, so we would need to see a break back below these levels (through resistance turned support) in order to alter the bias for the commodity. To the topside, we don't have any real resistance in oil prices until the 110.30 area, so there is very little limiting the prospects for at least a slow drift into this region before real downside pressure starts to emerge.
Disclosure: I have no positions in any stocks mentioned, and no plans to initiate any positions within the next 72 hours. I wrote this article myself, and it expresses my own opinions. I am not receiving compensation for it (other than from Seeking Alpha). I have no business relationship with any company whose stock is mentioned in this article.