Citigroup (NYSE:C) became the third large U.S. bank to report earnings for the second quarter, after JPMorgan Chase (NYSE:JPM) and Wells Fargo (NYSE:WFC). Reported revenue rose 11% over the prior-year period to $20.5 billion. The bank made $4.2 billion in net income, which represents an increase of 42% over the previous year. Excluding the impact of credit valuation adjustments (CVA) and debt valuation adjustments (DVA), adjusted earnings per share (EPS) rose by 25% to $1.25, which is higher than analysts' estimates of $1.18. Including the impact of CVA/DVA, EPS rose to $1.34.
CEO Mike Corbat has continued management's focus on reducing costs, and for the second quarter operating expenses fell to $12.140 billion. The efficiency ratio had improved to 59%. Management has set a target for the efficiency ratio to improve further to the mid-50s.
Quarterly earnings history and consensus estimates (excluding impact of CVA/DVA)

Q2 2013

Q1 2013

Q4 2012

Q3 2012

Q2 2012

EPS ($)

1.25

1.29

0.69

1.06

1.00

Consensus estimate ($)

1.18

1.17

0.96

0.96

0.89

Surprise

5.9%

10.3 %

(28.4 %)

10.6 %

12.5 %
Source: Citigroup's earnings release and Thomson Reuters I/B/E/S.
Net credit losses have continued to decline, as the economy strengthens and the housing market improves. For the quarter, net credit losses were $2.6 billion, which is 25% lower from last year. Improving credit quality resulted in a $784 million pretax benefit from the release loan loss reserves, which is higher than the $652 million reported for the previous quarter. But this is lower than the $1.0 billion released from the corresponding quarter last year. We should continue to see continued loan loss reserve releases, as asset quality is expected to improve. But the impact may not be as substantial as it previously had been.
Unfortunately, net income from its Global Consumer Banking segment fell 1% vs. the prior-year period, as loan loss reserves were less significant and retail banking revenues in North America fell due to lower mortgage originations and lower interest spreads. On a more positive note, international banking revenues grew 6%, and net income rose by 4% over the prior-year period. Citigroup's globally diversified retail banking business also positions the bank to grow into many higher growth economies.
Net interest margin (NIM) declined to 2.85% from 2.94% in the first quarter of 2013. This places the decline in NIM in between Wells Fargo and JPMorgan, which saw NIM in the second quarter decline by 17 and 2 basis points, respectively. This is partly due to Citigroup's lesser reliance on mortgages, which meant NIMs have been relatively stable and have hovered just under 3.0% since 2011. It is also partly the result of the bank's international banking operations, which allowed it to grow its deposits abroad at a lower cost than previously, and by reducing its dependency on funding from higher cost sources.
Citigroup income from continuing operations by segment

Q2 2013

Q1 2013

Q2 2012

change on Q1 2013

change on Q2 2012

Global Consumer Banking

1,955

1,917

1,971

1%

(1%)

Securities and Banking

2,382

2,355

1,475

1%

61%

Transaction Services

808

770

889

5%

(9%)

Corporate / Other

(388)

(322)

(447)

(20%)

13%

Citi Holdings

(569)

(789)

(909)

28%

37%

Total Income from continuing operations

4,188

3,931

2,979

7%

41%
Source: Citigroup's earnings release.
Revenues From Its Securities and Banking Segment Remain Strong
Improved revenue from Securities and Banking has contributed significantly to Citigroup's strong earnings. Investment banking revenues were particularly strong, and rose by 21% to $1.04 billion. This was primarily driven by particularly strong equity underwriting and from advisory services. However, debt underwriting was slightly weaker than the previous quarter, which meant that revenue from investment banking declined 2% from the previous quarter.
However, fixed income and equity trading revenue fell 20.8% from the previous quarter, to $4.31 billion. As with JPMorgan's second-quarter earnings, concerns over the Fed "tapering" asset purchases have had a detrimental impact to trading revenue for June. But, revenues are still stronger than the prior-year period.
Strengthening Balance Sheet
Citigroup's balance sheet continues to strengthen, as the bank reported its Basel I Tier 1 Common Ratio rose to 12.2%, up from 11.8% in the first quarter. Furthermore, it estimates that its Basel III Common Ratio would stand at 10.0% at the end of the second quarter. Management is expecting this to be above 10% by the end of the year.
Citigroup's management had faced much embarrassment last year when the Fed had rejected its proposal to buy back up to $8 billion of stock. However, in April 2013, Citigroup had approved a $1.2 billion stock repurchase program, which should be completed be completed by March 2014. This is supposed to only offset dilution expected from issuances of common stock to employees, as part of their compensation. There has been no increase in the dividend, which remains pitifully low at just $0.01 per quarter. Furthermore, it appears that management has no intention to return more capital to shareholders until 2014.
Citigroup Stock Continues to Trade Below Tangible Book Value
Even with the substantial stock price appreciation achieved over the past year, Citigroup trades at a discount to book value of 18%. Citigroup's return on equity for the second quarter improved to 8.8%, but this remains lower than its stronger competitors, including JPMorgan and Wells Fargo. Despite recent improvements in asset quality and its strengthening capital position, Citigroup also continues to trade at a discount to tangible book value. Tangible book value per share at the end of the second quarter increased to $53.10. Although the discount to tangible book value is partly justified by the severity of loan losses suffered by the bank following the financial crisis, Citigroup is making strong efforts in improving efficiency -- reducing the drag from Citi Holdings and growing its revenues. On forecast FY 2013 earnings, Citigroup trades at forward P/E ratio of 11.0.
At the time of writing, Citigroup stock rose 2.19% to $51.91 in pre-market trading.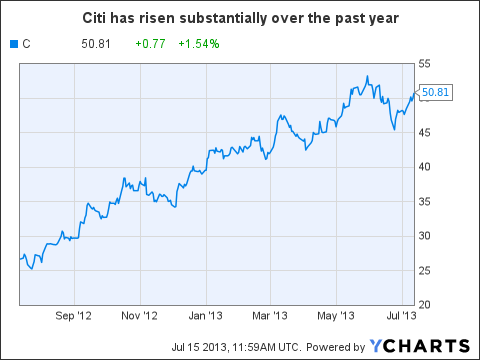 Disclosure: I am long JPM. I wrote this article myself, and it expresses my own opinions. I am not receiving compensation for it (other than from Seeking Alpha). I have no business relationship with any company whose stock is mentioned in this article.