The InvestmentNews July 8-12 issue reports that the Obama administration continues to push for limitation of the tax exemption of muni bonds at 28%. They also report that the chief executive of Bond Dealers of America said, " in the text of tax reform (proposed 28% cap) has a lot of legs, and I think it will be seriously considered."
List of optimistic and pessimistic articles at InvestmentNews on the topic:
The cap possibility poses significant problems for both states and cities as well as for individual investors who own currently outstanding muni bonds.
The tax exemption has been around for a very long time, and multiple presidents have tried to limit or kill it, so the chances of a cap would seem low. However, we are in extraordinary times, and if a wide swath of tax benefits were to be changed, then muni exemption would be more at risk than in prior periods.
The problem for states and cities would be a higher cost of financing. Investors will require a higher yield on new issues to get to the same after-tax position that muni bonds provided prior to the imposition of a cap. That would result in higher property and income taxes on all citizens, presuming that in the long-run states and cities would not change their borrowing habits.
On the problem for cities, InvestmentNews July 8-12 said:
Philadelphia Mayor Nutter said that the cap would increase the city's borrowing costs by about $5 million per year. The National Association of Counties said the cap would cost municipalities $9 billion per year in interest expenses.
The problem for individual holders of currently outstanding muni bonds who have federal marginal tax rates higher than 28% is that the after-tax yield they earn on their holdings would decline. The market value of their holdings would also decline, because individual investors would require that purchases in the secondary market provide competitive yields with new issues, which would have to carry higher coupons to generate pre-cap after-tax yields.
Historically, when muni bond yields were above about 85% of the comparable maturity Treasury, they were seen as selling at a discount and when selling at less than about 85% they were seen as selling at a premium.
Since the 2008 crash or thereabout, the yields on muni bonds have been seen as creating bargains, sometimes big bargains. Muni bonds sell at around 110% of the yield of Treasuries today according to data from JPMorgan Asset Management.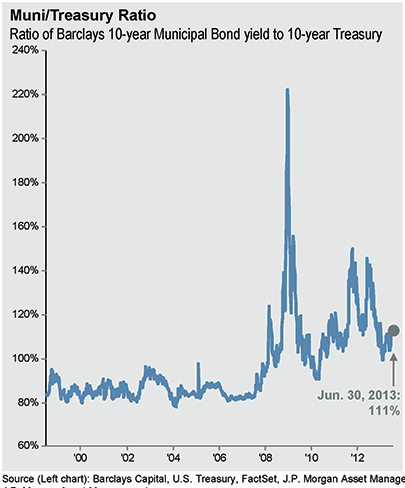 That may well be a continuation of the post-2008 rate distortions caused buy Federal Reserve manipulation of Treasury rates. However, maybe the excess yield of munis today could also be a discount related to uncertainty about the possibility of tax law changes that would limit tax exemption, as well as a response to new higher tax brackets.
Net flows into muni mutual funds have been weak all year in absolute and relative to taxable flows, and had historic outflows in June 9 (as did taxable bonds) as this chart of monthly net flows from 2007 illustrates.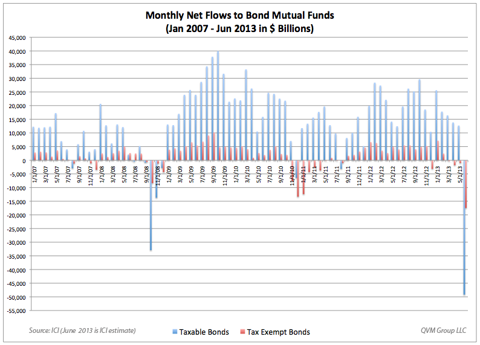 Click to enlarge
The huge sell-off in bonds was a function of rising rates and Bernanke comments about the future tapering of QE.
Here is a history of 2-year and 10-year Treasury rates over the past 5 years. The recent run-up of 10-year rates is significant, but not more so than the rise in 2009 and 2011. So, the idea of tapering QE probably had a stronger influence than the rate rise alone.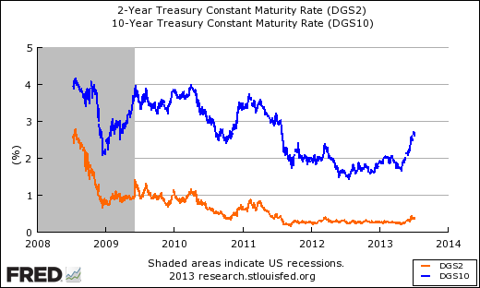 Click to enlarge
Here is how various Treasury and muni-bond ETFs have performed over 3-months, 1-year and 2-years:
Over 2 years, Treasuries have outperformed, but over 1 year and 3 months, short-term and intermediate-term muni bonds have outperformed Treasuries. Is this due to higher tax brackets? Would they have done better without the overhang of a potential cap on tax exempt interest? In any event, we believe the cap would negatively impact muni-bond prices.
3 Months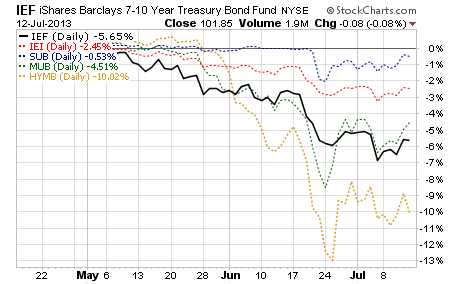 1 Year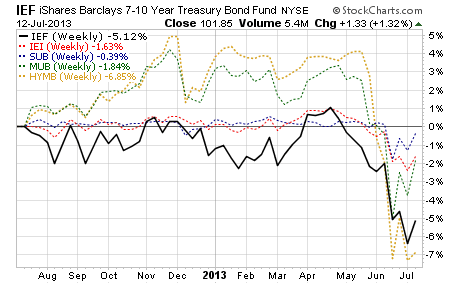 2 Years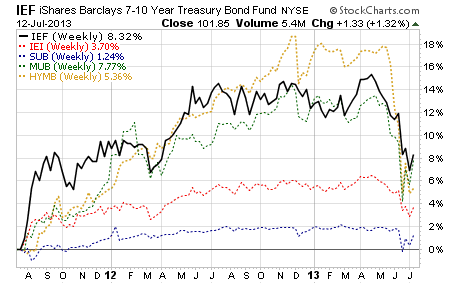 Bond fund attributes:
The two Treasury funds are trading close to par. The short-term and intermediate-term muni bond funds are trading at a premium. The high yield muni fund is trading at a discount (presumably due to the poor financial condition of troubled cities, and discussions of default by some major cities).
Reuters recently had this to say about muni defaults: "Detroit's announcement that it is suspending payments on its unsecured debt as a likely prelude to bankruptcy pushed the amount of defaulted debt in the U.S. municipal bond market up to $6.96 billion in the first half of 2013, according to a report on Friday by Distressed Debt Securities Newsletter."
Here are the yield to maturity, average duration, average bond price and 3-year standard deviation for the 2 Treasury and 3 muni ETFs:
(click image to enlarge)

Click to enlarge
Between (1) amortization of price premium in short-term and intermediate-term muni bonds, (2) the prospect of rising interest rates and (3) the possibility of a cap on tax exempt income, we think caution should be the word for short-term and intermediate-term muni bonds (and outright avoidance of Treasuries."
With respect to high yield muni bonds, we think the higher grades of high yield are appropriate; and that reaching for yield among junk muni's is too speculative.
We understand that the exemption cap is unlikely in terms of historical attempts to limit muni bonds, but how many other things about investment, interest rates, bond liquidation priority, government intervention and the sanctity of contracts have seen the highly improbable become fact since 2007? The improbable has become reality more often than history and odds would suggest in the past few years, and the wealth redistribution efforts of the current administration are still a strong force.
Disclosure: QVM has no positions in any mentioned security as of the creation date of this article (July 14, 2013). We certify that except as cited herein, this is our work product. We received no compensation or other inducement from any party to produce this article, but are compensated retroactively by Seeking Alpha based on readership of this specific article.
General Disclaimer: This article provides opinions and information, but does not contain recommendations or personal investment advice to any specific person for any particular purpose. Do your own research or obtain suitable personal advice. You are responsible for your own investment decisions. This article is presented subject to our full disclaimer found on the QVM site available here.