Apple (NASDAQ:AAPL) reports its June quarter results after the close on Tuesday, July 23. Expectations are pretty low for both the June and September quarters since Apple hasn't announced any major new hardware products and isn't expected to until at least September.
That doesn't mean that June quarter's results and guidance aren't important. Besides giving an update on how the company is doing against competition it will provide a stake in the ground for future estimates and give an indication on managements philosophy on share buybacks.
Revenue
Guidance for June quarter revenue was $33.5 to $35.5 billion. I am expecting $36 billion (Apple beat March quarter revenue guidance by $603 million) and the Street is at $35.2 billion.
At $36 billion revenue would be up 3% year over year and down 17% quarter over quarter. The quarter over quarter decline compares to down 11% last year and up 15% two years ago (Verizon's iPhones became available in February and the iPad 2 was launched in March which helped sales in the June quarter).
Gross Margin
Gross margin guidance for the June quarter is 36% to 37%. As a starting point in the March quarter gross margin came in at 37.5% vs. guidance of 37.5% to 38.5%. A key factor why gross margin came in at the low end of guidance was due to the company accruing $414 million in additional warranty expenses which decreased gross margin by 95 basis points. Gross margin would have been 38.4%.
There are at least two items that should negatively impact gross margins in the June quarter. The first is memory prices increasing during the quarter. While Apple has a strong negotiating position as one of the largest buyers of memory it will eventually be impacted by either rising prices or slower price decreases.
The second item is Apple's pricing promotions in developing countries. The company is particularly aggressive in India and China with programs such as trade-in credits.
Tim Cook said on last quarter's conference call "China has an unusually large number of potential first-time smartphone buyers, and that's not lost on us. We've seen a significant interest in iPhone 4 there and have recently made it even more affordable to make it even more attractive to those first-time buyers."
The strength in iPhone 4 and 4S sales may not negatively impact gross margins. It may even help them a bit since their margins could be higher than the company's gross margins. It is also unknown if they are hurting or helping overall revenue. If they are stealing sales from iPhone 5's then it hurts revenue. If customers are buying them vs. the competition than it helps revenue.
I am expecting gross margins to come in at 36.4%, just below the mid-point of guidance. Each 50 basis points affects EPS by $0.14.
EPS
I am estimating EPS to come in at $7.47 vs. the Street at $7.34 and a guidance range based on the revenue, gross margin and operating expenses provided by management.
Low point: $6.66
Mid-point: $7.04
High-point: $7.34
Last quarter the guidance range was $9.24 to $10.24 and EPS came in at $10.09.
iPhone: Expecting 26.4 million to be sold
I am only expecting 26.4 million iPhones to be sold in the quarter, an increase of 1% year over year. With a lower average selling price (ASP) of $590 the company should generate $15.6 billion in revenue (down 4% year over year) and 43% of total revenue of $36 billion. The 43% would be the lowest percentage of revenue since the September 2011 quarter which was the quarter before the 4S was launched. The wild card is how successful are the iPhone 4 and 4S in developing countries.
The quarter over quarter decline from 37.4 million would be 26% vs. last year's decline of 19% (both are adjusted for channel inventory impacts). There should be a greater decline this year since in 2012 China Telecom launched in March, which means some of its early sales would have occurred in the June 2012 quarter.
Some of the key items to keep in mind for how many iPhones were sold in the quarter:
· Competitors with the Samsung (OTC:SSNHY) Galaxy S4, HTC's (OTC:HTCCY) One and BlackBerry (NASDAQ:BBRY) with the Q10 and Z10 (even though it can now be bought for $49) had some level of impact on Apple
· Increased channel inventory has added 1 million or more per quarter for the last two quarters which makes forecasting challenging. I expect channel inventory to decrease by 400,000 in the quarter vs. a decline of 300,000 in last year's June quarter.
· Incentives by Apple in developing countries such as India where iPhone sales are now estimated to be running at 400,000 per month
· T-Mobile started carrying the iPhone in April. It sold 500,000 in the first four weeks with estimates in the 750,000 to 900,000 range for the quarter
iPads
iPads could become more important to Apple's financial results as the competition in the tablet space is not gaining the same traction as the smartphone market. They could also generate a higher percentage of its sales through commercial vs. consumer customers vs. the iPhone in the future.
I am projecting that Apple sold 20 million iPads which would be a 17% increase from a year ago and up 26% when adjusted for channel inventory. However, with a projected ASP of $440 vs. $538 a year ago (no iPad Mini) revenue of $8.8 billion would decline by 4% year over year.
Macs
I am expecting 3.9 million units sold which would be down 1% from March quarter's 3.95 million units and down 3% year over year. This compares to Gartner's estimate that Apple's U.S. Mac sales were down 4% and IDC estimates that they were only down 1%. I am estimating Macs to generate $5.3 billion in revenue which is 15% of my $36 billion in total revenue and up 7% year over year.
Share buybacks
Apple's huge buyback program shouldn't have a large impact to EPS in the June quarter. On May 1 Apple took on $17 billion in debt for share buybacks since so much of its cash is overseas.
Even if Apple spent all $17 billion buying back shares at an average of $430 it would have bought back almost 40 million shares or 4.2% of diluted shares. Since the stock would have been bought in the last two months the lower share count would only be "effective" for one month of the quarter. That would mean the EPS impact would only be 1.4% of shares or 13 million shares. While it could have spent more than the $17 billion since it does have over $40 billion in U.S. based cash before it took on debt I wouldn't expect that it spent more than the $17 billion in one quarter.
I am estimating that the share count did drop by 11 million shares to 935 million since Apple should have been buying back shares starting at the beginning of the quarter.
Chart analysis
It appears that Apple's stock put in a double bottom around $385. It does not appear to be either oversold or overbought when looking at its Relative Strength Index (RSI or upper portion of the chart) or is MACD (bottom portion of the chart).
It could run into resistance at its 50 day moving average of $433 and was not able to stay above it when it crossed over it from late April to mid-June. It will have to cross and stay above it for technical traders to get back into the stock.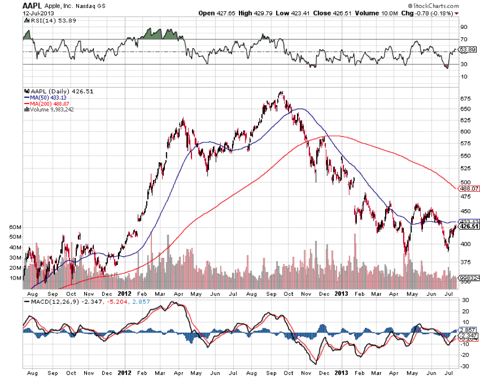 Click to enlarge
(Click to enlarge)
Source: Stockcharts.com
Valuation
The shares are trading at 11 times my calendar EPS estimate of $38.40. Along with $60 billion being spent on share buybacks over the next three years I believe the stock is undervalued.
However it probably won't work until the calendar turns and it gets closer to new product announcements or they actually get announced so it can be estimated how much they can move the financial needle. It wouldn't take much to change the sentiment on the shares and get them to $500 or higher.
Disclosure: I am long AAPL. I wrote this article myself, and it expresses my own opinions. I am not receiving compensation for it (other than from Seeking Alpha). I have no business relationship with any company whose stock is mentioned in this article. Sand Hill Insights and Chuck Jones is not a registered investment advisor or broker/dealer. Readers are advised that the material contained herein should be used solely for informational purposes. Sand Hill Insights does not purport to tell or suggest which investment securities readers should buy or sell. Readers should conduct their own research and due diligence and obtain professional advice before making investment decision. Sand Hill Insights will not be liable for any loss or damage caused by information obtained in our materials. Readers are solely responsible for their own investment decisions.