Vivus Pharmaceuticals (NASDAQ:VVUS) is in the middle of a heated proxy fight for control of the company's board. The latest salvos in this fight came this weekend in the form of two separate press releases from Vivus. We believe that the Vivus management is behaving erratically and that this may be an indication of the company losing the proxy fight. Investors on the sidelines would do well to wait for the proxy battle to be over, or to look to the at-the-money and near-the-money options straddles to play the outcome of this proxy battle which may be known by next Thursday.
Erratic Press Releases
On Saturday, the company issued a press release extending an olive branch to First Manhattan Company (FMC) by "inviting" three of FMC's proposed alternate board members to join the Vivus board. The company suggested that "Michael Astrue, Alex Denner and David Norton, or any other FMC nominee who is among FMC's three highest in the proxy vote" to join the board if FMC is unsuccessful in electing three of its nominees to the VVUS board. VVUS CEO Leeland Wilson tried to strike a conciliatory tone by saying:
This proxy contest has given us the opportunity to have robust discussions with numerous stockholders about the future of our Company, and the time has come to put the risk and uncertainty surrounding this proxy contest behind us and focus 100% of our efforts on making Qsymia the big seller both we and FMC are confident it can be.
On Sunday Vivus issued a second press release announcing that the company had filed a complaint with the US Securities and Exchange Commission regarding allegedly false and misleading statements made by advisors to FMC regarding the recommendation of Institutional Shareholder Services (ISS) in connection with the Company's 2013 Annual Meeting of Stockholders. The press release used combative language. Most provocatively, the press release said (in underlined bold type):
If FMC cannot conduct itself in accordance with the federal securities laws, we believe stockholders should have significant concerns about supporting FMC's efforts to replace the VIVUS Board and take control of the Company and your investment.
Oddly enough, this press release does not describe at all the nature of the statements that Vivus found to be false and misleading. The company plans to adjourn its annual meeting of shareholders from Monday July 15th to Thursday July 18th to allow adequate time for FMC to correct its allegedly misleading statements.
A quick scan of Reuters headlines shows that FMC correctly reported that ISS backed 3 of their 9 candidates while proxy advisory firm Egan Jones supported the full FMC slate of 9 directors. The press release also implied that FMC failed to file certain disclosures with the SEC regarding these statements. Here is the SEC filing relating to the ISS and Egan Jones press release issued by FMC. The filing, which was made on July 5th, accurately reflects the information relayed in the press release.
Meanwhile a Loot Grab by VVUS management
While VVUS and FMC publicly battle out the proxy fight, VVUS management has been busy behind the scenes grabbing whatever loot they can. On July 3rd VVUS management voted themselves an increase in severance benefits in the event of a change in control. Instead of three months severance. management voted themselves six months' severance, and instead of three months of free healthcare coverage, management voted themselves 24 months of free healthcare coverage.
What It All Means
Taken together, these two diametrically opposed press releases and the increased severance benefits signal to us that VVUS management thinks they are losing the proxy battle. On the one hand they try to portray themselves as responsive to investor concerns by offering three board seats, and simultaneously they allege that FMC is being intentionally misleading while voting themselves increased pay and benefits should the proxy fight not go their way. Despite the recent progress in making Qsymia available in retail pharmacies (which was expected by mid July anyway), and the partnership for avanafil in the EU, VVUS management is displaying a "me first" attitude rather than a "shareholders first" attitude in its less well publicized actions and dealings.
When your largest shareholder tells you that a change is needed, a responsive board that has shareholder interests first listens and responds quickly. Instead, VVUS management chooses to drag out the proxy fight as long as possible.
All of the press releases and posturing on both sides of this proxy fight are directed solely at retail shareholders. The suggestion that FMC "cannot conduct itself in accordance with the federal securities laws" is completely preposterous. Let's remember FMC has $14 billion in assets under management and has attendant reporting requirements to the SEC. This statement is fear mongering aimed at inexperienced investors. The buy side community has already made up their minds one way or another. The repeated over-the-top press releases will not do much to sway the buy side in this proxy battle. Those who believe present management is underperforming should be opting for FMC. FMC has put forth a well qualified CEO candidate, Anthony Zook, with the proper experience to both run VVUS and possibly to strike a favorable deal with larger pharmaceutical partners regarding the marketing of Qsymia.
As an investor, seeing this kind of behavior is a definite red flag. While we have no position in VVUS at the moment, if we did, we would vote the WHITE proxy card. A management team that sold their shares when VVUS was trading at all time highs last year, and that has made no open market buys when VVUS is at a low point, but who instead votes themselves increased benefits when they are about to be thrown out, is not the team we would want running our company.
Finding a Trade
Two weeks ago we recommended to our (FREE) newsletter readers that the at-the-money $12 options straddle appeared under-priced given the upcoming proxy vote. Last week that straddle started the week at $1.30 and ended the week at $2.73, a 110% gain in just 5 days. We continue to believe that the proxy vote will be a pivotal event for VVUS. While much of the news flow as far as company events has already taken place, we believe that should FMC gain control of VVUS, this will be viewed positively by the markets since it brings in a new CEO and signals a potential for fresh ideas.
The July $14.5 options straddle which can, at the time of this writing, be bought for $1.50 appears to be attractively priced given the impending news. Our view is that FMC winning the proxy fight could send VVUS shares as high as $17.10 as investors renew enthusiasm for the stock and possibly due to some short covering as well (VVUS has some 29 million shares short). On the other hand, should the present management retain control, we see the prospect of a return to $10 as a real possibility as illustrated in the 2-year chart below. (Click to enlarge, data from TD Ameritrade)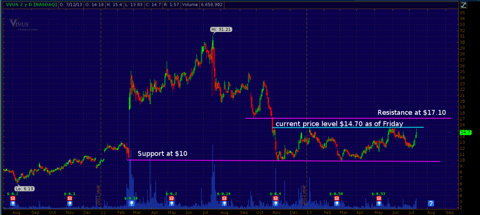 Should FMC lose the proxy fight, traders may pile in on the short side expecting FMC to unwind its 9.9% stake and leading to selling pressure for several days to weeks.
Buying front-month options during op.ex week is a highly risky trading strategy and this trade is not recommended for investors who are inexperienced with options. Investors considering this trade should keep in mind that once the verdict of the proxy vote is known, there will only be one trading session in which to unwind the trade. If VVUS' stock price stays within $1.50 of the strike price of the options on Friday, the straddle will expire worthless. Another caution is that VVUS management may try to drag out the showdown further by postponing the annual meeting a second time.
While the August dated $15 option straddle can be bought for $2.63, we would wait to see how things play out this week prior to considering the August straddle since our expected price move to the upside does not indicate a profitable trade in the August series at these premiums.
A safer way to play VVUS at this point is to wait until the results of the proxy vote are known and to trade the reaction afterwards. Regardless of who ends up controlling the company, the longer term reality will be that script numbers and revenue will determine the stock price. Should VVUS climb as high as $17 in the immediate aftermath of the proxy vote, looking to the short side might be the best move since this market cap is not justified by the current level of scripts. Should the present management stay in control, we believe that there may be substantial downside to the stock immediately after the vote, again the short side seems to be the likely best play given presently available information. The confounding factor to this longer term trade is that the recent availability of Qsymia in retail stores led to a 20% increase in prescriptions during the shortened July 4th holiday week. By next Monday the market will know whether this was a one-time bump in scripts, or a more fundamental shift in the sales trajectory for Qymia. For investors on the sidelines, taking a longer term position in the stock long or short is ill-advised until this information is available.
Disclosure: I have no positions in any stocks mentioned, and no plans to initiate any positions within the next 72 hours. I wrote this article myself, and it expresses my own opinions. I am not receiving compensation for it. I have no business relationship with any company whose stock is mentioned in this article.
Additional disclosure: This article was written by Rajesh Patel, Ph.D., Red Acre's Managing Director for Equities