BreitBurn Energy (BBEP), one of the better upstream MLPs, has recently

announced a huge acquisition. It will acquire over 30,000 acres from Whiting Petroleum in the Oklahoma Panhandle. This is a fine acquisition - it fits the classic upstream MLP model in many ways and affirms BreitBurn's position as one of the more capable acquirers in this space.
When it comes to financing, BreitBurn relies on secondary stock offerings more than most. Management has been quick to dilute existing shareholders after substantial acquisitions and this one is the biggest to date. Despite BreitBurn's impressive asset base and a huge dividend, income investors need to be careful to avoid the fallout of secondary offerings. In this article I'll take a look at what I think is a good time and price to get into BreitBurn.
BreitBurn Energy is an independent oil and gas MLP that acquires, exploits and develops properties in the lower 48 states. Their production assets, ordered from most to least, are located in the Permian Basin in Texas, the Antrim Shale in Michigan, several basins in Wyoming, the Los Angeles Basin in California, the Sunniland Trend in Florida, and the New Albany Shale in Indiana and Kentucky. The company has a market cap of $1.79 billion.
Acquisition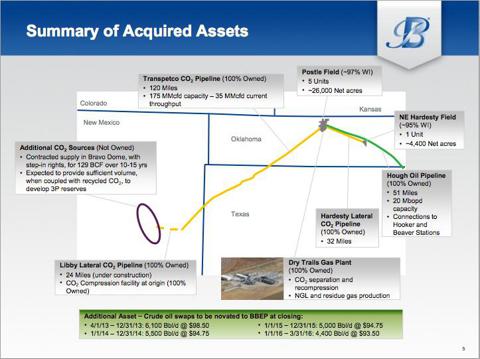 Above slide from Oklahoma Panhandle Asset Acquisition Conference Call Presentation, June 2013
BreitBurn announced its Oklahoma Panhandle acquisition on June 24th, 2013, from Whiting Petroleum. It includes two tracts of land and CO2 will be piped in from the Permian by a 3rd party provider. The total cost was about $860 million. Whiting no doubt sold these mature acreage to fund investments in some of the hotter shale plays, especially the Bakken, where Whiting is overweighted.
For BreitBurn, it means another 7,400 barrels of oil equivalent per day of production. This is a very oily acquisition, with 87% of existing total production as crude. In this sense, the Whiting deal is a transformative one because it tips BreitBurn's overall production towards liquids. Best of all? We will see "little to no decline" for the next ten years of production here. As a rule of thumb, you know a deal is good when analysts offer congratulations, which some did here.
Leverage As A Hint
Management has accessed credit lines to do this acquisition. BreitBurn's debt is now a little over four times adjusted EBITDA. The long-term goal has always been to operate at three times. In management's own words, it "will look to delever one way or another."
In the Q&A session, management had this to say about financing:
Let me say this, we've given a lot of consideration to different ways to finance. (...) Ahh, the market, despite what everybody thinks has been a bad few weeks, the market is still certainly open.
James G. Jackson, CFO, Oklahoma Panhandle Asset Acquisition Conference Call
These above comments should make one thing pretty clear: a secondary offering is in the works.
But How Bad Is It?

When BreitBurn does a secondary offering, it is typically followed by a decline of 5-10% in share price. Share count has risen dramatically over the past few years. Each time there has been a drift downward lasting for a few months. In early 2011 that drop was by 22%. The key to successfully investing in BreithBurn is to get in after these drops and collect that big distribution. We've already had one secondary earlier this year and I'm pretty sure we will have another one before the year is out.
We can see that simply buying right after a secondary offering isn't a great idea. History shows that it takes time for the weak hands to shake out. But I believe there are two important takeaways here:
Management loves to issue that stock above $20. I would not be adding anywhere near that level.
The $16s and low to mid $17s seem to be consistent support despite the flood of shares. That's the base to work from, regardless of timing.
Valuation

To further illustrate the point, look at BreitBurn's price chart in relation to the distribution. As with many MLPs they are mirror images: low prices cause high yields, which then bring in the buyers and put in a floor. The last five years' history has shown the ideal entry point to be about $17.
At that price, the distribution yield will be in the high 10%, low 11% range. And while that yield may seem very high, the market understands this as a depletive business and a company which frequently offers additional shares. Mr. Market demands such a high yield as compensation for the depletion and risk. But know this: The high distribution yield is not an anomaly. It is absolutely sustainable.
Conclusion
When it comes to nabbing quality acreage, BreitBurn has proven itself. This Whiting acquisition was a good one, and I especially like the fact that there will be minimal decline for a whole ten years.
Secondary offerings are never ideal for shareholders, but understand for a moment their merits. For one, management does it to acquire these properties. Secondly, consider the alternative. BreitBurn is significantly less indebted than heavyweight Linn Energy (LINE) on a cash flow basis. And buyers always seem to come out of the woodwork despite the flood of shares. This reflects robust demand for what BreitBurn is selling. This is a good business.
Disclosure: I am long BBEP, LINE. I wrote this article myself, and it expresses my own opinions. I am not receiving compensation for it (other than from Seeking Alpha). I have no business relationship with any company whose stock is mentioned in this article.