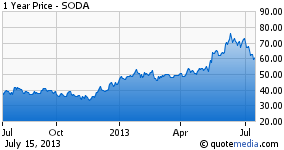 Shares of SodaStream (NASDAQ:SODA) have taken a hit over the last couple of weeks on little more than misunderstanding and the perpetual rumor mongering that maligns the stock time and time again. It is unduly one of the risks associated with the name. Last week, however, a less anticipated downgrade from Oppenheimer's Joseph Altobello resulted in shares falling another 5% on the trading day. Let's put things into longer-term perspective when analyzing a stock that is up more than 100% in the last 18 months.
Over the last 18 months, shares of SODA have risen from $29.60 to well over $75 a share. The most recent rise in share price was due in large part to the rumors surrounding a potential buyout from PepsiCo (NYSE:PEP). Although the rumor was denounced by PepsiCo's CEO and later supported by the reporting agent, shares of SODA held a premium for the remaining month of June. Unfortunately, and in rapid fashion, that premium has completely been revoked and the share price is steadily declining below the May 13th Analyst/Investor Day price which also served as a catalyst to the share price in May.
On July 9th, the NY Post released an article detailing their personal belief that SodaStream has been shopping itself over the last three months. Mind you they name no sources within the article and insinuate the opinion of an unnamed analyst. This is not the typical reporting methodology of well-respected media publications as most reporting agencies find themselves validated by citing and naming sources for their quoted materials in publication. For the sake of this article, let us now dissect the NY Post article. Below is a paragraph from the article:
While CEO Daniel Birnbaum has said he aims to shake up the multibillion-dollar market for carbonated drinks, behind the scenes the maker of do-it-yourself soda machines has been seeking a buyer for at least three months, sources said.
Readers should take notice, that while the reporter alludes to a source while not naming the source, he doesn't even goes so far as to say the usually acceptable phrase, "sources close to the company." This is a very important omission to the story as most reporters understand the fine line between stating "sources said" and "sources close to the company said." Now let us move on to the next point of analyzing the article.
The Israel-based company is working with Rothschild as its informal adviser. Birnbaum declined to comment.
The problem with this statement is that it basically conflicts with the previous rumor surrounding an offer made to SODA by PEP and utilizing Goldman Sachs (NYSE:GS) as a third party. To the trained eye, one has to scrutinize this noted offering of a deal maker in the face of previous rumors surrounding Goldman Sachs.
Now that we have carefully scrutinized the article proposed by Josh Kosman of the NY Post, we have to understand that with SodaStream, there is more going on behind the scenes than what is being speculated upon by the NY Post. Our detailed report includes the latest and greatest realities of operations during Q2 2013 for the company, which have nothing to do with a speculative and illogical sale of SodaStream.
Investors should consider exactly what we are dealing with here in SodaStream. During the company's first official Analyst/Investor Day event in May of 2013, the company hinted at its projected revenue potential for 2016, which is a little over two years out in time. During the event presentation, CEO Daniel Birnbaum eluded toward the company having the potential to achieve $1 billion in revenues by 2016. In fiscal 2013 the company will likely boast gross margins above 53% for the year and earn roughly $3 a share. Additionally, the company has also forecasted gross margins to expand to roughly 56% by 2016. Analyzing these metrics we have to assume SodaStream, barring any global economic slowdown of great significance, will earn over $5 a share by 2016, using an earnings/share growth rate of roughly 17% over the next two years conservatively speaking as the company has managed to exceed expectations every quarter since coming public in 2010. Mr. Josh Kosman of the NY Post would have investors believe that there isn't a buyer looking for this very type of business prospect. Frankly speaking, "You have got to be kidding"! Every aspect of Mr. Kosman's article fails to hold up under greater scrutiny and understanding of the SodaStream business.
A fellow Seeking Alpha contributor recently wrote an article titled "SodaStream Won't Get Acquired, So What?" First off, the title tells investors all they need to know as the company's share price is likely to reach new highs (don't have a crystal ball to determine when) in the future based on fundamental performance and not takeover speculations and rumors. Unfortunately, the article doesn't give the appropriate credit as to what has caused the most recent decline in share price.
Capital Ladder Advisory Group participates in the gathering, analyzing and dissemination of channel sales data and inventory of SodaStream products along with a host of other consumer goods products. We procure this data on behalf of clients in much the same way that NPD Group or Nielson Inc. does for their respective clients and for any respective product. In a most recent report issued by NPD Group, the firm cites a YOY decline in sales of machines at Wal-Mart (NYSE:WMT) during the month of June. Allow me to reiterate this finding so as to place emphasis where it is due; NPD Group's research shows a YOY decline in sales of machines at WMT during the month of June. WMT was the outlier and NPD Group did note that SodaStream consumables such as syrups, bottles and CO2 continue to see growth across the retail sector. Why is the Wal-Mart note from NPD relevant in light of the thousands of stores that sell SodaStream soda makers?
June marked the first time that investors could view YOY results at WMT given that the retailer launched SodaStream products in June of 2012. You might say that SODA bears had been waiting for this moment to fire back and that is why a so-called "short squeeze" hasn't happened in spite of the rapid share price appreciation in 2013. Don't get me wrong, the short interest on a YOY basis has declined, but the bears had simply restructured positions off a higher base in much the same fashion they had been doing successfully in 2012. How can one tell this is occurring? The sheer magnitude of like-institutional investors in shares of SODA YOY is the key defining variable. The fact remains that with the volatility in SODA, both bulls and bears of the stock will be making money as there are less than 22 million shares in the float and any big position can determine the direction of the share price for a given day.
The bears used the NPD Group data to signify that the results for machine sales declining YOY at WMT would be the be all and end all for SodaStream sales at other retailers, but this will likely not be the case. What the bears discounted was that machine sales were higher YOY at other retailers. The bears also discounted the multiple reasons for the decline in machine sales at WMT, which ranged from product repositioning to YOY promotional reduction on the part of SodaStream, which had actually pulled 50% of its advertising out of the month of June to focus on May's Mother's Day shopping season. We would also like to point out that during the month of June, sales of SodaStream products commenced at some 400 Kroger (NYSE:KR) locations throughout the greater Midwest. So which region do you think NPD Group reported the least favorable machines sales for WMT during June? In light of this analysis, we would have to say that the bears have definitively offered investors a far better entry point and those longs which are still up nearly 90% YOY on SODA have been given a chance to add to positions at a more reasonable valuation according to the stock's historical multiple of roughly 20 times forward looking earnings.
Now our fellow analysts at Oppenheimer feel somewhat differently as their most recent report highlights the "skittish" SODA investor and a forecast of what might be a muddy quarter. Within the context of Oppenheimer's latest report on SODA, the firm does note that they fully expect the company to achieve, if not beat the firm's expectations for Q2 2013 as well as the "street's" expectations. The problem, however, lies within the historical movement of the stock's post-earnings results, which have always been a top and bottom line beat and SODA raising full-year guidance. No matter how good results are, the stock seems to tumble and it seems as though Oppenheimer is emphasizing this point in their downgrade report on SODA.
Many investors may be disenfranchised with the unusual fickle nature of Oppenheimer's reporting on SODA. Just recently in May the firm raised their price target on SODA from $60 to $69 after the upbeat SodaStream Investor/Analyst Day event. Then in June the firm once again raised its price target from $69 to $85. The time frame to achieve this price target was a 12-month time frame. The problem with Oppenheimer's June price target adjustment is the following note offered by the firm:
Oppenheimer today maintained an Outperform rating on SodaStream International and raised its price target of $85.00. Analyst Joseph Altobello is encouraged following recent checks and talks with retailers. He doesn't think the stock's valuation reflects U.S. growth opportunities.
So we thought channel checks were encouraging sir? Unfortunately what investors have to realize is that if the channel checks aren't coming from NPD Group or Capital Ladder Advisory Group they are more than likely coming from a very small sample size such as stepping out of your office, going down stairs, grabbing a hot dog and going into your local Best Buy or Bed Bath and Beyond. This is simply not enough of a read on national sales. Furthermore, it discounts the relevance or importance of the remaining markets around the world. With that said, Oppenheimer overall is correct in their thesis as SodaStream sells much more than soda makers and exists in many more retailers with positive comps on soda makers both in North America and globally. Presently, Oppenheimer has removed its $85 price target and recommendation, offering investors an explanation that they are more comfortable moving to the sidelines at this time given the usual panic among "skittish" SODA longs as they characterize them to be.
It is important to note that not all data and/or research is created and/or analyzed equally among the firms covering SODA. Some firms have better insight into door growth during the quarter, the knowledge of expansion into previously outlined regions and those that have yet to break the "cone of silence" which is management's lips. Some firms don't have a historical background on the cadence of pipeline builds to more appropriately analyze or project quarterly results. We would argue that the more recent initiation of coverage falls into this category as judgmental as that might sound. Some fail to recognize that newly acquired distributors will add greater profitability in the quarter or quarters to come such as the Canadian distributor, which was acquired in Q4 of 2012. And of course some fail to utilize the growing efficacy of sales rankings via amazon.com (NASDAQ:AMZN) either in the U.S. or abroad. As investors are well aware, money isn't made on the sidelines and the SODA story hasn't changed regardless of what the famed Oppenheimer has to say on the subject matter. While they may have made a prudent choice in the near term and after the stock had already given up 15% of its annual gains, the long-term story of SodaStream remains intact according to Capital Ladder Advisory Group's latest data and research.
For those of you who have been wondering just how the Samsung (OTC:SSNHY)/SodaStream refrigerator has been performing in the United States, we have obtained the necessary permissions from contracted clients to offer some sales data on this new product. We will be sending out a newsletter with these results as part of our free service later this week, which will be our last communication with public investors prior to our upcoming SodaStream Q2 2013 Quarterly Preview. Sign up for that free service to be included in the SodaStream story as it develops.
On another note, Capital Ladder's most recent article on SodaStream hinted toward an adjustment in our FY projections for SodaStream: "Capital Ladder Advisory Group maintains a buy rating on shares of SODA and is currently measuring an adjustment to our FY projections based on developments surrounding key markets and enhanced point of sale distribution for gas exchange coupled with an expectation of strong sell-in revenues for Q4 2013 over Q4 2012." Our new projections will be available in our quarterly preview. Yes, we have made these adjustments without the full benefit of SodaStream's Q2 2013 results. Additionally, we have also decided to adjust our 12-month price target on shares of SODA. Our former price target was $64 a share, which had been achieved, and as such we are now more willing to look at the share price potential for the next 12-month period. This share price adjustment will also be available in our researched Quarterly Preview report.
Capital Ladder Advisory Group reiterates its Buy rating on shares of SODA, representing the long-term fundamentals of the overall business and the prospects for future revenues and earnings growth potential. Having said that, using a scaled strategy to acquire shares on dips may prove to be the most lucrative way to maximize investor performance over time as this measured approach recognizes the share price volatility.
Disclosure: I am long SODA. I wrote this article myself, and it expresses my own opinions. I am not receiving compensation for it (other than from Seeking Alpha). I have no business relationship with any company whose stock is mentioned in this article.