Introduction
CTS Corp. (NYSE:CTS) is a $484 mil manufacturing firm with a wide array of products and services. The firm is cleanly split between two business segments: Components & Sensors, (52.8% of sales) and Electronics Manufacturing Services (47.2% of sales). In the Components & Sensors segment, the firm designs and sells electronics for the communications, automotive, defense/aerospace, medical, and computer industries. Within the Electronics Manufacturing Services -EMS- segment, the firm provides services in the assembly of mechanical/electrical components, supply chain management, and repair services for original machinery equipment.
From a key statistics standpoint, the firm's 52 week price ranges from $7.66 - $14.70, and the current price resides at a lofty $14.44. The prior day's 2.24% bump in price puts the stock on the upper spectrum of the high end: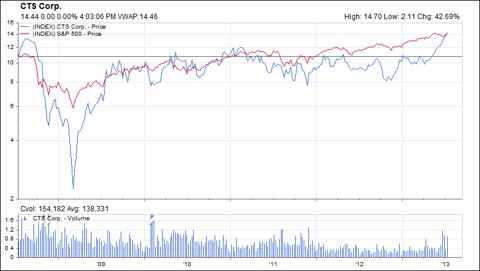 CTS Price vs. SP500 - Indexed at 10 (7/14/2008), Source: FactSet
With a 1% dividend yield, broker projected 20% YoY earnings growth, and a projected 8.6% YoY sales growth, this company would appear to be a solid growth stock to invest in (FactSet Estimates). Conversely to what is estimated by brokers, the potential of this stock isn't as good as it seems.
Catalysts
The recent rally in price and positive sentiment towards this company is mainly due to 2 factors: an increase in R&D spending and a transition from the low-margin EMS segment to the high-margin Components & Sensors segment. Both reasons do appear good on paper, however the market has overemphasized them as explosive growth is nowhere in sight.
In 1Q13, there has been an upward trend of LT Debt to fuel Research and Development expenses. Annual R&D spending ($21 mil) has increased to 3.6% of sales ($576 mil). This figure has steadily grown quarterly for the past 3 periods. While fantastic for the company, their competitors' average of 8% makes the firm's expected progression anemic at best. As an example of the company's effectiveness in R&D and QA processes, CTS Corp. was the producer of the throttle control actuators that caused Toyota to recall vehicles for unintentional acceleration (USAToday) Clearly this product wasn't tested thoroughly before release, representing an issue with quality issues. The increase in R&D spending is a step in the right direction, yet the process is still underfunded to manufacture high quality, specialized products.
CTS Corp.'s new CEO, Kieran O'Sullivan, has mentioned that services within EMS segment should be diversified to multiple markets that are more cost-effective (1Q2013 Earnings Call, NASDAQ). The firm has made an effort to reduce its computing services (the lowest-margin earnings source) within EMS from 90% to less than 50%, replacing them with higher-margins in the aerospace and medical fields. However, these new efforts only imply that the company is purely within a provisional stage, and they shouldn't be weighed as heavily as the market does. The fact of the matter is that this company will not benefit from any lean manufacturing efficiencies in the short run, nor for at least 3-5 years. New services take time to fully develop specialization, and generally minimize the benefits from economies of scale. Holistically, the EMS segment is a naturally low-margin service that needs to be reduced overall, not diversified, and this will take time. As long as it is still 47.2% of revenue, the firm will feel this drag on its bottom line.
On a macro-level scale, the index of US Factory Activity is still quite near its 4 year low, indicating that the revival of the industrial sector is still lagging (Institute of Supply Management, Yahoo). With these points discrediting a positive outlook for an increase in earnings, the 36% boost in price over the past 6 months is unjustified.
Financials and Valuation
Furthermore, CTS Corp's financials are erratic and are overvalued using competitor analysis. Even though the company is making an effort to increase margins, the 1Q2013's Net Margin was 2.39% compared to a 3 year average of 3.65%: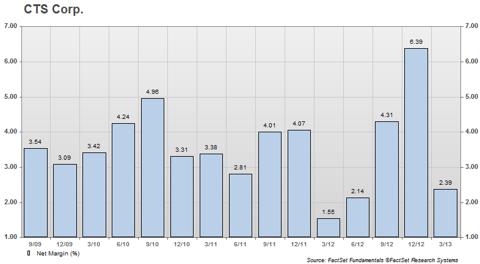 Quarterly Net Margin, Source: FactSet
Sales have had an upward quarterly tick, but are alarming unstable: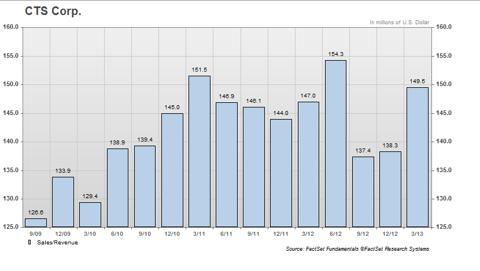 Quarterly Sales, Source: FactSet
The valuation of CTS Corp. using margins and EBITDA ratios shows that the company is overvalued compared to competitors in the same space:

Enterprise Value and Revenue Size Metrics, Source: Hoovers,FactSet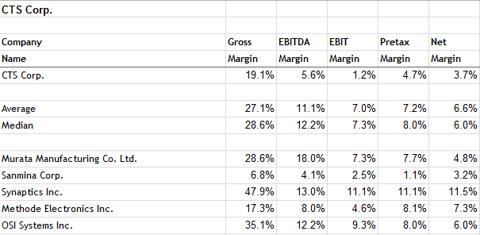 Competitor Margins, Source: Hoovers, FactSet
Conclusion
With the firm trading at 16.29x EV/EBITDA compared to a competitor's average of 12.00x, the valuation suggests a downward correction. A large percentage of enterprise value is due to long term debt, but the company is not overly leveraged with having a 2.15 current ratio. Regarding margins, the company is lagging in every respect compared to firms with the same revenue sources. A very feasible stock price would be around $11 at 13x EV/EBITDA.
Combining the market's overzealousness towards R&D, the new management's underwhelming expansion of margins, and poor financial valuation, an investor can see that CTS Corp should be trading lower than it currently is.
Disclosure: I have no positions in any stocks mentioned, and no plans to initiate any positions within the next 72 hours. I wrote this article myself, and it expresses my own opinions. I am not receiving compensation for it. I have no business relationship with any company whose stock is mentioned in this article.