Today I am going to give a trade idea that goes both long and short the exact same commodity. While this may leave some people scratching their head, I'll reveal the method behind this madness.
I intend to go long and short Light Sweet Crude Oil by utilizing futures contracts of differing expiry dates. This trade is a medium to long term investment. The added bonus to this trade is that it provides a degree of natural hedging. So stay tuned as I explain what makes this trade rather attractive right now. I will also make a suggestion using ordinary stocks for those averse or uneducated in futures trading.
The spot price on Light Sweet Crude Oil at the time of writing is around $106. Given oil has breached the $100 barrier this has surprised many pundits due to sentiment in global economic growth being subdued as well as overall commodities being at long term lows.
Looking at the latest release of COT data crude oil is at an extreme level indicating bearish momentum.
The other interesting fact I want to highlight that provides the appeal to this trade is the fact crude oil futures are in a state of "backwardation" with the divergence of spot price and December 2015 contracts being almost 20%. I've only known this to occur during the GFC in recent times as oil is generally in a state of "contango" due to the costs associated with it. Therefore under normal circumstances the futures price should be well above $106.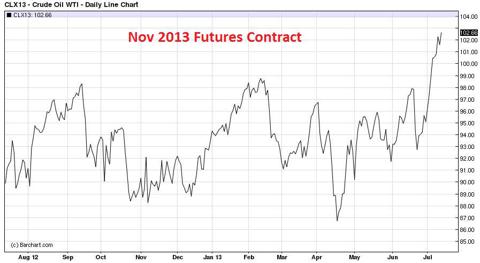 The above chart is the November 2013 futures contract to go short on and the below chart is the December 2015 futures contract to go long on. I find the divergence interesting to say the least given how oil historically trades and should be trading.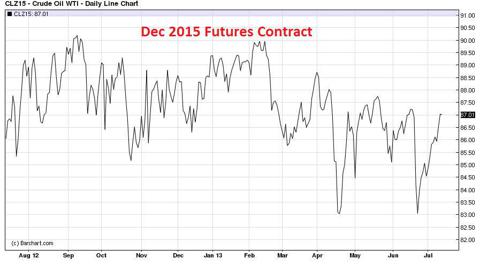 The final point I wanted to raise about what makes this appealing is that the Crude Oil spot price has a long term support around $75. Having spoken to industry insiders they argue that oil will not go lower than this again. While this is debatable I understand that Canadian oil production costs are in the $7x region and if oil were to head under that then supply would be an issue hence why the $75 level has been such an important level.
So here is a trade that takes advantage of a number of factors while providing sound natural hedging. Of course given that the short term sentiment and view by many is bearish one may simply choose to go short only. However I illustrate the long-short play as a trade idea that has in built safety while taking advantage of some historical factors that give this trade quite the appeal.
For those who want to trade this via common stocks one may simply choose to go short the United States Oil ETF (NYSEARCA:USO) although this a riskier trade given the lack of upside protection.
Disclosure: I have no positions in any stocks mentioned, and no plans to initiate any positions within the next 72 hours. I wrote this article myself, and it expresses my own opinions. I am not receiving compensation for it (other than from Seeking Alpha). I have no business relationship with any company whose stock is mentioned in this article.
Additional disclosure: I may initiate a long position on Dec 15 Crude Oil Futures and a short position on Nov 15 Crude Oil Futures within the next 72 hours.