While U.S. social media stocks like Facebook (NASDAQ:FB), Groupon (NASDAQ:GRPN), and Zynga (NASDAQ:ZNGA) have struggled to live up the hype, China's Tencent Holdings (OTCPK:TCEHY) on the other hand has been thriving despite a weak Chinese economy.
Who and What Is Tencent?
Tencent is a Chinese investment holding company whose subsidiaries provide everything from mass media, entertainment, Internet, gaming, and mobile phone services to China's population of 1.35 billion people. They are China's largest Internet company and the third-largest tech company in the world, behind Google (NASDAQ:GOOG) and Amazon (NASDAQ:AMZN). The Internet has become one of China's leading industries, and as a result there is an ultra-competitive market as new companies are being established daily as everyone is trying to capitalize off the new trends and growing user base. While many companies have been experiencing growing pains, Tencent has continued to dominate the market thanks to their diversified mix of businesses.
Tencent's Three Top Services
QQ -- China's largest instant-messaging service with over 850 million users.
QQ Games -- a massive, youth-oriented, multiplayer gaming network.
WeChat -- a free mobile social-network that allows users to send photos, videos, and voice messages to their friends, walkie-talkie style.
Tencent is China's Facebook, Twitter, eBay (NASDAQ:EBAY), Yahoo (NASDAQ:YHOO), Google, Zynga, and Tumblr all rolled into one. What makes Tencent stand out from their competitors is the fact they can offer their users, advertisers, and application developers access to everything from a single platform.
One of the Greatest Growth Stocks of the Past Decade
Tencent's dominance has resulted in their stock more than doubling over the past three years. Tencent has been one of the greatest growth stocks of the decade, appreciating 392% in the past five years along with a ridiculous 7,595.89% since their IPO in 2004. Tencent's competitors are not experiencing the same success as many are struggling, held back by the uncertainties surrounding the health of the Chinese economy.
Click to enlarge image.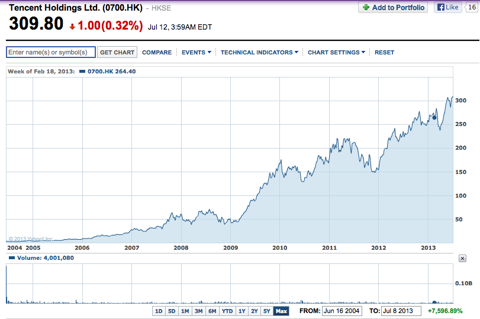 Baidu (NASDAQ:BIDU), one of China's Internet giants and a competitor of Tencent, is down more than 13% the past year compared to Tencent's 39% yield over the past year. The same thing happened during Q1 earnings as many Chinese companies fell short of analyst's expectations. Tencent, on the other hand, reported better-than-expected first-quarter earnings, beating analyst expectations sending shares up 31% since April.
Short-Term Expectations: What to Expect in 2013
Many investors want to know whether Tencent's great run will ever end. My outlook is that the second half of 2013 could cause some challenges for Tencent due to volatility in the months ahead. Tencent has seen an overall slowdown in their gaming business, which is expected to continue as long as the Chinese economy continues to struggle. Add to that the fact that Tencent's two most recent ventures -- e-commerce and mobile -- are not expected to start generating revenue until at least 2014. For most companies, these problems would be a blessing, but for Tencent's ridiculous growth to continue they will need to find a way to supplement the lost revenue through other services.
Long-Term Expectations: What to Expect Over the Next Five Years
Tencent's dominance should grow stronger in the next several years as they plan to capitalize off of China's rapidly growing mobile and e-commerce markets. If there is one thing Tencent knows how to do, it's turn their users into profits as seen in their strong 2013 profit margins of 28.93%.
Originally founded as an instant-messaging platform in 1998, Tencent -- much like Facebook -- grew very quickly, recruiting a high volume of new users. Tencent was surprised that having lots of users didn't automatically translate into profits, so the company changed their business model, building on their large user base and creating an online gaming presence. Tencent has since then expanded into many different online services -- the two most popular are QQ, with 850+ million users, and WeChat, with 300+ million users in two years. Tencent's ability to attract users and in turn profit off of them is a major reason analysts are very bullish about Tencent's long-term prospects.
Tencent's Huge Opportunity With China's Growing Mobile Market
Tencent currently trades at a premium valuation, something they've earned thanks to their years of dominance. Tencent's dominance in China's online market can be attributed to their efficient operations, strong senior management, and their ability to continue to release new innovative services. Tencent's growth can be directly attributed to their efficient and effective investing producing a ROE of 35.38% and ROA of 13.90%. Its numbers like those than show why Tencent's senior management have been the driving force behind the company's success. Tencent's CEO, Ma Huateng, deserves a lot of the credit. A recurring candidate for Barron's World Best CEO, Huateng is described as very patient and careful executor, often planting seeds and experimenting before jumping in.
This explains why Tencent often takes its time to develop new brands, making sure that the right infrastructure is in place to allow the new venture to truly succeed. Quality control is a huge part of Tencent's business development strategy. They always like to make sure that their new brands are fully developed and well-tested before they release it to the public. Tencent's reasoning is that most people will only give an app, game, online service, or new social media platform one shot, and if a user experiences any technical difficulties or bugs in the software, the likelihood of them becoming a long-time user greatly diminishes.
Tencent Is Establishing a Foothold in China's Growing Mobile Market
This strategy can be seen with Tencent entering China's mobile market. Establishing a foothold in China's growing mobile gaming market is a huge opportunity and one they want to build the right way, not the quick way.
Executives cautioned that it was still early days for e-commerce and mobile gaming, stressing that focusing on the quality of the user experience is the key to long-term success. They also wanted to curb expectations and not let analysts call these ventures a bust for failing to produce profits, when Tencent doesn't expect them to become a factor in the company's revenue strategy until at least 2014, maybe 2015. Executives are really excited about the prospects of the company's shift into mobile gaming saying that they have the right infrastructure in place to link its applications like mobile QQ and Weixin to mobile gaming, as well as filling the pipeline with high-quality games.
Mobile gaming is a much larger market than traditional gaming, and for Tencent that means it's a much more lucrative opportunity as well. The differences between the two are that mobile gamers range between ages 18 and 60 vs. traditional gamers, who range between ages 18 and 24. This opens up a whole new group of people that Tencent can market their single platform services to. Over 80% of China's population of 1.36 billion is expected to be using the Internet by 2025. Adding to this, it's reported that mobile phones have become the top devices for accessing the Internet in China and over 60% of mobile users purchase mobile products on a monthly basis. So as you can see, there is a huge untapped market that Tencent has yet to capitalize from. Currently gaming makes up half of Tencent's revenue. If they are successful in tapping into the mobile gaming market, then this number should rise substantially.
Tencent's Strong Long-Term Prospects
Tencent is a well-run company with a solid balance sheet, over HK$25 billion in net cash, and a strong array of popular, revenue producing services. With a current 0.30% dividend, executives have said that they plan to both increase the dividend and continue to buybacks shares to return cash to shareholders. Investors looking to capitalize on both emerging markets and the technology sector should look no further than Tencent. They are clear the leader in a rapidly growing sector and they hold many great long-term prospects that I believe will allow them to continue to dominate the Chinese market. Continued development of both mobile and e-commerce services will make Tencent the only company that can offer its users and advertisers a single platform to fulfill all their online needs.
Tencent's 12-Month Price Target
The consensus among analysts is that Tencent will continue to outperform its competitors, as they expect earnings to grow 22% in 2014 to over HK$25 billion (HK$13.55 a share) on HK$95 billion in sales. I also believe Tencent will beat its competitors and, as a result, I expect Tencent's stock to continue to rise to $375 over the next 12 months, an annual yield of 25%.
Disclosure: I am long OTCPK:TCEHY. I wrote this article myself, and it expresses my own opinions. I am not receiving compensation for it (other than from Seeking Alpha). I have no business relationship with any company whose stock is mentioned in this article.