I was trying to get these tables out for the 2nd quarter 2013 but was unable due to time constraints, i.e. I was on vacation. These quarterly tables allow income investors to see which funds are outperforming or underperforming so far in 2013 and which funds may be getting ahead of themselves or may be due to catch up. So here are the top and bottom 15 or so Year-to-Date (YTD) performance figures for the equity based, high yielding closed-end fund (NYSEMKT:CEF) universe I follow.
I've changed the tables a bit so that now you can see the top and bottom performers in each table since I cannot include the roughly 85 total funds I follow in a screen shot. For those who are not familiar with my tables, Table I shows the funds sorted by their total return Net Asset Value (NAV) performance YTD. Funds which have outperformed the S&P 500, as reflected by the SPDR S&P 500 ETF (NYSEARCA:SPY) which is up 18.7% YTD through July 12, 2013, are shown in green and those which have underperformed are shown in red. Unlike most quoted S&P 500 returns, SPY includes dividends, which are simply added back (not re-invested) for a true apples-to-apples comparison with the equity CEFs.
Keep in mind that only a few funds would use the S&P 500 as their only benchmark, since many funds are either global, sector specific or have fixed-income securities as part of their overall portfolios, but I like to use the S&P 500 as a general basis of comparison.
Table II sorts the funds by their total return market price performances and Table III sorts the funds by the difference between their total NAV and total market price performances YTD. Total return means all distributions are added back but not reinvested. Funds which have seen their NAV performances outpace their market price performances (shown as a negative number) are in green and those that have seen their market prices rise more than their NAV's YTD are shown in red. The theory here is that if a fund's NAV has outperformed its market price YTD then the fund's market price may catch up, hence why it is green. And visa versa for funds which are red since their market prices have outpaced their NAV returns.
Finally, funds are also color coded by their primary income strategy. Funds that use a leveraged strategy are shown in orange, funds which use an option-income strategy are shown in light blue, funds which use a dividend harvest strategy are shown in olive and funds which use an "other" strategy are shown in purple. Keep in mind that many of these funds may use a combination of strategies to derive their high income and yields that they offer.
Table I - Sort by NAV performance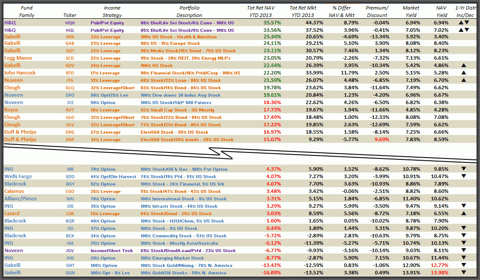 Click to enlarge
Table II - Sort by Market Price performance (click to enlarge)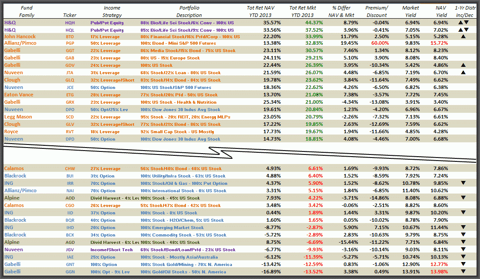 Click to enlarge
Table III - Sort by NAV/Market Price difference (click to enlarge)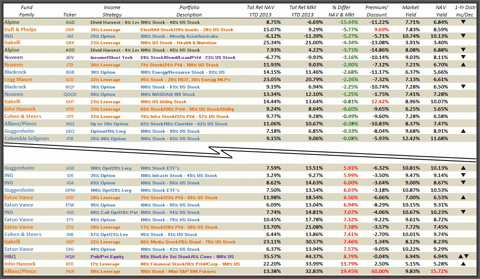 Click to enlarge
Funds Which May Catch Up
I want to concentrate on Table III, since here is where investors may find opportunities based on a fund's relative NAV and market price performance. Funds at the top of the list which have seen their NAVs outperform their market prices YTD and I have written positive articles on and/or continue to recommend include:
Funds Which May Be Getting Ahead Of Themselves
On the other hand, several funds at the bottom of the list in red may be getting ahead of themselves. A couple of which I would like to focus on:
John Hancock Bank & Thrift Opportunity fund (NYSE:BTO)
BTO was approved by shareholders in January to allow leverage of up to $110 million in addition to other income strategies the fund already uses such as options and fixed income to enhance portfolio income. This has helped the fund jump to a 34% total return market price performance YTD on the back of a strong financial sector since leverage can give the impression of turbo charging performance.
However, BTO's NAV total return performance is only 22.2% YTD, which is actually underperforming its financial benchmark, the S&P Composite 1500 Banks Index. At a slight premium valuation of 2.5% and a relatively low current yield for a CEF of 5.2%, I just believe BTO's risk/reward has risen substantially even if the fund may be in a position to raise its distribution again this year like it did in 2012. Even then however, I believe investors would be better off in a financial sector ETF such as the SPDR Financial Sector Select ETF (NYSEARCA:XLF) which is a less volatile alternative.
Allianz/PIMCO Global StocksPlus & Income fund (NYSE:PGP)
I hate to keep bringing up PGP, but I think investors need to know what they are getting into with this fund. My biggest concern now is that PGP's NAV total return performance is starting to fall off, up only 13.4% YTD, which is now not even in the top 25 of all equity CEFs anymore. This wasn't the case over the past year or even from earlier this year when PGP was among the top 5.
Considering PGP needs to be outperforming its benchmarks by a wide margin to support its 15.7% NAV yield, this is becoming another red flag for a fund that already has a number of red flags, the first being that 15.7% NAV yield and the second being a 60% market price premium. Investors need to realize that PGP, despite its name, doesn't own individual stocks and is instead a highly leveraged bond fund (mortgage backed and corporate bond mostly) and fixed-income is now on the defensive with interest rates trending up.
Of course, PGP can have incredible NAV and market price appreciation potential when the fund is firing on all cylinders but as I pointed out in this article from 1-year ago, Best Allianz/PIMCO funds, when PGP was at an even higher 82.6% premium...
The bottom line is that PGP's fixed-income portfolio isn't covering its distribution anymore and the fund has to rely on its futures, swaps, option writing and other strategies to make up the difference. Maybe not a problem when the S&P 500 is in a bull market, but PGP's biggest concern going forward is that its NAV has relied both on a strong fixed income market and a strong S&P 500 since the market lows over 3 years ago and I don't think you can rely on both now. Despite a very strong 2012 so far in which PGP's NAV is up 16.4% through July 6, a 1-year total return NAV performance still shows PGP's NAV down -5.4%.
Conclusion
The three tables shown above can be an invaluable resource to income investors interested in seeing how their funds are performing relative to other funds as well generating ideas for new investments. Though there are certainly many factors to consider when it comes to investing in CEFs, I have found that the ebb and flow of a fund's market price can often be traced to how it's performing relative to its NAV. Considering most investors don't follow the NAV performances of these funds, this can put you at an advantage over time.
If you would like to see all of the equity CEFs I follow sorted in an Excel spreadsheet, you can visit my website link along the left column here and request a copy of the Equity CEF Performance Spreadsheet & Analysis.
Disclosure: I am long GRX, NGZ, HTD, JTD, UTF, BGR. I wrote this article myself, and it expresses my own opinions. I am not receiving compensation for it (other than from Seeking Alpha). I have no business relationship with any company whose stock is mentioned in this article.