Occasionally, a company is worth more as two or more parts due to the market not fully valuing or understanding the company as a whole. This prompts shareholder friendly and activist boards to initiate a spin-off of one or more of the company's segments in an attempt to create value for existing shareholders and to streamline the company. These transactions are often ignored and somewhat neglected by investors with little coverage or interest. This can be advantageous to investors who recognize the value that the company holds before Wall Street has fully understood this, allowing for investment while the price is still depressed and resulting in gains as solid revenues become exposed.
Prior Example
An example of this strategy includes the splitting of Motorola into Motorola Solutions (NYSE:MSI) and Motorola Mobility. The initial company was a struggling mix of parts, a mobile cellphone maker that was an early adopter of Droid, and a communications segment that specializes in mission critical devices important for fire and ambulance communications, and devices designed for increased mission efficiency through the use of RFID devices. The company was split in January of 2011, and Motorola Mobility was later acquired by Google (NASDAQ:GOOG) in April of 2012 for both the development that Motorola had made with the Droid OS and the substantial patent portfolio that came with the company. This succeeded in separating a segment that was experiencing significant declines in revenue and margin losses as the iphone was dominating the market leaving Motorola Solutions in a better place, with a more focused portfolio of products, a bit of debt and higher profitability.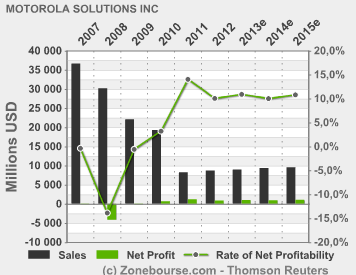 (4-traders.com)
Current Example
A current opportunity to take a look at is the spin-off of Ingersoll Rand's (NYSE:IR) security segment in a 3 for 1 stock split into a new company called Allegion that will specialize in home security. I have previously written about Ingersoll Rand in greater depth if you have interest in examining the company further beyond just the spin-off.
Allegion has a range of products including steel doors and door frames, electronic and biometric access control systems, locks and locksets, attendance and productivity systems, exit devices, and video analytics systems with the bulk of revenues coming from locks and locksets and door closers and exit devices. This company's footprint extends into the US, Europe, South America, New Zealand, China, and Turkey with revenues predominately currently coming out of the US and Europe (82%).
Revenues by Product Category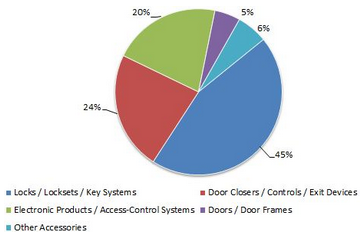 Revenues by Geographic Destination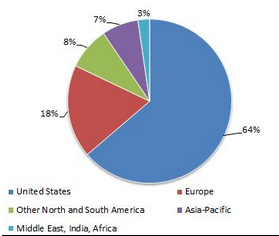 Allegion Form 10
Strategies Going Forward
The company is looking to invest in developing markets and has added 20 new sales and support offices throughout China with security product sales increasing 25% per year from 2010 to 2013 (FORM 10). They are also looking to shift gradually to electronic control of security systems and are already experiencing a twofold increase in growth of electronic sales versus traditional mechanical solutions. This shift goes hand in hand with the development and integration of security devices into things like parking management and other non-access control systems in order to cross platforms and integrate into larger control systems. With their large amount of experience with university and primary education, healthcare, government, commercial, and residential market segments, they are looking to leverage into new key market segments in new countries.
Valuation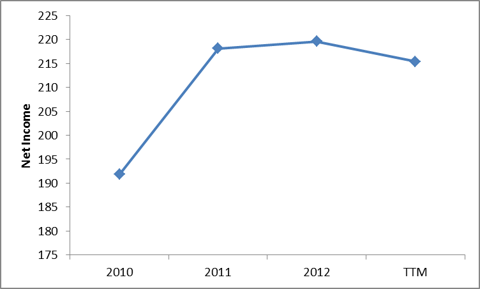 Based on the net incomes from 2010-2013 that were included in the Form 10, I have calculated an intrinsic value of $30.50 for the spin-off company based on net incomes. This is likely the high end of the potential valuation as it uses net incomes without taking into depreciation or potential dividend payments that have yet to be announced. This model was constructed using the three years provided net incomes, the calculated WACC, the single stage FCFF growth rate and the average of growth across the 3 year period.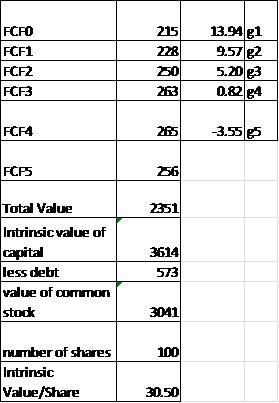 This spin-off follows that of ADT Corp (NYSE:ADT) from Tyco International (NYSE:TYC) which was a remarkably similar situation, with Tyco spinning off segments that did not line up with their focus on fire protection and commercial and institutional equipment. This led to the spin-off of Pentair (NYSE:PNR), their water filtration segment along with ADT, their security business, with revenues primarily (90%) coming from customers locked into security monitoring contracts or previously installed systems. The spinoff allowed for the strong revenues coming from this segment to no longer continue to be lost amidst the segments of Tyco and to be appreciated by the market. This scenario is pretty reminiscent of the case with Allegion, and I believe a spin-off will allow for the strong revenues produced to no longer be obscured by the rest of Ingersoll Rand's balance sheet.
Other Examples and Options
Another example that I have written previously about is the spin-off of FTD from United Online (NASDAQ:UNTD). This is another case of a segment of a company that is producing strong revenues being weighed down and obscured by decreasing revenues in other portions of the company. FTD should be a good investment that is worth considerably more than the $7.95 price tag United Online currently carries.
If it's an ETF you are interested in, the Guggenheim Spin-Off ETF (NYSEARCA:CSD) is an interesting option. The fund concentrates on positions in small spun off companies with the idea that they are usually a great source of value in the longer run. The fund rebalances occasionally to make sure that no company has larger than a 5% composition of the holdings and focuses on stocks with small market caps. This fund was previously thoroughly covered by Seeking Alpha contributor Everyday Finance.
Overall
Spin-offs can be great investments. as they typically open up value that the market has not currently realized and as a result, fly under the radar of most investors. This allows investors to cheaply get into companies with revenues that have been previously obscured by decreasing revenues in other segments of the larger parent company and wait for growth as the companies go it on their own. To answer the question put forward in the title, you should care, because you are leaving value on the table by ignoring spin-offs that involve little paid attention to segments of companies that have excellent revenues and the potential to perform well on their own.
Disclosure: I am long IR. I wrote this article myself, and it expresses my own opinions. I am not receiving compensation for it (other than from Seeking Alpha). I have no business relationship with any company whose stock is mentioned in this article.