International Stem Cell Corporation (OTCQB:ISCO) is based in Carlsbad,
CA, and is a developmental stage stem cell company that is multifaceted. Their main laboratory is in Oceanside, CA. They are a fully SEC reporting company with heavy inside ownership. The most recent Form 10Q was filed on May 14, 2013. ISCO is listed on the OTCQB marketplace.
In addition to having therapies under development, they have several subsidiaries that are generating income. This income generation is highly unusual for a development-stage company.
ISCO uses human parthenogenetic stem cells (hpSCs). The following quote is from the company website:
Different activation techniques applied to human oocytes allow the creation of either HLA heterozygous human parthenogenetic stem cell lines (hpSC), which are exactly HLA-matched/ histocompatible with the oocyte donor, or HLA homozygous hpSC, which may be histocompatible with significant segments of the human population.

The ethical advantage of derivation from unfertilized oocytes, combined with immunomatching advantage makes these stem cells a very promising source for cell-based therapy.

They have created the industries first collection of non-embryonic histocompatible human stem cells. These cells are available for use in research and commercial use. A single cell line is suitable for treating millions of people. The following is added for those that are unfamiliar with the various types of stem cells.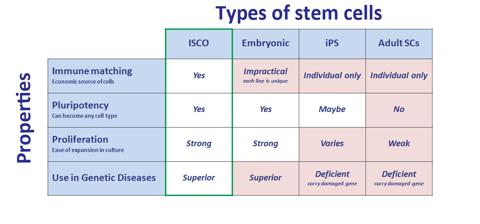 Source (click to enlarge)
Parthenogenetic stem cells developed by ISCO are the only class of cells that meet all the criteria important when considering therapeutic applications.
The company has been filing patents worldwide to protect its intellectual property:
International Stem Cell Corporation protects its technology worldwide by filing patent applications covering specific pluripotent hpSC lines, methods to produce new hpSC lines and various differentiation methods for research, therapeutic and commercial uses. As of April 13, 2012 the company has 90 pending patent applications across eight patent families and 3 pending patents related to its skin care products.

In addition, the company has licensed a portfolio of 128 international patents or patent applications across 30 patent families. The majority of these has been filed in the US and internationally and cover most industrialized countries.
Believing it was bound by the EU Court's interpretation of the Biotech Directive that incorrectly links parthenogenesis with embryogenesis the UK Patent Office rejected the parthenogenesis patent applications. After an appeal, arguing that the original EU Court was wrong (and, subsequently overturned, see press release from 12.7.12) and that patenting of parthenogenesis should be permitted, the UK Patent Office agrees with ISCO. But, instead of simply declaring that parthenogenesis is patentable, it is returning the question to the EU Court.
It's basically a victory for ISCO, but not definitive until the EU court makes a final judgement. The impact to ISCO is that the UK Patent Office application is on hold for the time being.
There are three therapeutic programs in their pipeline. The one closest to having an IND filed with the FDA is the treatment for Parkinson's disease using dopaminergic neurons. A paper titled Deriving dopaminergic neurons for clinical use. A practical approach was published in Scientific Reports, a primary research publication from the publishers of Nature. It was published on march 15, 2013 and discussed in a company press release on the same day. Following quote from that release:
Parkinson's disease is a common neurodegenerative disorder caused by a progressive loss of dopamine-producing neurons resulting in gradual dysfunction of the motor system. Pharmacological treatments are useful in the relatively early stage of the disease, but the continuous use of pro-dopaminergic medication eventually becomes ineffective and can worsen some of the motor symptoms. ISCO is developing a treatment for PD based on replacing the lost neurons with new neuronal cells derived from human parthenogenetic stem cells (hpSC). To this end ISCO has developed a sophisticated and efficient manufacturing process for neuronal cells which has now been published in the peer-reviewed journal Scientific Reports.

The paper describes the technology, developed by ISCO's R&D team, for producing highly pure populations of GMP-grade neuronal cells suitable for pre-clinical studies and clinical trials. The neuronal cells created using this approach are further characterized using a number of analytical methods and shown to function in a similar manner to adult cells. Moreover, neuronal cells produced using this new method, express greater levels of dopamine, the neurotransmitter central to PD, than previously reported approaches. Furthermore, these hpSC-derived neuronal cells are cryopreservable and can be stored frozen, and provides a practical route to creating neurons of sufficient quality to be used to treat Parkinson's disease patients.

"It is important that our research is reviewed and validated by the scientific community and being able to publish in a Nature-branded, journal provides confirmation of the quality of ISCO's scientific research," commented Dr. Andrey Semechkin, CEO and Co-Chairman.
ISCO is expecting an IND to be filed in mid 2014 for their Parkinson's disease program.
Timelines don't appear to be publicly available for the liver treatment or cornea programs.
Lifeline Cell Technology is a subsidiary that is selling cell related product to other companies. Having solved the immune rejection issue for most patients make these products appealing. Eight distributors are used internationally.
Lifeline Skin Care is a subsidiary selling stem cell skin care products. These are sold via mail order or at a doctors office. The advertising for this line has recently been ramped up and many make the mistake of thinking of ISCO as a skin care company.
ISCO may be a good bet for those that are interested in investing in the stem cell sector since it isn't a one trick pony. There are multiple therapies being worked on in addition to multiple streams of revenue.
This sector isn't for the faint of heart though. It's a rapidly changing industry and what appears to be a good investment option today may not be tomorrow. Choosing companies that are on the frontier of science is difficult.
Dilution has been relatively tame due to the heavy insider buying and the growing revenue of their two subsidiaries. But, it is unknown how long it will take for the revenues to cover all expenses.
Overall, I like the risk/reward here, but, I've only put in that which I can afford to lose. There are no guarantees that this company will come out as one of the top in the sector. But, they have certainly set themselves up to do so with the business model they have chosen.
Disclosure: I am long OTCQB:ISCO. I wrote this article myself, and it expresses my own opinions. I am not receiving compensation for it (other than from Seeking Alpha). I have no business relationship with any company whose stock is mentioned in this article.