Today's retail sales report for the month of June came in weaker than expected at a level of 0.4% month over month, which was half the level of growth that economists were forecasting. Ex-autos, retail sales were unchanged on the month, and net of autos and gas, retail sales actually declined by 0.1%.

Not all was bad in today's retail sales report, though. While the headline readings in today's report may have been disappointing compared to economists' expectations, on a year-over-year basis retail sales actually rose by 5.7%, which was the highest rate of growth since March 2012.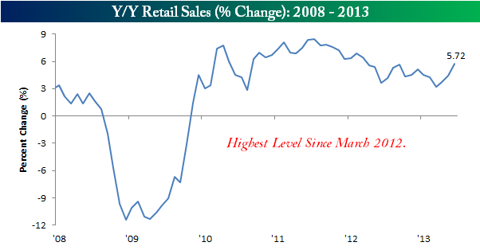 Looking at this month's report in terms of the individual sectors, eight of the 13 components showed growth in June while five declined. Sales of furniture grew by 2.1% during the month for its largest monthly increase since May 2012. Online shopping continued to take share from the overall retail sales pie as sales in the category grew by 2.1% on the month. Online retail now accounts for a record 9.0% of all retail sales. Finally, the only other category that saw sales growth of more than 1% in June was autos and auto parts, where sales grew by 1.81%. Just as three sectors saw growth of more than 1% in June, three sectors also saw sales decline by 1% or more. They were miscellaneous (-2.49%), building materials (-2.18%), and bars and restaurants (-1.24%).