There was a time about two years ago when I received a barrage of emails and phone calls from contacts who were heavily invested in On2 Technologies (ONT). At the time, ONT shares traded at about 2.75.
Although I liked the technology, ONT stock price just seemed too rich to me. I wrote:
I think that my readers may have correctly pegged ON2 as one of the rare winners in the codec business. Its TrueMotion VP6 codec is included in Adobe Flash Player 8 and 9, and some consider its TrueMotion VP7 to be the premier video compression scheme today. The company also provides the Flix Engine to transcode video into mobile formats. ON2 is almost in the black, eeking out an operating profit but still posting GAAP losses last quarter.

However, it is unclear whether the prospects for ON2 stock are as bright as its technology. The company already has a market cap exceeding $318 million, indicating that investors have already priced a great deal of promise into the stock. Against this backdrop, sales remain relatively meager — only $2.815M last quarter. Annualized, that is only $11.26M, giving ON2 a price/sales ratio of over 28. In contrast, after backing out the cash on its balance sheet, video codec company DivX trades at a price/sales ratio of under 6. That doesn't ensure a pullback, but it does lower the odds of repeating the rally ONT shareholders have enjoyed over the last 9 months.
It was a good time to stay on the sidelines. Over the next year-and-a-half, ON2 shares plummeted to as low as $0.11. There is no doubt that this stock disappointed a lot of investors. But readers were absolutely correct in identifying ON2 as a company with valuable technology. Last week , Google announced it would buy ON2 for $106.5 million in stock.
"Google sees video compression as a necessity," said Andrew Frank, research vice president of Gartner Inc. "I think this acquisition means that Google is making sure its has a piece of imbedded infrastructure in order to get some better control of how video is distributed."
The buyout, which valued the company at less than a third of its 2007 peak, teaches a valuable lesson. Great technology does not ensure a great trade. Risk-reward has to be measured by stock price levels, fundamental ratios (especially price or enterprise value-to-sales), news flow, and event risk.
ON2 Technologies (ONT)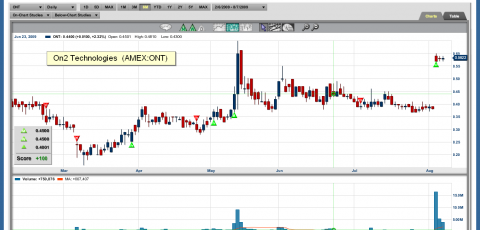 DISCLOSURE: No position.