Over the past year, we've been watching the extreme fall in shares of Apple (NASDAQ:AAPL). While Apple's revenues are hitting new all-time highs, they are falling well short of expectations. In a very competitive market, Apple has been forced to sacrifice profits to gain revenues, sending margins and earnings lower and lower. A very respectable dividend and large buyback plan have not been able to bolster enthusiasm in the stock.
While Apple's stock has been falling greatly, we've seen almost the opposite with shares of Google (NASDAQ:GOOG). At a time when Apple's growth started to stall out, Google's Motorola Mobility acquisition boosted Google's overall revenue numbers. Investors have flocked to Google's growth, sending shares higher and higher, with a new all-time high reached on Monday.
However, we are to a point where Google's growth is going to start slowing down. Those Motorola revenue "bumps" are now gone, meaning the revenue growth rate will be significantly lower going forward. Today, I'm here to take a look at the numbers, and describe why Google could be set up for an Apple-like fall.
A brief discussion on Apple's rise and fall:
Before I get into the main part of this article about Google, I want to briefly discuss what happened with Apple. Apple's stock began its run after a huge fiscal Q1 in its previous fiscal year. When looking at the quarter and where expectations were, it is not unreasonable to call it the greatest quarter in corporate history. Everyone increased their expectations to the moon, and it got to a point that was completely unrealistic. The chart below shows how Apple's fiscal 2013 average revenue and earnings estimates have fared over the past year. The yellow line represents a date where Apple reported earnings, so those were the full year expectations going into that quarter.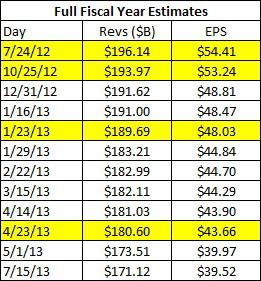 On that first line, estimates were calling for revenue growth of about 25% and earnings growth in the low 20% area. These numbers ignore the extra week that Apple had in its previous fiscal year. But all the numbers I'll use here will do that, for consistency. The current Apple average estimates are for 9.3% revenue growth (again, unadjusted) and a 10.5% decline in earnings per share. When your revenue and earnings expectations drop that much, your stock is going to have a major readjustment. Apple's has, as you can see in the chart below.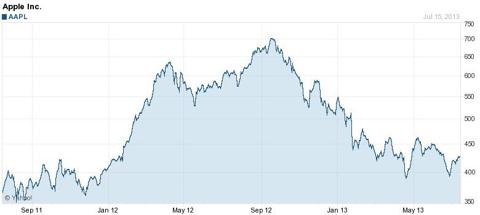 Click to enlarge
(Source: Yahoo! Finance)
Another problem was that Apple was facing the law of large numbers. In fiscal 2011, Apple grew revenues by 66%. That was followed in fiscal 2012 by growth of 44.6%. But the base line in fiscal 2010 (used for 2011 growth) was just $65 billion. Apple's base line for this year's figure is $156 billion. Even though the dollar amount of growth has come down, expected to be about $14.6 billion this year, the base that Apple is coming off of has soared. So when investors see 10% growth instead of 45% growth, they take it to be a larger issue than it really is. Don't forget, that extra week complicates things even more. Combine that with an even larger drop in earnings per share estimates, and I'm not surprised that we have seen a drop in Apple's stock. Once Apple started dropping, it was names like Google, and even Microsoft (NASDAQ:MSFT) that really started to rise. Apple is down 39.38% from its all-time high, excluding dividends paid. Since that date, Google has rallied by 26%.
The end of Google's revenue "bump":
I first covered this a few months ago to caution investors in regards to what was coming. The Motorola acquisition was great for Google's overall revenue growth. When all of a sudden you add more than a billion in revenues from a place you had zero in during the previous year's quarter, your growth rate will jump. The chart below shows Google's GAAP revenue growth over the past two years. Google reports revenues on a GAAP basis, without subtracting traffic acquisition costs. In the past, analysts would subtract these "TACs", and we would have a resulting non-GAAP number. I've tried to stick with GAAP numbers for most of my analysis, but will point out when I am using non-GAAP as well. In the last four quarters of the chart, you can see the impact of the Motorola acquisition. The blue line shows Google-only growth, while the red line shows the total. The total is also a GAAP revenue number, since Google provides Motorola results on a GAAP basis.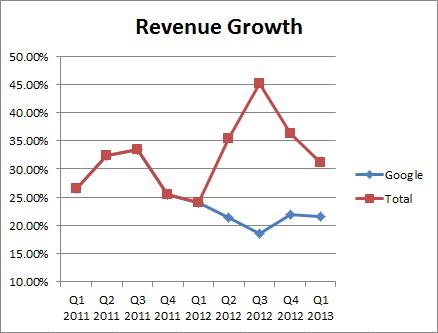 You can see how much the Motorola addition boosted Google's total revenue growth rate. It was a nice bump while it lasted. However, when Google reports on Thursday afternoon, we will get our first Motorola to Motorola comparable quarter. The Motorola segment provided $1.25 billion in revenues during Q2 of 2012.
The other item I referenced was the fact that it seemed Yahoo! Finance was now providing GAAP revenue estimates. Why is this important? This is critical because the "year ago" numbers presented are non-GAAP values. Thus, Yahoo! was counting those "TACs" as revenue "growth" in the current period. In Q1 of 2013, Yahoo showed Google's revenues "growing" at 72% or so, while they actually grew at 31%. Yahoo! Finance currently shows 50% growth for the Q2 report on Thursday, but my numbers show something more like 18%.
The key takeaway here is that over the last nine quarters for Google, the lowest GAAP revenue growth number was 24.14%. The straight line (not weighted) average for those periods was growth of 32.19%. When Google reports numbers on Thursday, it is possible that Google will announce its lowest revenue growth number in two-and-a-half years! Unless the company makes another sizable acquisition, that trend could continue going forward. Google will start to face the law of large numbers as well, but don't ignore the fact that Apple's revenues are still about three times as much (on a yearly basis).
The other item here is reduced margins. One of the criticisms for Apple was that their new products, like the iPad mini, were well below corporate averages for gross margins. Apple's margins hit a peak thanks to the iPhone 4S, but when product mix shifted and the new product cycle developed, margins started to fall. That was why you saw such a dramatic shift in earnings. The Motorola segment Google acquired was much lower margin than Google's overall business. As you can see from the chart below, Google's margins have dropped since the acquisition was completed. Yes, margins have recovered a bit, but in Q1 of 2013, they were still well below where they were in the year-ago period. Gross and operating margins were also below the Q2 of 2012 level, the quarter Google first included Motorola results.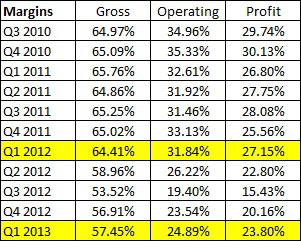 Slowing growth - dividend and buyback?
What will Google do once the growth slows down into the 10-20% range instead of the 25% or higher figure? Well, Apple's solution was to start paying a dividend again, as well as repurchase some shares to offset executive option dilution. Apple was sitting on a large pile of cash and investments, which reached and then soared above $100 billion. Apple's cash pile might have reached $150 billion in their most recent quarter, especially after they raised money through debt. For those that missed it, Apple raised its dividend by 15% and essentially announced a $50 billion buyback. The $50 billion is the "true" amount of the buyback, the part to reduce shares, while the original $10 billion was an effort to stop the share count from rising further.
But it is not like Google is close to poverty. According to their most recent 10-Q filing, they had more than $50 billion in cash and short-term investments, of which $19 billion was inside the US. That's more than Apple had in cash and short-term investments, but don't forget that most of Apple's cash pile is located in long-term investments. Google also had a higher percentage of its cash pile located inside the United States, where it can be used for dividends and buyback plans.
Apple had too much cash, and some of it needed to be returned to shareholders. However, a lot of people looked at it the wrong way, saying that it was a sign that Apple could not innovate and had no better uses for cash. So you had people saying that Apple should return its cash to shareholders, and once it did, they criticized it for not being innovative. Where's the logic in that?
This is where I worry about Google. What will happen when Google decides to go the dividend or buyback route? Will people take it as a sign that the company is no longer able to innovate or grow? Google shareholders might not realize this, but the diluted share count has risen by 2% over the past year and 4.43% over the past two-and-a-half years. The chart below shows the diluted share count growth since Q3 of 2010.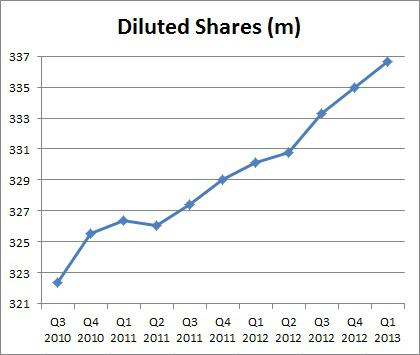 That kind of dilution doesn't sound like much, but it adds up over time. The diluted share count, which is the one used to determine earnings per share, was over 336 million for Q1 of 2013. The diluted share count has risen by 50 million shares over the past 8 years. That's had a tremendous impact on earnings per share. Google's earnings per share growth will lag net income growth until the company starts buying back shares and lowers the count. Apple is doing that now.
What's a proper valuation?
I mentioned above that Google hit a new high on Monday, $928 at the peak and closing just under $925. At that peak, Google was up 61% in the past year, which closely resembles Apple's 71% rise in the year leading up to its peak. A one-year chart of Google is below.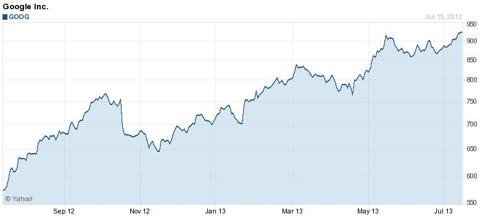 Click to enlarge
(Source: Yahoo! Finance)
Google is an expensive stock, and I'm not just referring to the $925 price that it costs for a single share. The stock trades at a significant premium to both Apple and Microsoft, as seen in this table. I am using calendar year 2013 earnings for all three, regardless of their respective fiscal years.

*Uses Non-GAAP earnings estimates.
Google trades at a 65.74% premium to Microsoft. Yes, Microsoft is only growing its revenues in the mid-to-high single digits. However, Microsoft is spending billions a year on its buyback and has a dividend yield of 2.54%. Microsoft's dividend yield is equal to the 10-Year US Treasury at the moment, and Microsoft is expected to raise its dividend in the next few months. Google does not have a dividend.
Google trades at an 84.34% premium to Apple, which is tremendous. The premium is even higher if you were to use either non-GAAP Apple numbers or GAAP numbers for Google. Google subtracts certain expenses to get to its non-GAAP earnings numbers, which are the ones you see from analysts. Do that for Apple, and Google probably trades for twice what Apple does, maybe more. Is that realistic? Well, there has been a premium for some time now, but it seems to have gotten out of hand at this point. Yes, Google is growing faster than Apple, but both are seeing a slowdown in growth. Also, Apple has a 2.85% dividend yield and a huge buyback as I detailed above. There has always been the rationale that Apple is undervalued when compared to Google. But couldn't the case also be that Google is overvalued when compared to Apple? Right now, it could be a case of both.
There's one other angle to this story, and I'm referring to money flow. You can see in the chart below that Google and Microsoft have been the beneficiaries of Apple's decline. Well, what if Apple finally starts to rally, and shares go back to $500, $600, or more? That money has to come from somewhere. It could be possible that if Apple starts to turn higher, money could come out of Google (and Microsoft too).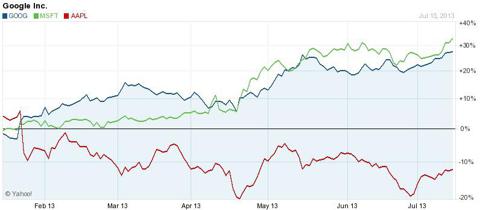 Click to enlarge
(Source: Yahoo! Finance)
Final Thoughts:
It is not out of the realm of possibilities that Google could have an Apple like fall. Google shares have traded much higher as Apple has struggled, putting Google at a substantial premium to its main competitors. Google's growth was boosted by the Motorola Mobility acquisition, pushing up revenues for a year. Now that the year is over, growth rates will start falling again, and Google will have to decide where to go from here. Apple's solution was a dividend and buyback, which so far has not really helped. Google might need to keep the acquisition pace going, to make sure revenue growth stays strong. A lot of money has flowed out of Apple recently, and if that money starts going back into Apple, Google could be a casualty.
With Google and most of the market at all-time highs, investors should start to tread carefully. Growth stocks are the first to be hit when the market pulls back, and Google certainly fits in that category. Do I think an Apple-like fall is possible? I do, for the reasons presented above, but that doesn't mean I'm going to say you should run out and short a ton of Google today. Google is a short candidate to watch, however. There have been times to short Google, and most of the last year has not been one of them. I do think there will be a time where Google struggles and investors pull a bit of money from the name. Will it get to a 40% drop like we saw with Apple? That could depend on how management reacts if the stock starts to drop.
Disclosure: I have no positions in any stocks mentioned, and no plans to initiate any positions within the next 72 hours. I wrote this article myself, and it expresses my own opinions. I am not receiving compensation for it (other than from Seeking Alpha). I have no business relationship with any company whose stock is mentioned in this article.
Additional disclosure: Investors are always reminded that before making any investment, you should do your own proper due diligence on any name directly or indirectly mentioned in this article. Investors should also consider seeking advice from a broker or financial adviser before making any investment decisions. Any material in this article should be considered general information, and not relied on as a formal investment recommendation.