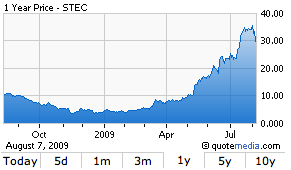 STEC ($29.15) - SSDs (solid state drives) are the next big advancement in computers. In STEC's earnings report last week, this is the highlight -
Shipments of our ZeusIOPS Solid-State drives ("SSD") into the Enterprise-Storage market grew to $57.7 million for the second quarter of 2009, an increase of approximately 375% from $12.1 million for the second quarter of 2008, and an increase of approximately 125% from $25.7 million for the first quarter of 2009.
I cannot remember seeing a company grow earnings this fast...just 90 days ago the EPS estimate was $.69 for 2010. The estimate is now $2.22. Stunning growth and it seems like growth has a long way to go according to the CEO on the call.
Here are some of the notes from my best technology resource who is usually very skeptical of new stuff but loves this SSD technology and gave me the conviction to buy STEC at $23 originally.
Something you will want to look for is who the other big server manufacturers like Dell (NASDAQ:DELL) are going to choose for server SSDs (solid state drives). HP (NYSE:HPQ) partnered with STEC so Dell and others will need to use SSD's to be able to compete, I haven't seen SSD's as an option on Dell servers yet. There are data centers that have 100,000 drives in one building full of servers. If one data center replaced 100,000 normal drives with 40,000 higher capacity ssd's at $1000 each that's $40 million in sales from one building. There are thousands of data centers all over the world. Then there are all the normal size corporations that have 10 servers with 10 drives per server so that's $100,000 per company times hundreds of thousands of corps all over the world. $58 million in sales might only be 20 customers, there are thousands of companies like this waiting to replace old servers that needed to be replaced a year ago before budgets were cut.
Disclosure: Long STEC