I was doing my nightly stock screens and I came across Electro Rent Corporation (NASDAQ:ELRC). The name jumped out at me because of, oddly enough, my brother. He worked in sales for Electro Rent about 15 years ago and enjoyed the experience tremendously. He has since moved on, but I have always remembered the name.

Electro Rent Corporation is one of the world's largest providers of test and measurement equipment under either rent or lease. The company, founded in 1965, has developed a worldwide sales and service organization and a prominent place in the industry.

As a dyed-in-the-wool chartist, I must admit that at present Electro Rent Corporation's chart does not look very appealing. Many of the indicators (see below) indicate that the stock is in a bearish mode (MACD, Stochastics and RSI). The stock is trading near the bottom of the Bollinger Bands and while the stock rallied slightly on Friday, the direction still seems down.
Click to enlarge: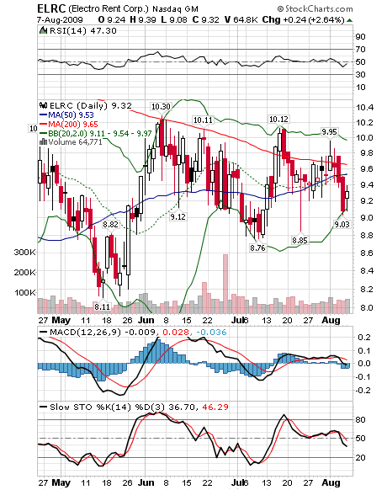 However, as a recovering CPA, their financials present a different story altogether. I still cannot help but look at the financial statements of a company that I am analyzing. The short-term trading that I practice (no holds over 3 months), where so much of a stock's movement is based on news or its chart, often overlooks fundamentals. It was Electro Rent's fundamentals that convinced me that this stock is worth taking a look at. Charts and trends can reverse quickly, but strong financials like Electro Rent's are the work of strong management.

The financial highlights:
Cash and cash equivalents of $72 million (QUICK RATIO OF 1.7:1)
Total shareholders' equity of 228.8 million (or $9.55 per share)
NO LONG TERM DEBT
Revenues of $144 million (only off 9.7% from previous year end)
Net income of $11.8 million (44% drop from previous year end)
The drop in net income might be alarming in and of itself, but the company has instituted stringent cuts in expenses and compensation company-wide. In this economic environment margin creep is inevitable, but as sales pick up, Electro Rent Corporation should benefit greatly from the drop in SG & A.

Electro Rent Corporation is a company whose chart is against it and, yet, I still think it is worthy to be put on any trader's "radar screen". The company has demonstrated the ability to manage during difficult economic times (and turning in some very respectable numbers). Once the sellers are out of the stock and the chart turns, it could deliver some strong gains. Electro Rent Corporation is here for the long term and could be a strong gainer once the market becomes aware of it again.

Disclosure: No postions