North Dakota oil drillers pumped out more than 800,000 barrels of oil per day for the first time ever, and established a new monthly crude production record at 810,314 barrels per day (bpd), according to oil production data released yesterday by North Dakota's Department of Mineral Resources (see chart below). For the tenth month in a row, the Peace Garden State produced more than 700,000 bpd, and total oil production exceeded 20 million barrels for the eleventh straight month.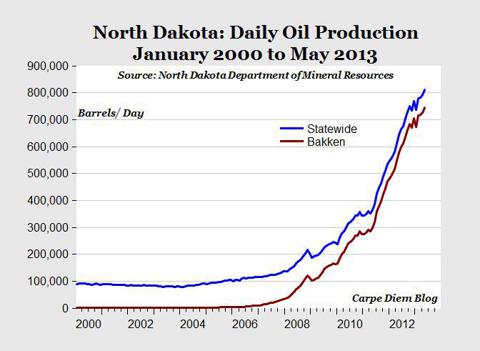 Here are some other highlights of North Dakota's record-setting oil output in May:
1) The state's average daily oil production increased almost 26% in May compared to a year ago, and followed annual increases of 29.8% in April and 34.9% in March. Amazingly, it has taken less than two years for oil production in North Dakota to more than double from 385,800 bpd in June of 2011 to more than 810,000 bpd in May.
2) The Bakken region in western North Dakota produced more than 700,000 bpd in Mayh for the fifth straight month, and established a new all-time monthly output record of 744,359 bpd, which represented 92% of the state's monthly oil production. In contrast, the Bakken region produced less than 9% of the state's oil output at the beginning of 2007, before hydraulic fracturing revolutionized domestic oil production in the shale-rich states of North Dakota and Texas.
Largely as a result of the state's booming shale oil production, North Dakota continues to lead the nation with the lowest state unemployment rate at 3.2% in May, more than four percentage points below the national average of 7.6% for that month. There were nine North Dakota counties with jobless rates below 2.0% in May, and three counties (Williams, Slope and Billings) at the center of the Bakken oil field posted jobless rates below 1% in May, with Williams County leading the country once again with the lowest May county jobless at only 0.7%.
The extraordinary growth in North Dakota oil production has fueled explosive growth in the state's oil and gas jobs, which have more than tripled over the last three years, and in May tied the all-time record high. Payrolls at oil and gas companies in North Dakota have increased by more than 4,000 over the last year, which means that about 18 new shovel-ready jobs are being created every business day — and those are just the new jobs directly involved in drilling activities. Overall employment throughout the entire state increased by 3.2% through May from a year earlier, or double the 1.6% pace of job growth nationally over that period. Since the beginning of the recession in 2007, total employment in North Dakota has increased by more than 22% to a new record high in May of 441,300 jobs, while US payrolls are still 1.6% below the December 2007 level as the national economy struggles to add jobs during a sub-par recovery.
Bottom Line: May was another record-setting month for oil output in North Dakota, and the shale oil boom there continues to make it one of the most economically successful states in America – with growth in employment and income that lead the nation, the lowest state jobless rate in the country, a state budget surplus of $1.6 billion, the highest state GDP growth last year of 13.4%, one of the lowest home foreclosure rates, strong housing and construction markets, thousands of landowners who have become millionaires from oil royalties, and jobless rates in nine of the state's counties below 2.0% in May. North Dakota's economic success, job creation, and energy-based prosperity is being driven by the development of the state's vast energy resources, especially the ocean of shale oil in the state's Bakken region, which supplied 92% of the state's oil in May. It's an economic model that could easily spread energy-related prosperity and job growth elsewhere if more domestic and offshore energy resources were opened up to greater exploration and drilling for oil and natural gas.
In contrast to North Dakota's ongoing increases in oil output, oil production on federal lands fell last year to a ten-year low and is 12% below the production level in 2003. Natural gas production on federal lands has fallen by an even greater 37% since 2003. Accompanying the significant reduction of oil and gas production on federal lands over the last decade, has obviously been a net loss of oil and gas-related jobs. So while oil and gas production has been booming on state and private lands in places like North Dakota and Texas, bringing both energy production and energy jobs to record levels, we're seeing a decline in both energy production and energy jobs on federal lands, at a time when the economy is desperate for jobs during an extended jobless recovery. If the Obama administration was really serious about creating more jobs for American workers, it would open up more federal lands and offshore areas to increased drilling for oil and gas, and it would approve the Keystone XL pipeline. North Dakota's ongoing records for both oil production and state payrolls provides a clear example of what would happen if oil production increased on federal lands.