As a very actively managed, aggressive portfolio, the Young and Restless Portfolio needs to take profits and redeploy them into other stocks that have a shot at making the younger, more aggressive investor, wealthy.
Far from the dividend income strategy that our Team Alpha Retirement Portfolio has, the whole idea here is to take capital that we can use for higher risk/reward opportunities. The use of this capital is such that will not impact our future financial prospects, and to only use funds available after a longer-term retirement strategy is already in place. In other words; using cash we can afford to lose.
Active And Aggressive Go Hand In Hand
Many folks have given me a hard time about this portfolio, calling it reckless and inappropriate, but the entire strategy for this particular portfolio is to be active and aggressive.
Taking profits, dumping losers, buying more of what we feel offers us a chance at extreme wealth at a young age, might be reckless for some, but thus far the portfolio has jumped nearly 35% (click here for the update) since we began the portfolio about 8 months ago.
The "Young and Restless" portfolio consists of Galena Biopharma (NASDAQ:GALE), Amazon (AMZN), Google (GOOG), Facebook (FB), Yahoo (YHOO), Achillion (ACHN), and Zynga (ZNGA).
At the time of the last update, we sold BlackBerry (NASDAQ:BBRY) which has continued to disappoint, and the risks outweigh the rewards. At the same time, we added half of our standard allocation ($10,000) in a small bio-tech stock; GALE. I believe Galena can be a strong stock for this portfolio, for the reasons outlined in this Small-Cap Insight article. Quite frankly, I think another small cap biotech stock could also be a true winner down the road; ACHN.
I urge everyone to read my most recent article on what my thesis is based on for ACHN.
All of this being said, today I will be taking profits in Google and selling our entire position.
Why Are We Selling Google Now?
Remember the goal of this portfolio; make money quickly, take profits often, and redeploy cash into other opportunities.
Take a look at this chart: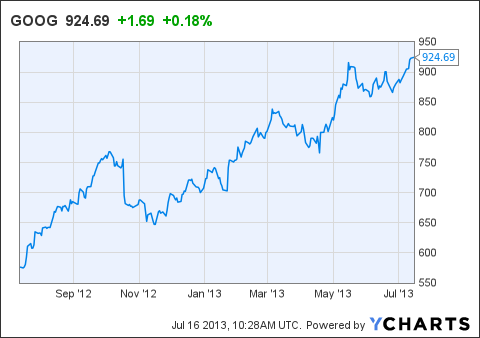 In one year, the share price has nearly doubled. While this is not the same parabolic move as we saw in Apple (NASDAQ:AAPL) a year or so ago, the share price is beginning to look "pricey." Perhaps not for any detrimental reason, but simply because nothing goes up forever.
We can book our profits today, at roughly $924/share and pocket a 46% gain for our portfolio.
The proceeds of this sale will go into our cash reserves to be redeployed prior to my next update. As of today, our cash reserves will have a healthy $18,700 waiting for our next move. ($13,700 after today's purchase)
What Are Our Next "Targets"
I have not decided on any particular stock as of yet, but I am leaning towards 2 that we already have. As I have noted above, I feel quite strongly about ACHN and GALE. The links to the articles I have written recently (see above), will give you the reasons why these stocks make sense to me.
The first order of business will be to make another purchase of $5,000 in GALE, to have a full allocation in this stock. As of today, the share price of GALE is $1.79/share. Based on our first purchase of this stock, we will now have an average price point of $2.00/share and a full allocation.
Buying this stock now allows us to average down a bit, and have a complete position. Even though the share price has dropped by about 11% since I last wrote about it, the upcoming progress reports later this year on the phase 3 trials of its drug NeuVax, AND of the profits from the sales of the existing new drug Abstral, should move the share price much higher than it is as of now.
Obviously, anything can happen with these small bio-tech stocks, but in my opinion, the rewards are worth the risk. Especially since we are watching these stocks very closely, and can move quickly in either direction.
The Bottom Line
The Young and Restless Portfolio is NOT for everyone, and if you have been a follower of mine you hopefully have a very clear understanding about the risks involved in a portfolio such as this.
I will continue to actively manage this portfolio, and make relevant moves when I feel the time is right. That does NOT mean I am trying to time the markets! It means taking profits when prudent, and selling losers when needed, and then seeking out new opportunities to give us a shot at becoming extremely wealthy.
Disclaimer: The opinions of the author are not recommendations to buy or sell any security. Please do your own research prior to making any investment decision.
Disclosure: I am long AAPL, ACHN, FB, YHOO, GALE, ZNGA. I wrote this article myself, and it expresses my own opinions. I am not receiving compensation for it (other than from Seeking Alpha). I have no business relationship with any company whose stock is mentioned in this article.