Corus Entertainment Inc. (OTCPK:CJREF) reported earnings Thursday, July 11th. The first news article to cross my desktop was entitled "Corus Doubles Q3 Profit" but that headline missed the actual story.
Corus is a broadcasting company with its main business revolving around television networks, 37 radio stations, and the toys and books that spin-off from them. I do not really watch TV (except for streaming), but my favorite music and talk radio stations are owned by Corus, which was why I looked into it in the first place. Nearly all Canadian children are familiar with the Treehouse network, and Corus airs the Canadian versions of Nickelodeon, Oprah Winfrey Network and HBO. Even though you may not have heard of Corus Entertainment itself, you are likely familiar with their product.
Corus was particularly interesting to me as it pays a nice monthly dividend of 8.5c per share, which is an annual current yield of 4.33%. The dividend was raised 26% last year and 23% the year before. Its last raise was in April, 2013. Corus also announced the next three monthly dividends for this year will remain the same at 8.5c per share. These are payable August 30, September 30, and October 31 to shareholders on record on August 15th, September 16th, and October 15th.
With a P/E of 16.7x compared to the average of its peers at 19.2x, a book value of $13.38 compared to the average of $11.92, a profit margin of 16.16% compared to the average of 13.21%, and less debt, it seemed like a good choice. In the past five years, Corus has outperformed the S&P, but underperformed its competitors.
Additionally, Corus is controlled by the Shaw family, of Shaw Communications (NYSE:SJR), which ensures the needs of the shareholders will be foremost in management's considerations. There has been no insider trading in June or July.
The FAST Graph shows a company, happily bouncing along, close to its gradually rising earnings line and projects a 5 year Estimated Total Return of 15.6%. You can see why this smaller company attracted me.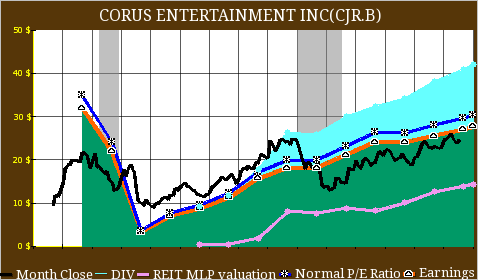 The reason Corus doubled its profit this quarter is because it sold off the Food Network (Canada). Sadly, actual revenue is down an average of 2% and is down in television sales, and radio advertising as well as merchandising and cites the new trend in streaming television as one of its concerns.
According to TD Waterhouse, nine analysts cover Corus Entertainment with 7 rating it a hold, and 2 a buy. They had expected earnings to be 52 cents this quarter, a decrease of one cent year over year, but were sadly disappointed with the report of 41 cents when the sale of the Food Network is excluded.
To add insult to injury, the CEO, John Cassaday said, "Our expectations for a stronger back half have not materialized and we will miss the lower end of our segment profit guidance."
After closing on Wednesday at $24.75, shares opened at $22.91 on Thursday, a very noticeable 7.4% drop on an otherwise very positive day. Shares recovered a little during the day to close at $23.55, down 4.85%. Friday morning, shares continued to recover.
My concern about my Western Union (NYSE:WU) shares closing in on technical resistance has been supplanted by needing to make a decision about continuing to own Corus. An drop in earnings of over 20% from analyst estimates is pretty serious, and even more so coupled with negative guidance for the next quarters. Corus has been a quality company providing quality services and giving quality returns to its shareholders, but I must ask myself some key questions:
Is this still the type of company I want to own?
Is this sudden downturn in earnings likely to continue, or will next year show a renewed company? If so, should I wait out a temporary share price drop? Or, is now the time to sell?
Will the share price continue to recover as they have intraday Thursday and Friday?
Obviously, with the price action Friday, many people will disagree with my conclusions. However, I cannot ignore such a significant drop in earnings per share reported, and the negative guidance provided by the CEO. Though the rest of the fundamentals, especially relating to the dividend are still intact, the story has changed and the future has become uncertain. For me and my retirement portfolio, this is no longer a company I want to invest in. I will be looking for an exit point. As of this writing the current share price represents a loss of less than $75 for me: completely inconsequential. Will the share price recover further? Likely. Hopefully it isn't because investors follow the main headline and don't realize the story beneath. For me the story has changed enough to head for the exit sign.
I'm not sure exactly where I'll be putting the cash to work yet, but Telus (NYSE:TU) and Rogers (NYSE:RCI) are in a similar subsector with similar dividends and would represent moving into larger and more popularly traded names. These names have been recently down and may represent an attractive entry point.
Goodbye Corus, I'll still be listening to you on the radio.
FAST Graphs used by permission from creator Chuck Carnevale. Mr. Carnevale published an article on CJREF February 28, 2013.
Disclosure: I am long OTCPK:CJREF. I wrote this article myself, and it expresses my own opinions. I am not receiving compensation for it (other than from Seeking Alpha). I have no business relationship with any company whose stock is mentioned in this article.