In my first NetEase Monitor report, I discuss three thoughts on NetEase's flagship game FWWJ based on recent news, and introduce my daily monitoring of NetEase's games in the last five weeks.
Latest record-breaking PCU boosts FWWJ's daily usage. Based on my checks, FWWJ's record Peak Concurrent Users [PCU] of 2.56 million on August 2 was largely created by special promotions that rarely happened before. Therefore, this usage level might not be repeated until next summer. However, this record-breaking event does have significant impact on FWWJ: The new record has attracted heavy media coverage, which serves as free advertising for the game. As a result, lots of new players have been attracted to FWWJ: Based on my monitoring, since August 2, FWWJ's PCU during weekdays has risen by 5.5% on average (see chart below). I note that FWWJ achieved this despite cutting 17 servers on August 4.
FWWJ's appearance on CCTV indicates its low regulatory risks. On August 7, the news channel of CCTV, China's largest TV station, broadcast a positive 3.5-minute report on FWWJ in its morning news program. The news report identified FWWJ as an honorable example of made-in-China games, and praised its use of traditional Chinese culture. CCTV is owned by the Chinese government. Its reports usually represent the central government's official views, and often has significant impact on public companies' stock prices (prior examples included Baidu (NASDAQ:BIDU), Focus Media (NASDAQ:FMCN), and wireless value-added services stocks.) In my opinion, CCTV's positive coverage of FWWJ signals that the game is supported by the government and has very low regulatory risks.
FWWJ remains NetEase's No.1 priority. On August 6, NetEase held a press conference to highlight its strategic focus on FWWJ. CEO William Ding told reporters that NetEase will devote more staff and funding into FWWJ in the next year, and a new expansion pack is being developed for the game.
I believe this press conference signals that FWWJ remains NetEase's No.1 priority. FWWJ is more important to NetEase than the licensed game WoW because: 1) NetEase has more control over the self-developed FWWJ; 2) WoW has a lower profit margin for NetEase due to the profit-sharing paid to its developer Activision Blizzard; 3) FWWJ has much lower regulatory risks than WoW because of its much better social impact in the eyes of the Chinese government. This is evidenced by CCTV's praising FWWJ versus WoW's prolonged approval process due to inappropriate content.
Daily monitoring and methodology. The chart below shows daily PCUs of NetEase's five major games in the past five weeks, based on my monitoring. Here are their PCUs in this period: FWWJ: 2.56M; WWJ2: 861K; WWJ3: 228K; WJWZ: 138K; TX2: 166K. On August 2, these five games' combined PCU reached 3.82 million, the highest in this period. My methodology is based on these articles: Article 1; Article 2; Article 3.

Chart: Daily Peak Concurrent Users of NetEase's Major Games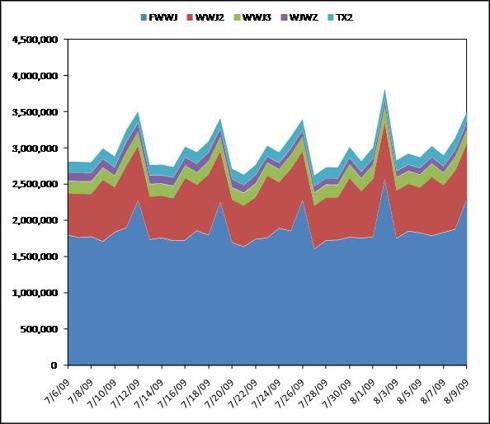 Click to enlarge
Disclosure: No positions