We continue to be impressed with this market. Every time it appears we are losing momentum and/or strength, investors find a new reason to push the market higher. Is that worrisome? It could be, especially if we did not have the breadth that we do in this market. For instance, yesterday the S&P 500 closed at a high and we saw 630 new 52-week highs vs. 14 new 52-week lows. Further digging shows that 231 of those new 52-week highs were also new all-time highs, whereas the 14 new 52-week lows had seven that were new all-time lows. Two of those all-time lows were for a new issue that was recently spun off, so that data point could be disregarded.
It all points to bullishness in the market and healthy bullishness, as we do not have just a few companies leading us higher, but rather entire sectors and indices. It is easy to be a bear on one or two issues, but to face this type of onslaught from the bulls when there is still so much capital on the sidelines, the rotation from bonds to equities still has not taken place, and many households currently being underweight equities would be daunting in our opinion. Those looking for a pullback do have the possibility of budget fights here in the U.S. to throw cold water on the rally, as well as further troubles in Europe and/or China.
Chart of the Day
The advance decline line on the Nasdaq is looking quite healthy.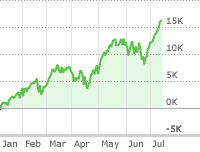 Source: Ameritrade.
We have economic news due out today and it is as follows:
CPI (8:30 a.m. ET): 0.3%
Core CPI (8:30 a.m. ET): 0.2%
Net Long-Term TIC Flows (9:00 a.m. ET): N/A
Industrial Production (9:15 a.m. ET): 0.3%
Capacity Utilization (9:15 a.m. ET): 77.7%
NAHB Housing Market Index (10:00 a.m. ET): 51
Asian markets finished mostly higher today:
All Ordinaries -- up 0.06%
Shanghai Composite -- up 0.31%
Nikkei 225 -- up 0.64%
NZSE 50 -- down 0.64%
Seoul Composite -- down 0.47%
In Europe, markets were trading mostly lower this morning:
CAC 40 -- down 0.48%
DAX -- down 0.22%
FTSE 100 -- up 0.06%
OSE -- down 0.07%
Housing
With rates rising many are worried about the recovery in the housing market and what that will mean for housing-related stocks and the general economy. Our argument is that the effect of higher rates, which are still near all-time lows historically, will be minimal as it pertains to first-time homebuyers -- the demographic that should be the most important, as they have been sitting on the sidelines for years now. Higher rates impact the amount of house they can buy, not whether or not they can buy a house. Where higher rates will have an impact is the segment where the homeowner is essentially at breakeven on a house with a low rate and is looking to upgrade because of family growth. They either have to get a comparable-sized house, add to their down payment, or buy points -- all options that are unattractive.
It is our opinion, though, that the Fed will keep the current monetary policy as is into next year, at a minimum, and we see the employment picture continuing to improve. With an improving economy it will carry the sector higher, and it is this thinking that has us wanting to add to homebuilders, like PulteGroup (NYSE:PHM), and retailers that will see business improve as the bull market in housing ages, such as Lowe's (NYSE:LOW), on pullbacks. We would not be using retirement money for these investments, but rather a taxable account because there is a bit more risk associated with this strategy than we are comfortable with, even in our retirement accounts.
Media and Entertainment
It is obvious that the media and entertainment industry is changing rapidly -- more rapidly than ever, in fact. As companies are undergoing another one of those phases where they alter their focus, the way they are focused and their asset base investors need to be aware of what exactly they own. Although we liked the old News Corporation (NASDAQ:NWSA), this new News Corporation has us a bit concerned. The stock hit a 52-week low yesterday on volume of 20.6 million, and we are left to wonder if the recent split of Murdoch's media empire created a company that is at a disadvantage to competitors. Yes, News Corporation has great print assets, but does it have enough of the interactive media (TV, Internet, radio, social media, etc.)? Competitors have been bulking up in those areas, but News Corporation has not and that has us wondering.
The move on the tail end of the chart shows investors cheering Dish Network (NASDAQ:DISH) for backing away from the Clearwire (CLWR) and Sprint (NYSE:S) bidding. Mobile may be a gold mine for the company in the future, but it appears as if shareholders are happy to accept those costs over a few years rather than upfront.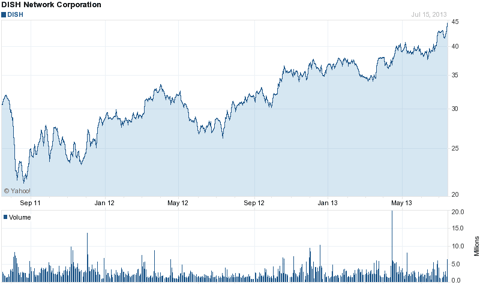 Source: Yahoo Finance.
The other big news in the industry is that Hulu was taken off of the market (see The Wall Street Journal article here) after having been on the bloc for the past few weeks with serious discussions. One would think that everyone involved here is a loser, from the sellers to the buyers to even Hulu itself -- which is probably true. So who is the winner? We would go with Dish Network, which now does not have to worry about a competitor grabbing a next-gen asset and possibly turning that into a strategic advantage. With Dish having lost out on all of its targets in the wireless telecom market, it appears as if it can now focus more on the core business and growing a wireless telecom business organically and at a manageable pace. Of course, Charlie Ergen can always surprise, but with the recent movement in the stock and the available options in the industry now dwindling, it sure looks as if Dish will have to look within the company for growth rather than outside.
Financials
Looks as if we are breaking out finally. The whole industry looks attractive to us, especially with business improving.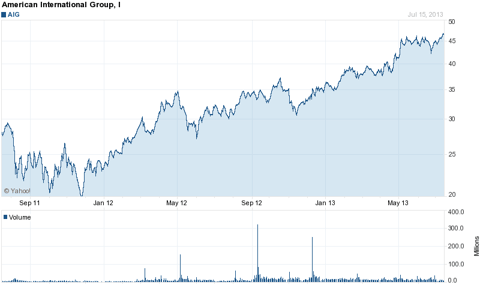 Source: Yahoo Finance.
Many talking heads are saying that the only way that the market continues higher is if we have strong earnings with a large majority of the companies in the S&P 500 beating (somewhere in the area of 66%, or two-thirds of them). By all measurements it appears as if we are on track for this, but with the volatility in the fixed-asset markets and a lot of investors' attention being focused on the Fed, we think that this might be the time to once again add to the insurance names we have talked about over the past 12-24 months. The insurance business continues to improve across the board, and now that all of the complicated side businesses have been removed, investors can get a much better grasp on these companies as a whole.
We believe that the kicker will be the industry's ability to pay out dividends in the future, and our guess is that we begin to see growth in payouts, on an industry-wide basis, starting in earnest through the end of the year and picking up steam in 2014. American International Group (NYSE:AIG) continues to be one of our favorite ways to play the sector. However, we would prefer readers waited for confirmation before opening new positions here (for those without any shares currently) because the shares hit a fresh 52-week high yesterday before finishing lower by the close.
Disclosure: I have no positions in any stocks mentioned, and no plans to initiate any positions within the next 72 hours. I wrote this article myself, and it expresses my own opinions. I am not receiving compensation for it (other than from Seeking Alpha). I have no business relationship with any company whose stock is mentioned in this article.