Last weekend, in my Market Forecast, I said,
For the new week, I think there is still a lot of sidelined money looking to come in the market. There is a possibility that we see a quick pullback, just to make some room for the technicals. The dollar took a big drop on Friday, which sparked the buying in commodity sectors again. This could be an important factor for the new week. Financials stayed strong last week. If they break out, we should see SPX charge above 1000!
Once again, things happened exactly as forecasted. The dollar played a big role in commodity sectors, while the financials led SPX to its first close above 1000 since November 2008! We also saw quick pullbacks in mid-week, but money on the sidelines continued coming in and kept the market up. On Monday, the dollar dropped again and the commodity sectors rallied (discussed in the Sector Watch). On Tuesday, we saw some profit-taking in the morning, but the market was able to close higher on late buying. On Wednesday, the financials pushed higher and we locked in some profits ahead of CSCO's earnings. On Thursday, the market was cautious and saw more profit-taking before the unemployment report. On Friday, the unemployment report showed improvement in the US economy and stocks rallied higher. We continued to lock in our profits and finished a very nice weak, with +100% green on our published trades.
For the week, the Dow finished up +198.46 points; SPX added +23 points; Nasdaq gained +21.5 points. The Asian markets closed lower on Friday last week, ahead of America's unemployment report. Sunday night, Asian markets are jumping again, after seeing more signs of recovery in the US economy. Subsequently, US dollar is creeping higher while oil and gold slide.
Let's take a look at where the market stands after last Friday's close:
SPX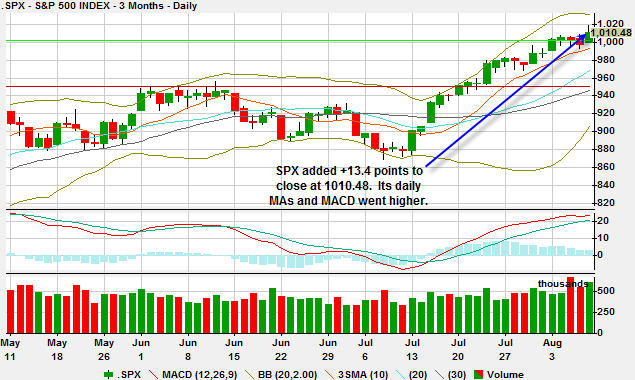 Last Friday, SPX added +13.4 points to close at 1010.48. It daily MAs and MACD went higher.
Nasdaq gained +27.09 points to close at 2000.25, just above the 2000 levle. Its daily MAs were slight higher. The MACD slid.
A week ago, we saw the market testing these important levels: SPX 1000 and Nasdaq 2000. Last Friday, the market was finally able to get its first weekly close above these levels since November 2008. Commodity sectors jumped last Monday, but, basically took the rest of the week off. However, the breakout in the financials was able to push the market higher.