SunEdison Inc. (SUNE) is a stock we bought last week. Both technicals and fundamentals are lining up to what we believe can make the future of SUNE a very exciting one. This article explains why we have initiated a position in SUNE.
SUNE is a leader in the semiconductor and solar technology fields. The company develops and supplies innovative, advanced technology solutions to corporations, governments and leading chip manufacturers. The growth potential is there. It is estimated that $1 trillion is going to be invested in solar from 2013 to 2020 worldwide across all channels and geographies. The company combines the best hardware and software to maximize benefit to its customers.
SUNE operates in 2 business segments.
1. Semiconductor Materials Segment
SUNE produces wafers for semiconductor applications. It offers a wide variety of features to meet customer needs. They range in size from 100 millimeter to 300 millimeter. The wafers are used as the starting material for the manufacture of various types of semiconductor devices that include microprocessor, memory and logic devices, computers, cell phones and other electronic devices.
These semiconductor wafer products are sold through a direct sales force. A global network of countries are involved including China, France, Germany, Italy, Japan, Malaysia, Singapore, South Korea, Taiwan and the United States.
2. Solar Energy Segment
The Solar energy segment now includes operations of the old Solar materials segment as well as the new SunEdison business, this being effective January 1st, 2012. The solar energy segment provides solar energy services that integrate the design, installation, financing, monitoring, operations and maintenance portions of the downstream solar market. As of December 2012, SUNE has interconnected over 675 solar power systems representing 989MW of solar energy generating capacity.
Fundamental analysis
Market capital of $2.25b
Total cash $421m
Float of $212m
14.91m shares short, representing 7% of the float.
Latest earnings report
The last earnings report on May 9th, 2013 showed that 2013 can be a great year for SUNE.
Some key points that caught my eye are:
In our Semiconductor business, we again generated cash and grew sales slightly during the quarter, in a market that we estimate declined by a high-single digit percentage.

Order patterns indicate modest volume growth through the remainder of the year, with pricing pressure moderating. To mitigate the pricing pressure, we will continue our aggressive focus on cost reduction.
Now onto the numbers. Semiconductor revenue grew to $230m. 45MW was sold and the estimated number was up to 38MW. First quarter 2013 non-GAAP revenue was $431 million. Semiconductor Materials represented 53% of revenue and Solar Energy, the remainder.
Latest news
On July 15th 2013, big news emerged from China. China plans to add 10 gigawatts of solar power a year during the next 3 years. This would boost China's solar capacity fivefold. This bodes well for companies that do solar business with China, including First Solar Inc. (NASDAQ:FSLR), SunPower Corp. (NASDAQ:SPWR), SUNE and others.
Technical analysis
The daily chart remains a beautiful one. Volume has been increasing and the stock is at yearly highs. The price is over the 20-day and 50-day moving average which shows bullish action.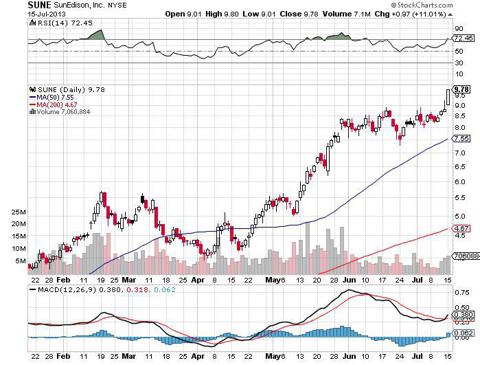 Click to enlarge
The weekly chart shows more of the same bullish features. Bullflag on the weekly was observed last week with a new breakout happening on Monday.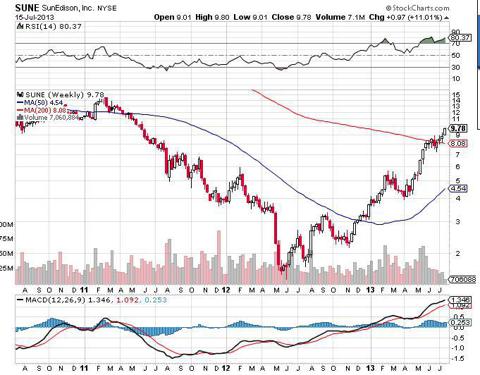 Click to enlarge
Conclusion
We remain bullish on SUNE after today's breakout. We have initiated a position in SUNE last week and are long the $7 October calls at a price of $2.08. We only risk 1% per position in our portfolio. With the recent news coming from China, the healthy uptrend and the potential for new contracts, we believe SUNE is a stock to own in to 2013 and 2014.
Disclosure: I am long SUNE. I wrote this article myself, and it expresses my own opinions. I am not receiving compensation for it (other than from Seeking Alpha). I have no business relationship with any company whose stock is mentioned in this article.