In retail there never seems to be a boring moment and just about every month of the year there is either a holiday or an event that takes place that requires one's shopping attention. After the Fourth of July sales most consumers get to enjoy the rest of their summer without the need to worry about if they are missing out on the next big sale. With the month of August coming right around the corner, this brings about the annual back to school sale. There are many retail and consumer discretionary stocks that take part in the annual back to school sale. Whether it's technology, clothing, school supplies or even food; in my opinion Wal-Mart (NYSE:WMT) is still poised to be a solid pure play for the annual back to school event.
Wal-Mart is headquartered in Bentonville, Arkansas and is still currently at number one on the list of top 100 retailers in the United States in retail sales and worldwide retail sales.
Rank
Store
2012 U.S. Sales (000)
Sales Growth
('12 v '11)
1
Wal-Mart
$328,704,000
4.0%
2
Kroger (NYSE:KR)
$92,165,000
6.6%
3
Target (NYSE:TGT)
$71,960,000
5.1%
4
Costco (NASDAQ:COST)
$71,042,000
10.6%
5
The Home Depot (NYSE:HD)
$66,022,000
6.4%
6
Walgreen (WAG)
$65,014,000
-1.2%
7
CVS Caremark (NYSE:CVS)
$63,688,000
6.7%
8
Lowe's (NYSE:LOW)
$49,366,000
0.2%
9
Safeway (NYSE:SWY)
$37,532,000
1.6%
10
McDonald's (NYSE:MCD)
$35,593,000
4.2%
Back in the mid 1990s, when I was going to high school, as long as I had a notebook, pencils, a graphing calculator, backpack and a personal computer I was good to go. But, things certainly have changed in how much consumers spend on education for themselves and their children. According to the National Retail Federation, families with children K-12 spent around $690 on school related items (Source) and college spending is also expected to increase (see chart below). There is no doubt that an education is priceless, but for most middle and lower class consumers the question will always remain at what cost?
The annual back to school sale is not a major holiday, but can rather be looked at as a start to how U.S. consumers will be spending to what's typically the start of more holidays to follow.
For the upcoming annual back to school event there are many retailers that will be battling for consumer dollars, but rather trying to pick winners and losers I believe Wal-Mart is in a solid position to be a strong performer for the second half of this year for the following reasons.
Competition:
While there are many competitive advantages that Wal-Mart has as the number one leader in retail sales there are also many competitors that try to grab market share from Wal-Mart. Currently, most Americans have already come across some back to school advertisement as the annual back to school season is the second busiest time of the year (next to Christmas). Traditionally, Wal-Mart is generally quite aggressive during this time of the year due to fierce competition from other major retailers Target, Costco, Family Dollar (NYSE:FDO), Dollar General (NYSE:DG) and Kroger (just to name a few).
During this annual back to school season I expect Wal-Mart to continue to provide "Everyday Low Prices" that will continue to force competitors to match and get consumers to make more bulk purchases. One important component for Wal-Mart to be able to snuff out their competition is to be able to control inventory levels. With the massive size of Wal-Mart's operations inventory levels and control are a particular focus as the company can easily lose millions of dollars.
In an article by Time Business it was reported how Wal-Mart was able to turn their inventory over faster than Target, which helped improve operating efficiency. In my opinion a retail company can have impressive sales, but what matters the most is at what cost? Currently, Wal-Mart is focusing on a fresh produce campaign that to the outsider may not seem impressive since when you buy fresh food, you should be expecting fresh food. But, perception (when it comes to fresh food) is crucial to maintain success of a brand's image and can further add to operating efficiency gains since the margins on fresh produce food are still attractive. School supplies may seem an obvious choice in considering Wal-Mart for the annual back to school investment, but I believe food is also an important component to consider.
With Wal-Mart's fresh produce initiative this allows for the company to focus on other areas of Wal-Mart's operations in an effort to distract their competition. In my opinion I believe Wal-Mart should have done this campaign a while ago, since consumer trends are demanding fresher food. While the results are still early to decide if Wal-Mart's fresh produce campaigns are successful, this campaign (if successful) could help steal market share from local grocery store operators. In the future, I would expect other competitors to follow Wal-Mart's lead in providing aggressive advertising in fresh produce as this is also an important component to consider when the annual back to school season nears.
Unsure Consumer
When taking a further look at some statistics from the National Retail Federation consumers surveyed showed that over two-thirds have indicated that their back to school plans will change.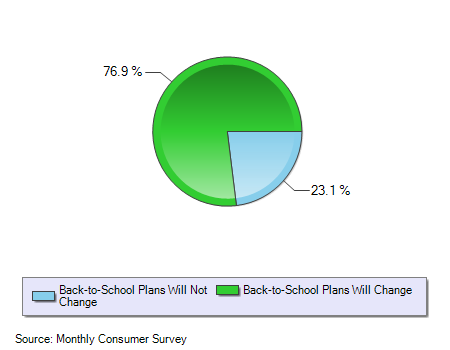 With the increasing cost to providing one's own education or their children, consumers will have to be thriftier in their spending habits. While the consumer is doing better than in previous years the lower to middle income consumers are still facing challenges. Some of these challenges include higher gasoline prices, food inflation and working an additional job to meet income needs. For the lower to middle income consumer that is still able to make ends meet, but wants to get the most bang for their dollar I believe Wal-Mart is in a good position to give the apparel retailers a run for their money this year for the following reasons.
First, the apparel retailers such as American Eagle (NYSE:AEO), Abercrombie & Fitch Co. (NYSE:ANF) and Aeropostale (NYSE:ARO) (just some out of the many for example) can be seen at a crossroads right now due to a consumer that is stronger than in previous years, but is still cautious on their spending. Next, the weather can play a factor for the smaller retailers who gear themselves more toward a specific audience than Wal-Mart who is more diversified in their apparel section. Smaller retailers have to closely watch the amount of summer apparel versus their fall apparel since they tend to have smaller stores. If the smaller fashion retailers are not able to be successful at managing inventory levels during the annual back to school season they will be forced to slash prices, which in turn can lead to lower margins on sales.
Lastly, the smaller fashion retailers are going to have to provide compelling deals, since there are many competitors in the apparel space. Also, the rise of internet spending forces consumers to continue to shop and or wait before making purchases. While Wal-Mart is not the only exclusive possible annual back to school winner the company is diversified in providing a one-stop shop for a consumer that is unsure of how they want to spend their discretionary income this annual back to school season.
Financials
For FY 2013 Wal-Mart is currently on pace for an estimated 6% growth rate as compared to their rival Target, which is looking at a -1% growth rate for FY 2013. Since 2010 Wal-Mart has met earnings and has come in line with expectations. Currently, Wal-Mart has a P/E of around 15x earnings and at their current share price Wal-Mart should continue to come in line with industry expectations. For FY 2013 annual earnings are expected in the range of $5.21 to $5.45 and at Wal-Mart's current price of $77 Wal-Mart's P/E is still attractive for the long-term investor. Furthermore, I would expect Wal-Mart to continue to increase their annual cash dividend as the company has done so every year since March 1974.
When taking a look at a one year chart of Wal-Mart the company is still up off their January 2013 lows of around $68. Despite a recent pullback when Wal-Mart almost breached the $80 level, I believe Wal-Mart is still worth holding on to or adding to as the annual back to school sale will be the first in a string of holidays and events that Wal-Mart is positioned to benefit from. Currently, with Wal-Mart's stock price at $77 a share I am waiting for shares of Wal-Mart to pull back to the mid 70's level to add on to my existing position.
In conclusion, there will be many winners and losers as the annual back to school season gets underway. Rather than try to sort through the retail sector, Wal-Mart is still the market leader in the retail world. For the annual back to school season coming near Wal-Mart is still a solid provider for food, apparel and supplies that are essential for a student's success. For the buy and hold investor Wal-Mart is still a great defensive play on a consumer that is still cash-conscious.
Disclosure: I am long WMT. I wrote this article myself, and it expresses my own opinions. I am not receiving compensation for it (other than from Seeking Alpha). I have no business relationship with any company whose stock is mentioned in this article.