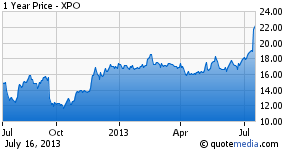 Shares of XPO Logistics (NYSEMKT:XPO) are setting fresh all time highs after the fast-growing freight forwarder announced the acquisition of 3PD.
With the acquisition, XPO is significantly expanding its revenues at very fair revenue multiples, while the deal should lead to narrowing operating losses. On the back of the attractive revenue multiples, compared to some of its competitors, I would expect shares to set fresh all time highs going forwards.
The Deal
XPO Logistics announced that has entered into a definitive agreement to acquire 3PD. XPO will pays roughly $365 million for the third party provider of heavy goods and last-mile logistics in North America.
3PD has been founded as recent as 2001 and has rapidly grown in the last-mile logistics segment to serve retail shippers. Its operations have roughly two times the size of its nearest competitor.
CEO and Chairman Bradley Jacobs commented on the rationale behind the deal, "Our acquisition of 3PD advances our strategy for rapid, disciplined growth in non-asset transportation logistics. XPO will be a direct provider of a high-margin, high cash flow service that's filling a growing need of consumers and shippers, including our own customers."
Over the past twelve months, 3PD reported revenues of $319 million. As such the $365 million price tag, values 3PD at around 1.15 times annual revenues. The deal is expected to be immediately and significantly accretive to earnings.
The deal is expected to close in the third quarter of this year, and is subject to Hart-Scott-Rodino clearance and normal closing conditions.
Valuation
XPO Logistics ended its first quarter with $206.2 million in cash and equivalents. The company operates with $118.5 million in total debt capital lease obligations and convertible notes. As such XPO operates with almost $90 million in net cash.
XPO has already arranged a commitment from Credit Suisse for a $195 million term loan, while the remainder of the deal value will be financed with cash at hand. For the year of 2012, XPO generated revenues of $278.6 million, up 57% on the year before. The company reported a net loss of $20.3 million for the year.
Factoring in Monday's gains, shares are trading around $21 per share. This values XPO at roughly $380 million, which values its operating assets around $290 million. As such, operating assets of the company are valued around 1.0 times last year's revenues. XPO does not pay a dividend at the moment.
Some Historical Perspective
XPO has long been a dormant small capitalization stock. For years, shares traded around $1 per share between 2005 and 2010. Shares jumped towards $10 in 2011 after Jacobs Private Equity made a $150 million cash investment into the firm.
Shares continued to gain ground, setting fresh all time highs around $22 per share. Between 2009 and 2012, XPO has nearly tripled its annual revenues towards $278.6 million. After reporting very modest net profits between 2009 and 2011, the company reported a large loss last year.
Investment Thesis
XPO has continued to its expand its operations at breathtaking pace. First quarter revenues rose by 156% towards $114 million, as the company is on track to generate annual revenues of a billion dollar. Net losses expanded to $14.5 million in the meantime.
Combined, both firms are on track to generate annual revenues of $1.5 billion. While the combination will most report a full year loss, the balance sheet offers enough financial flexibility to accommodate the deal and finance the operational losses.
XPO's operations are valued around $380 million, valuing the pro-forma entity around 0.25 times annual revenues. This compares to much higher valuation multiples for names like Swift Transportation (NYSE:SWFT) which is valued at 0.7 times annual revenues, and Werner Enterprises (NASDAQ:WERN) valued at 1.1 times annual revenues.
With the acquisition of 3PD, XPO is able to offer tailored supply chain needs on a transactional basis. The superior customer experience driven by the proprietary technology and industry-leading process management, are underlying the strong operational results. With the deal, XPO will add 28 locations to its business, bringing the total to 90 locations. Margins could expand as well, given that 3PD currently shifts about 4.5 million shipments per annum.
All in all the deal seems excellent, boosting XPO's operations significantly and bringing much needed margin expansion which should limit the operational losses. Despite the lack of profitability, the spectacular revenue growth accompanied with relatively low revenue multiples offers appeal. I would expect shares to set fresh all time highs in the months going forward.
Disclosure: I have no positions in any stocks mentioned, and no plans to initiate any positions within the next 72 hours. I wrote this article myself, and it expresses my own opinions. I am not receiving compensation for it (other than from Seeking Alpha). I have no business relationship with any company whose stock is mentioned in this article.