The big sell-off in bonds has created select buying opportunities. The recent rise in interest rates seems to have been too far and too fast and investors who scoop up bargains in the sector could be poised to collect high yields and even capital gains. I believe the rate hikes are going to put a major dent in housing and auto sales in the coming weeks, and this will slow the economy and make it tough for Bernanke to tighten monetary policy in 2013, as many investors now expect. On July 15, retail sales figures came in much weaker than expected and that is just another sign that the economy remains soft and that interest rates are also likely to soften after a major surge. A Reuters article details the disappointing retail sales data and it states:
"It provides no additional evidence that the economy is gaining momentum," said Annalisa Piazza, a senior economist at Newedge Strategy in New York. "It doesn't allow the Fed's chairman to have a firmer tone as the economic recovery remains gradual."
If rates just stabilize at these levels or (even better) go down, high-yield stocks could head much higher. With this in mind, here are some high-yield stocks that appear undervalued and are worth buying now:
DWS Strategic Income Trust (NYSE:KST) is a closed-end fund or "CEF" that primarily invests in better-quality high-yield bonds. This fund is sponsored by Deutsche Investment Management Americas Inc., which is a leading asset management firm. Prior to the end of May, this fund was trading for about $15 per share but the recent correction in bonds has brought it down to just around $13. Many investors appear to be taking a "sell bonds at any price" approach, but not all bonds deserve to be dumped and that has created a significant buying opportunity.
Liquidity is a potential downside risk to consider when investing in CEFs but this can also be a positive if you take advantage of pullbacks like the one we see now. Unlike mutual funds and exchange traded funds or "ETFs" that typically sell for net asset value, CEFs can trade at a premium or a discount to net asset value, or "NAV." In a market correction, or in a panic sell-off, CEFs can drop below net asset value and that is what has recently occurred in many cases. Historically, the Strategic Income Fund has sold for a premium of about 2% to NAV (on average), however, it now trades at a significant discount of around 7.5% to NAV. Investors who buy while this fund is trading way below NAV could be poised to collect a generous yield of roughly 9%, and possibly see capital gains as the share price recovers and returns back to levels near the current NAV of about $14.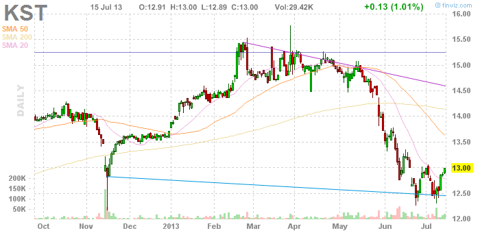 November 2012, was the last time this CEF traded for a meaningful discount and at that time it was about 3% below NAV. Within a couple of weeks, it was trading back around NAV, and it was not long after that when it was trading for a significant premium to NAV. I bring this up because it shows this CEF has a history of bouncing back from pullbacks that take it below NAV rather quickly.
The Strategic Income Fund has been a top performer and that is probably one reason why it usually trades at a premium to NAV. This fund has earned a 4 star rating from Morningstar for its performance over the past 5 and 10 years. The fund has returned 11.68% over the past 5 years and 10.46% over the past 10 years. The current NAV is around $14, and the shares now trade for about $13, which is a sign of significant undervaluation. These shares should be poised to trade back at a slight premium to NAV because it offers a 9% yield, and because it has low duration risk and relatively high credit quality holdings in its portfolio. The portfolio has an effective duration of about 5 years and the vast majority of the portfolio is invested in bonds that have an A to B credit quality rating. The fund is comprised of: Corporate bonds 70%, loan participations and assignments 15%, U.S. government or agency 11%, and cash equivalents at 4%.
Unlike some dividend stocks that pay dividends on only a quarterly basis, this fund pays shareholders every month, at a rate of 9.5 cents per share. This provides a yield of nearly 9%, which can really add up over time. For example, a $10,000 investment in this fund in June 2003, would now be worth about $27,000 today. Since this fund has a 5-year average duration and a yield of about 9%, investors who hold for the next 5 years are likely to end up with gains of about 50%.
While a CEF that invests in bonds has risks that include liquidity and leverage risks, interest rate risks, and economic risks, the upside is considerable and investors who have accepted some of these risks have done very well over time. With the shares now trading significantly below NAV, and since this fund has relatively short duration and a higher credit quality portfolio, the pullback seems undeserved. It is also worth noting that higher-yielding bonds can see improved credit ratings when the economy is growing and that also helps offset some of the interest rate risk. This is an ideal buying opportunity for income investors and even for short-term traders to consider. This fund has a proven track record of trading for a premium to NAV, and I believe it will head back to those levels fairly soon, and also offer a high-yielding monthly income stream in the meanwhile. On July 10, this fund declared a monthly 9.5 cent dividend, which will be payable on July 31, to shareholders on record as of July 22. That means investors who buy soon will be poised to quickly collect the next dividend.
Here are some key points for KST:
Current share price: $13
The 52-week range is $12.28 to $16.09
Earnings estimates for 2013: n/a
Earnings estimates for 2014: n/a
Annual dividend: about 9.5 cents per month, which yields nearly 9%
Investors who want significant liquidity but who are willing to consider a lower yield of about 7%, could consider the SPDR Barclays Capital High Yield Bond (NYSEARCA:JNK), which is an exchange traded fund that also invests in high-yield bonds. Exchange traded funds or "ETFs" trade close to or at net asset value and this one offers significant liquidity due to the high volume it trades on a daily basis. I use this ETF to track the high yield sector. For example, if "JNK" is trading up, then the net asset value of closed end funds like the "Strategic Income Fund" should also be rising that day. To get end-of-day net asset values for CEFs you can visit ETFconnect.com. When you see that "JNK" is starting to rebound off the lows, and that it now trades back above the 200-day moving average and right at the 50-day moving average, it probably won't be long before the "Strategic Income Fund" is doing the same, which would put it back above $14.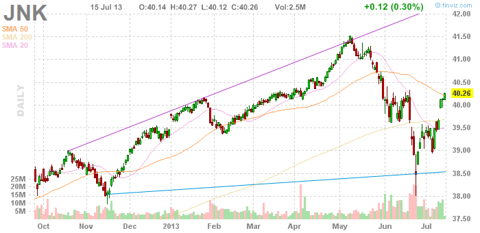 Here are some key points for JNK:
Current share price: $40.16
The 52-week range is $38.21 to $41.95
Earnings estimates for 2013: n/a
Earnings estimates for 2014: n/a
Annual dividend: about 20 cents per month, which yields nearly 7%
Prospect Capital (NASDAQ:PSEC) is a leading business development company or "BDC" that invests in a wide range of companies. Companies in this sector typically offer shareholders a very high yield and that makes these stocks attractive for income investors. While this stock has seen a recent pullback, it is already rebounding and could be poised for additional long-term gains.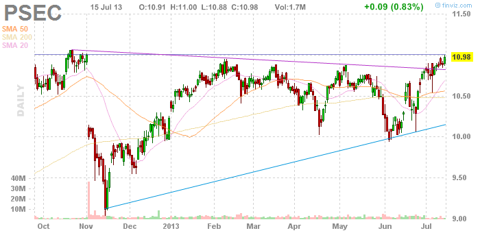 Prospect Capital makes debt and equity investments in a number of industries, which include healthcare, financial services, energy and manufacturing. By making debt and equity investments in a wide range of industries, this company reduces risks for shareholders through diversification. A significant market correction or a recession are major downside risks to consider. For example, stocks in this sector did very poorly in the immediate aftermath of the 2008 financial crisis due to concerns about defaults. However, with certain industries now providing the U.S. economy with some growth, these types of risks seem limited now.
To compensate for downside risks, investors are well rewarded with a dividend of $1.32 per share. This dividend was raised not long ago and it now provides a yield of over 12%. Furthermore, this stock could offer capital gains as analysts at Barclays have an overweight rating and a $12 price target on these shares. There are other well known bulls for this stock as well. Seeking Alpha's Miriam Metzinger details Jim Cramer's bullish viewpoint of Prospect Capital as he states:
I always thought it was a well-run outfit. It has that really high yield, which is a red flag, because a lot of high yielders have been trimming their yields. It is well run, though, and I'm going to bless it. I've known them for years.
With a bullish outlook from Cramer and Barclays, a very generous yield of over 12%, and the potential for share price appreciation, this stock is worth buying now and even more so on dips.
Here are some key points for PSEC:
Current share price: $10.95
The 52-week range is $9.80 to $12.25
Earnings estimates for 2013: $1.48 per share
Earnings estimates for 2014: $1.23 per share
Annual dividend: $1.32 per share which yields 12.3%
Data sourced from Yahoo Finance. No guarantees or representations are made.
Disclosure: I am long KST, PSEC. I wrote this article myself, and it expresses my own opinions. I am not receiving compensation for it (other than from Seeking Alpha). I have no business relationship with any company whose stock is mentioned in this article.
Disclaimer: Hawkinvest is not a registered investment advisor and does not provide specific investment advice. The information is for informational purposes only. You should always consult a financial advisor.