The last time I wrote about Cracker Barrel Old Country Store (NASDAQ:CBRL) was the day before it reported earnings on 03Jun13, and I predicted that we could see a 5% move up in the stock and my prediction was surpassed. The company beat earnings by $0.08, topped revenues by $9.84 million, and raised its dividend by 50%. Since reporting earnings, the stock is up 14.2% while the S&P 500 is up a mere 3.16%. I'd like to take this time to put my enthusiasm for the stock in check by performing a fundamental, financial, and technical analysis to see if I should be buying more of it at this moment in time.
Fundamentals
Cracker Barrel currently trades at a trailing 12-month P/E ratio of 20.68, which is fairly priced, but I mainly like to purchase a stock based on where the company is going in the future as opposed to what it has done in the past. On that note, the 1-year forward-looking P/E ratio of 18.1 is currently fairly priced for the future in terms of the right here, right now. Next year's estimated earnings are $5.64/share. The PEG ratio (2.07), which measures the ratio of the price you're currently paying for the trailing 12-month earnings on the stock while dividing it by the earnings growth of the company for a specified amount of time (I like looking at a 5-year horizon), tells me that Cracker Barrel is expensively priced based on a 5-year EPS growth rate of 10%.
Financials
On a financial basis, the things I look for are the dividend payouts, return on assets, equity and investment. Cracker Barrel boasts a dividend of 2.94% with a payout ratio of 38.1% while sporting return on assets, equity and investment values of 8.4%, 28.1% and 16.3% respectively; which are all respectable values. If maybe you feel the market will retract a little more and would like a safety play then the 2.94% yield of this company is good enough for you to take shelter in for the time being.
Technicals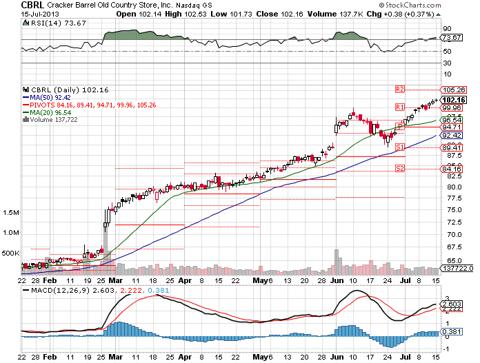 Looking first at the relative strength index chart [RSI] at the top, I see the stock in overbought territory with a value of 73.67. With the relative strength index chart in overbought territory, I anticipate a short-term drop in the price. To confirm that, I will look at the moving average convergence-divergence [MACD] chart next and see that the black line is above the red line with the divergence bars flattening out, indicating the stock may come on downward momentum. As for the stock price itself ($102.16), I'm looking at $105.26 to act as resistance and $99.96 to act as support. If the stock can't break through the $105.26 resistance, I see it going down to the 20-day moving average and then possibly down to $94.71. However, if it can break through the $105.26 resistance level, I think it can go to $110 as it is already at all-time highs. These scenarios provide for a risk/reward ratio of -2.15% to 3.03%.
Recent News
Investors factored the Affordable Care Act when it was first introduced long ago into the cost of this stock. The Act made it a requirement that businesses with more than fifty employees provide healthcare to those employees. With those expenses now deferred to 2015, it gives companies additional time to plan how to make up those additional expenses. One such method could be to employ people for less than 30 hours a week in order to avoid paying for their healthcare altogether. This may lead employees to work two or three jobs just to make ends meet, but this saves money for the restaurant franchisees and keeps the bottom line intact.
Conclusion
Fundamentally Cracker Barrel is fairly valued on past and future earnings, but has great short and long-term growth potential. Financially the company has a great return on equity, but I believe they may have over-extended themselves with the most recent dividend boost. A 50% increase in one fell swoop may be a bit much, taking the payout ratio to 38.1% of earnings. I would have definitely been happy with maybe an 11% increase in the dividend with the possibility of a special dividend in order to preserve further double digit increases in the future. I believe the payout ratio may actually not increase by much in the coming years. On a technical basis we're at all-time highs, and I want to see what happens with it in the next couple of days, because every one of the technical charts is telling me that we are topping out here. Cracker Barrel is scheduled to go ex-dividend on 17Jul13 with a $0.75/share dividend which will be payable on 05Aug13, but I won't be adding to my position at these levels for now. I may just catch it after the ex-dividend date.
Disclaimer: These are only my personal opinions and you should do your own homework. Only you are accountable for what you trade and happy investing!
Disclosure: I am long CBRL. I wrote this article myself, and it expresses my own opinions. I am not receiving compensation for it (other than from Seeking Alpha). I have no business relationship with any company whose stock is mentioned in this article.