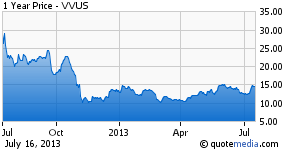 It is often the defining moment that ends a poker game. A player that feels they have an advantage goes All-In, betting all of his chips. It is a winner-take-all move. In many ways it would appear that the existing board and management of Vivus (NASDAQ:VVUS) blinked, and gave a "tell" when they offered three board seats to First Manhattan nominees. Their position seemed even weaker when Vivus suddenly accused First Manhattan of misleading shareholders in a quest for votes, sent a complaint to the Securities Exchange Commission, and adjourned the annual meeting that was scheduled for Monday. As things sit now the meeting will now be Thursday, July 18th. Does First Manhattan have the upper hand? Will a compromise be reached prior to the meeting? What is certain is that both sides are trying to count every vote they know and make an educated guess as to the unknowns. The vote is likely close.
First Manhattan's initial response on Monday was to express outrage at the actions of Vivus in a press release that would seem to make any chances of compromise a distant spark.
"First Manhattan vigorously objects to the actions taken by the Vivus Board to adjourn the annual meeting today without allowing stockholders the right to vote for the annual election of directors. We believe the adjournment is an outrageous attack on Vivus stockholders' right to vote and be heard on the important issues facing the company.

"First Manhattan believes Vivus' stated reasons for adjourning the meeting are a pretext, lacking substance and a desperate act to delay an important vote on the future of the company. In addition, we believe that the Vivus Board lacked authority to adjourn the annual meeting without a stockholder vote to do so. We voted our shares against adjournment and reserve our right to challenge the adjournment and take any other action to protect the stockholders' right to be heard without delay.

"We believe Vivus stockholders are fully informed about the issues in this proxy contest and should be allowed to vote today on the future of their investments. Vivus' sitting Board has wasted enough time and stockholder money in a blatant attempt to further entrench themselves.

"We encourage Vivus' stockholders to vote their shares on the WHITE proxy card. If stockholders have already voted Vivus' gold proxy card, they can still vote the WHITE card. Every vote counts and every stockholder's vote is important no matter how many shares they own. Even if stockholders do not vote for all of our nominees, they should vote our WHITE proxy. Telephone, internet and ProxyEdge voting may not be available to all stockholders. Please call MacKenzie Partners at the number below for assistance."
Investors are in for rocky times. One major question is what happens if First Manhattan loses. Do they dump their shares on the market? Do they re-group and find additional shareholders to ally with and go for a special meeting later on? Do they simply give up the fight?
In my opinion, if current management wins this battle, the war is not over. It is a tough time to be invested in Vivus. Sales of anti-obesity drug Qsymia have come in well short of expectations, and now there are some calling into question the "quality" of a recent partnership on the erectile dysfunction drug Spendra.
It is my belief that one of the biggest hurdles faced by Vivus is tied to its anti-obesity drug Qsymia. This drug had very high expectations. The launch was slowed by restrictive REMS, and insurance coverage, while progressing, still remains at about 30%. As if these hurdles are not big enough, getting doctors to prescribe seems to be putting up additional hurdles. In its first month of sales Qsymia tallied just over 4,000 according to channel check data and were considered dismal. Competitor Arena Pharmaceuticals (NASDAQ:ARNA) recently launched its anti-obesity drug, Belviq, and in its first month sales tallied just over 7,000.
While the focus of First Manhattan and Wall Street seems to be on the lack of a pharmaceutical partner, the biggest issue is insurance. That is the one thing that can propel the prescription anti-obesity space more than anything else. Wall Street wants to see a partnership and a cash infusion, but the real target insurance.
Investors should be very cautious with regard to Vivus right now. There is a lot happening, but most people are focused in areas that may simply be short term solutions. Perhaps the best and safest strategy is to get on the sidelines while the battle goes on. Pay attention to what the street is looking for, but understand that it will take wide ranging insurance coverage in order to really drive sales and revenue. Stay Tuned.
Disclosure: I am long ARNA. I wrote this article myself, and it expresses my own opinions. I am not receiving compensation for it (other than from Seeking Alpha). I have no business relationship with any company whose stock is mentioned in this article. I have no position in Vivus