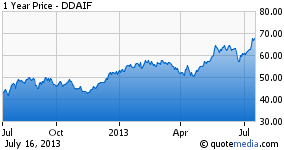 The automotive sector is cyclical and usually car makers don't have a high shareholder remuneration because during economic downturns car makers' earnings can swing widely, turning rapidly from profits to losses. However, Daimler (OTCPK:DDAIF) currently offers a very attractive dividend yield of 4.3%, which is the highest amongst major global car makers. The company is able to pay this high-dividend yield due to its profile as a premium automobile manufacturer. Daimler is less sensitive to economic cycles due to its Mercedes brand premium status which targets high-income customers, who naturally can maintain their spending habits throughout economic cycles.
Daimler is a German luxury car and truck manufacturer, including the well-known Mercedes-Benz brand and the Freightliner trucks brand. Its truck division is dependent on businesses capital expenditures which are more sensitive to economic activity than its consumer brands. Its closest peers are other German premium car makers, such as BMW (BAMXY.PK) and Volkswagen (OTCPK:VLKAY). Daimler's market capitalization is around $72 billion and the free float is above 80%. Its main shareholders are the Kuwait Investment Authority with a 7.6% equity stake, and Renault-Nissan alliance with 3.1% of its equity capital. Daimler is traded in the US trough its ADR program in the over-the-counter [OTC] market.
The company operates under five different segments: Mercedes-Benz Cars; Daimler Trucks; Mercedes-Benz Vans; Daimler Buses; and, Daimler Financial Services. The group is one of the biggest producers of premium cars and the world's biggest manufacturer of commercial vehicles. Its major segments are Mercedes Cars and Trucks which together represented more than 80% of the company's sales in 2012. The vans and buses are smaller divisions and have below-average profit margins. The group sold 2.2 million vehicles in 2012.
In 2012, Daimler's revenue was almost $150 billion, an increase of 7.3% from the previous year. This result is quite good given that Western Europe is the company's biggest market, accounting for 35% of the company's revenues and its macroeconomic performance has been weak over the past few years. Daimler is able to post good growth figures because is still largely exposed to its domestic market, which is the least affected in Europe by austerity measures. Also, North America and Asia continue to post good growth figures and account for 28% and 22%, respectively, of Daimler's revenues. Regarding its profitability Daimler is one of the world's most profitable car makers due to its exposure to luxury markets. The company's operating profit was above $11 billion in 2012, representing an operating margin of 7.5%. This high-margin within the automotive industry clearly reflects Daimler status as a premium manufacturer. For instance, Ford (NYSE:F) which is also a global car maker but focused on mass-market cars, posted an operating margin below 5% in 2012. Moreover, it has a high free cash flow generation capacity given that over the past ten years only in 2008 the free cash flow from its industrial business was negative, which is quite remarkable for a company operating in a cyclical industry.
Going forward, Daimler aims to reach a target of 10% operating margin over the cycle at Mercedes, which intends to achieve in 2013, helped by the new S-class expected to be launched that year. It expects to achieve this profitability improvement by new vehicles and an overhaul of existing ones, through project-related cooperation, such as its partnership with Renault/Nissan, as well as through savings achieved from the module and platform strategies.
Regarding its dividend, Daimler has paid over the past couple of years a stable dividend per share of €2.20 ($2.86). This was about 39% of its 2012 earnings, and is in-line with the company's goal to pay a ratio of 40% of its net profit. Historically, it has paid a stable payout ratio between 40% to 50%, but on downturns it adapts rapidly its payments to shareholders. In 2008, it lowered significantly its dividend payment to €0.60 ($0.78) and in 2009 didn't paid any dividend. However, in 2010 the company's dividend was restored at the same level prior to its cut.
Additionally, Daimler's shares are relatively cheap trading at only 11x its estimated 2013 earnings, which for a premium manufacturer such as Daimler is quite undemanding. Adding its attractive dividend yield of 4.3%, and Daimler clearly offers a compelling opportunity for income-investors. Even though Europe's economic outlook remains weak, Daimler's good geographical diversification should support its growth and profitability over the coming years.
Disclosure: I have no positions in any stocks mentioned, and no plans to initiate any positions within the next 72 hours. I wrote this article myself, and it expresses my own opinions. I am not receiving compensation for it (other than from Seeking Alpha). I have no business relationship with any company whose stock is mentioned in this article.