The current issue of the 10x45 Bargain Hunter stock screening report, published on August 9th, includes a table of the Top 45 "Magic Formula" Stocks, based on current consensus analyst estimates of next year's earnings per share. This "Magic Formula" screen is based on a methodology advocated by "superinvestor" Joel Greenblatt, author of The Little Book That Beats The Market.
In a slight departure from the screen popularized by Greenblatt on the website MagicFormulaInvesting.com, the 10x45 Bargain Hunter screen featured below screens for stocks based on next year's earnings rather than earnings for the trailing twelve months. The use of forward earnings may be advantageous, as a screen based on trailing earnings would likely include many companies whose recent performance has been strong but whose prospects are weak. On the other hand, a screen based on forward EPS runs the risk of including companies with "stale" analyst estimates of such earnings, i.e., companies whose earnings estimates may have to be revised downward. Nonetheless, we find the screen shown below to be a useful tool for value-oriented investors seeking to uncover "good" companies trading at low prices.
The current screen results include companies such as GigaMedia (NASDAQ:GIGM), Centene (NYSE:CNC), Pre-Paid Legal (NYSE:PPD), Endo Pharma (NASDAQ:ENDP), and Edison International (NYSE:EIX). Some of the companies on the list have been perennial "magic formula" selections, however, possibly indicating that the respective companies have only limited opportunities for reinvestment of capital at high rates of return. Such companies may deserve to trade at low multiples of earnings.
Of particular interest may be companies that joined the list in the past two weeks (highlighted in olive green below). These recent additions include PRG-Schultz (NASDAQ:PRGX), Sepracor (SEPR), Sempra Energy (NYSE:SRE), Southern Union (NYSE:SUG), Permian Basin (NYSE:PBT), APAC Customer (NASDAQ:APAC), and American Oriental (AOB).
As always, we note that the following screen results are merely a place to start your search for investment ideas. This is particularly true for so-called magic formula stocks, which rarely enjoy much in the way of asset-based downside protection.

Top 45 "Magic Formula" Stocks (based on next FY EPS estimates) - click to enlarge
Click here for a PDF version of the following table.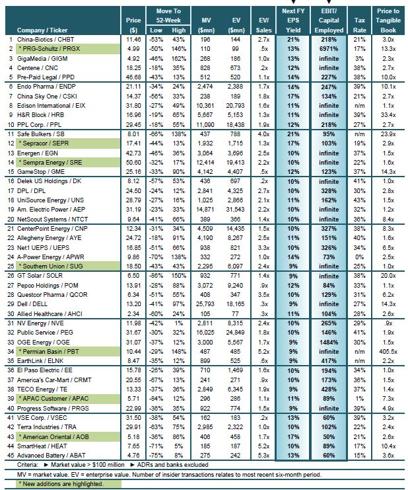 Source: The Manual of Ideas, BeyondProxy.

Disclosure: No positions.