One of the ways that I manage investments is by keeping a list of several hundred stocks that have established successful businesses that pay dividends. This list is kept on my Trader Workstation broken down into various tracking columns to enable me to see the prices of these issues easily any time during trading. For example, I maintain a column of preferred stocks that I am interested in following. There are 15 columns that I maintain with about 30-50 stocks each. On a normal day in the office, I page through these lists several times a day to look for price anomalies. My recent article on preferred shares came as a result of watching these anomalies. See an example of "New Preferred Shares," one of my columns below: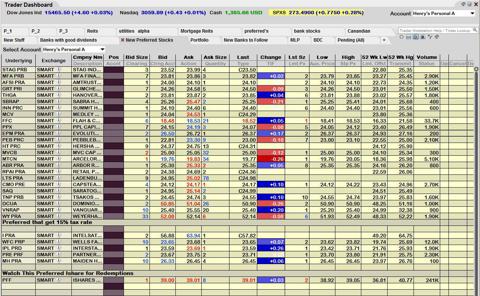 Whenever I spot a price anomaly, I research the stock and/or industry to see what is causing the change. If the price change appears to be caused by something that impacts the business in a very negative way, I will avoid the stock. If it is caused by minor things which cause a temporary psychological depression among investors toward an issue, I start to follow the stock to purchase it.
Below are two foreign energy companies that pay dividends with major price changes that I have been following for several years. Both companies have lost about half their value during the past year. One can see the follow-up research on each stock below which led me to purchase both issues.
Just Energy Group Inc. (JE)
Established in 1997, Just Energy is primarily a competitive retailer of natural gas and electricity. It has offices located across the United States, Canada and, commencing in July 2012, the United Kingdom. Just Energy serves close to 2 million residential and commercial customers through a wide range of energy programs and home comfort services, including fixed-price or price-protected energy program contracts, the rental of water heaters, furnaces and air conditioners and the installation of solar panels. The Company's JustGreen products provide consumers with the ability to help them reduce the environmental impact of their everyday energy use. Just Energy is the parent to Amigo Energy, Commerce Energy, Hudson Energy, Hudson Energy Solar, National Home Services, Momentis, Tara Energy and Terra Grain Fuels.
JE pays a dividend of $.82 annually which is paid monthly. This payment comes out to around 12% at the stock's current price. There are several reasons the stock is selling so low. The first is that the company reduced its dividend from $1.20 annually to $.82 in April. The other reason is due to an article published in the June 2013 Report on Business magazine. The article was critical of JE and its prospects. The information in the article was taken from Al Rosen who has been actively promoting the short sale of the company. The credibility of Rosen's reports are open to question since he uses "exaggerated, inflammatory and pejorative comments" according to Judge Strathy in a case involving his comments on Western Coal, a justice on the Ontario Supreme Court. (Graph taken from Interactive Brokers)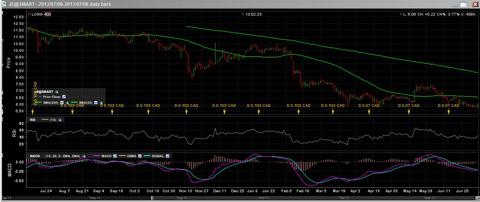 The graph above makes it appear that JE is on its way to bankruptcy. However, if one looks at the graphs below for the last 5 years, one can see that the company is solvent and growing. (Graphs taken from TDameritrade)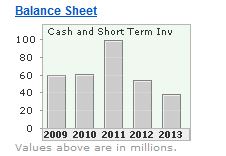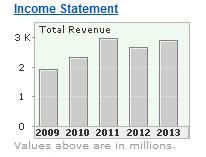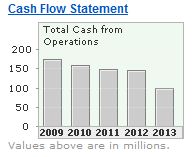 Gordon Pape, editor of The Income Investor, a publication I purchase to keep up with Canadian stocks, maintains that Just Energy is a well-managed business with plans to expand geographically along with diversifying into new business services. He and other Canadian analysts are looking for a price of $10.00 or more in the next few years. Longer term, he believes the company's revenues and dividends will grow. Canadian analysts have an average rating of hold on the stock at the present time.
Yanzhou Coal Mining (YZC)
Coal use in generating electricity in the US has declined considerably recently because it has been cheaper for utilities to use abundant supplies of natural gas. That coupled with a warm winter has temporarily driven the price of coal down and caused havoc to the bottom line of coal mining companies. Combined with Obama taking aim at the coal mining industry both here in the US and abroad has scared investors away from coal producers. As a consequence, stock prices of the major coal mining companies have taken a massive hit.
Despite Obama's desire, the coal industry is not about to disappear. Over 20% of US power is produced using coal. China and India are continuing to build coal generating plants to meet their growing need for power. While China is beginning to build some nuclear generating plants, it still accounts for less than 2% of the energy produced in China. Orders for over 100 coal generating units were made between 2006 and 2012 of which 46 have been constructed and operating. There are many more to be completed and the demand for coal in China will continue to rise. See the table below: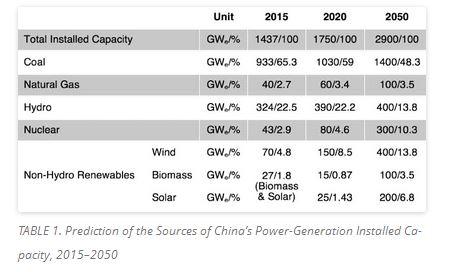 Coal has been the dominant energy source for generating capacity in China and will continue to be so into the foreseeable future.
Coal is also the dominant energy source to generate electricity in India. Next to China, India is the second fastest growing economy in the world. India's coal imports increased almost 50% in April over a year ago. India's thirst for coal will only continue to grow as the country continues to modernize.
It is obvious that coal mining is not about to disappear, but is going to grow, especially in those areas close to Asian nations that are adding industrial capacity. This puts YZC with its Chinese and Australian mines in an excellent position to profit and grow. This recent downturn in profitability and negative press has depressed the stocks of all coal producers. If one follows the admonition to buy low and sell high, now is the time to buy YZC since its mines are closest to the geographic areas where coal use is growing. It still continues to pay an annual dividend, so one is compensated for waiting for the eventual turnaround in the price of coal and the company's fortunes.
One concern with buying a Chinese company is the accounting standards of the country. China will not allow US regulators to inspect the books of Chinese companies. China has seen 126 firms delisted from US exchanges for accounting and related irregularities. There has not been an issue with YZC at this point, but there is always the danger of a problem with accounting in China. That being said, YZC's 5-year statistics show that it is doing relatively well. (Graphs taken from TDameritrade)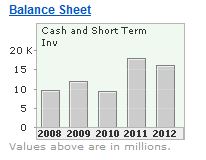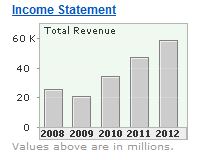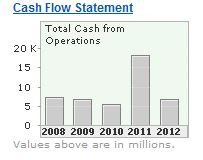 YZC is a company that has a trailing PE ratio of 3.38, paid a dividend of 8% and lies in a position to grow both in volume and profits. It is selling near its 52-week low and looks to be a buy on the basis of value and return. The company did lose money in the first quarter of this year. Sales and profits were down considerably when compared to the same quarter of last year. If the contraction in China and lower coal prices continue throughout the year, the company may suffer a full year loss if the first quarter is an indicator. Recent spot prices for coal have been going for less than $80.00 per ton. If this continues for the rest of 2013, it does not bode well for the profitability of coal producers this year. Therefore, it is possible that the shakeout in the coal industry is not yet complete. But the future rewards appear to compensate for this risk.
Conclusion:
These 2 energy companies are selling near their 52-week lows and offer good value and outstanding dividends. Both of these companies are expanding and increasing volume. There are risks to consider with these companies. JE recently lowered its dividend and may reduce it again if the company continues to expand its reach and offer of new products. But the risk of this occurring is very low since this company has a history of being very stockholder friendly. It appears that the new lower dividend is safe and as investors realize this, they will again push the stock up by 20 - 30%.
YZC has two concerns, one is the current price of its major product and what that means for profitability going forward and the other is the lack of certainty about Chinese accounting. The price of coal is set to rise in the near future as China and other Asian countries need more coal to supply the new coal-fired generating plants they are building. As the price of coal rises, YZC's profits will rise quickly since they are in the best position to supply coal to Asian countries.
As for accounting issues, YZC has been listed on the Hong Kong, Shanghai and New York stock exchanges since 1998. There have been no major questions about the accounting of YZC during this period of time. This is not one of the false Chinese companies that became prevalent several years ago. This company has been operating, growing and paying dividends steadily through the years.
The current stock prices of both these issues are low enough to compensate for any foreseeable risks. There appears to be good reason to expect dividends to keep coming and stock prices to grow as time moves on.
Disclosure: I am long JE, YZC. I wrote this article myself, and it expresses my own opinions. I am not receiving compensation for it (other than from Seeking Alpha). I have no business relationship with any company whose stock is mentioned in this article.