On a comparative basis, gold rallied strongly last week -- seeing gains of more than 4.7% for the period. The close at $1280 created the best weekly performance in almost 2 years, but the main question for gold investors and those holding the SPDR Gold Trust ETF (NYSEARCA:GLD) will be whether or not these gains can sustain themselves through the next series of event risks. Most significant will be the release of the Federal Reserve's Beige Book, and semi-annual Congressional testimony from Ben Bernanke. But additional factors to consider can be seen in the policy meeting minutes that will be released by both the Reserve Bank of Australia and the Bank of England.
Each of these events will be key in determining the level of dovish potential in policy moves at each bank, and in forecasting long-term potential for global inflation. The most likely scenario is that gold will not be able to hold on to these gains, as most of the bullish momentum has been generated by recent weakness in the U.S. dollar. This dollar negative weakness, clearly shown in the PowerShares DB U.S. Dollar Index Bullish (NYSEARCA:UUP), has come as the result of downside pressure created by pro-stimulus comments from Bernanke and after markets reacted to the most recent meeting minutes from the Federal Open Market Committee (FOMC).
Bernanke's previous comments ultimately suggested that the U.S. central bank might be willing to maintain its quantitative easing programs, even if the country's macro data shows improvement. Key areas of concern at the Fed can be seen in general labor market weakness and the inability of the economy to start generating substantive inflation. Next week, it will be critical for gold investors to watch the next round of statements to see if they continue to support this point of view. As long as employment data continues to strengthen, it will become increasingly difficult to continue making these arguments. If this turns out to be the case, gold will have difficulty gaining upside momentum after hitting its yearly lows near $1180.
For these reasons, next week will be massive for gold traders, in terms of its implications for the rest of the month and quarter. At this stage, markets have become overly sensitive to any use of the word "taper," so the main task will be to see how Bernanke approaches the topic, and in the possible responses from voting members of the Fed once these statements have been given. It is inevitable that the Fed will have to disclose further details for how it will begin its exit strategy from quantitative easing, and with its own forecasts for stronger economic growth in the third and fourth quarters, there is still volatility in store for gold investors.
A good portion of that progress will be detailed in the Beige Book release, as this gives information detailing the Fed's assessments in each of the country's 12 districts. If this report shows strength, gold will give back some of the rally seen last week, as this will give traders a reason to believe that the "tapering" will begin soon and that the total amount of monetary stimulus will be reduced.
Chart Perspective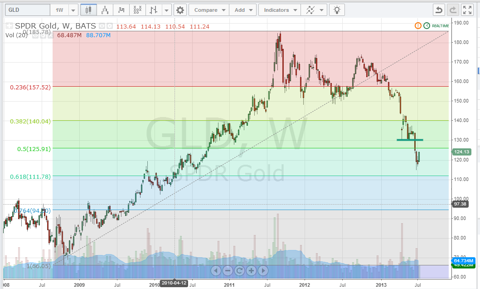 Click to enlarge
(Click to enlarge)
From a price perspective, there is little reason to believe that gold has found its true bottom, despite the strong bounce off of 115.30. We are still well above the 61.8% Fib retracement of its long term bull move, and any approach in GLD into the 130.10 region (support turned resistance) should be viewed as a short term selling opportunity.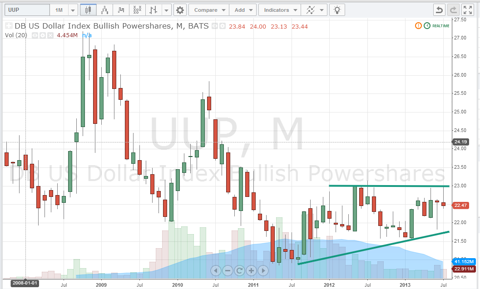 Click to enlarge
(Click to enlarge)
Further weakness in GLD, however, will have to be accompanied by upside moves in the dollar. Looking at UUP, the picture is starting to look constructive with the clear series of higher lows that make up its ascending triangle. A clear break of resistance at 23 should accelerate gains. For gold traders, it is important to remember the inverse correlation, so it will become possible to make short term trades in gold if we do see the resistance break in UUP.
Disclosure: I have no positions in any stocks mentioned, and no plans to initiate any positions within the next 72 hours. I wrote this article myself, and it expresses my own opinions. I am not receiving compensation for it (other than from Seeking Alpha). I have no business relationship with any company whose stock is mentioned in this article.