For the week of July 15, 2013 the clearTREND U.S. Economic Health IndexTM shows meaningful deterioration from previous levels, with 68% of domestic economic sectors expanding (off from its recent high of 76%) 10% of domestic sectors contracting (vs. 6% previously) and 22% neutral (a jump from 18%). In short, the overall U.S. economy is experiencing increased headwinds, although our read still qualifies as "GOOD."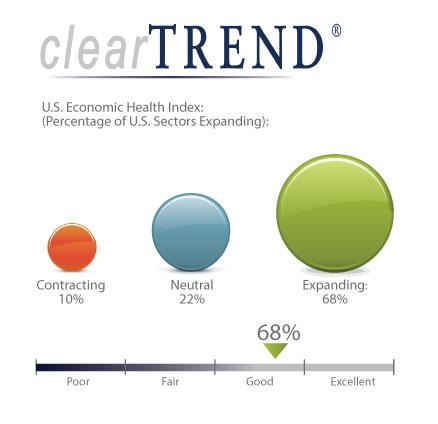 The impending end of the Fed's quantitative easing (QE) program has certainly roiled the markets over the past six weeks or so. Really, all major asset classes and their corresponding ETFs have been impacted: U.S. Equities (NYSEARCA:SPY) (NYSEARCA:DIA) (NASDAQ:QQQ), Global Equities (NASDAQ:ACWI), Emerging Markets (NYSEARCA:EEM) (NYSEARCA:VWO), Real Estate (NYSEARCA:IYR), Gold (NYSEARCA:GLD), Oil (NYSEARCA:OIL) and various forms of fixed income (NYSEARCA:TLT) (NYSEARCA:LQD) (NYSEARCA:JNK) (NYSEARCA:EMB).
It's all about the Fed and future stimulus right now. But what we find most interesting is that while the markets begin to factor in the impact of significant events almost immediately, the real economic impact is much slower. Take the horrible events of 9/11 as a clear example of this: it only took six weeks or so for the markets to recapture all of the immediate market declines, but the economy fell into a recession as a result of the 9/11 attacks with the S&P 500 falling more than 22% in 2002.
The benefit of tracking economic trends at the sector level is that you can get a really good read on changes in economic activity as they unfold, either positively or negatively. The clearTREND U.S. Economic Health Index does just that, tracking price trends in 135 distinct Dow Jones U.S. Sector Indexes. Any read of 75% or higher expanding sectors is considered EXCELLENT, 50-74% is GOOD, 25-49% is FAIR and less than 25% is POOR.
Looking at the markets and the economy from a macro trend level is particularly helpful as it aggregates all fundamental research and the work of millions of "boots on the ground" into one single data point: price. It is the ultimate source for an objective read on the economy as it measures the collective activity of millions of market and economic participants in real time. Really cool!
For a primer on the basics of this index, I'd refer you to a previous SeekingAlpha article published earlier this year.
And for a complete rundown on individual historic sector research, please visit the clearTREND Research Library, which includes all 135 Dow Jones Sector indexes.
Disclosure: I am long SPY, QQQ, IYR, ACWI, GLD, TLT. I wrote this article myself, and it expresses my own opinions. I am not receiving compensation for it (other than from Seeking Alpha). I have no business relationship with any company whose stock is mentioned in this article.
Additional disclosure: I am currently long EEV, giving me a net short position in VWO.