In this environment of rising rates and financial uncertainty, investors have to be very careful in their holdings. One has to look for those companies that can not only weather the storm, but also thrive. One such company is MetLife, and below is the detailed breakdown of how investors may succeed with this type of investment.
MetLife (NYSE:MET) is the largest insurance, annuity and employee benefit solutions provider in the U.S. The predecessor to MetLife was formed in 1863 in New York and today has operations in over 60 countries with 90 million customers. The company works through its various subsidiaries such as Metropolitan Life Insurance Company (for life insurance and non-medical health insurance) and Metropolitan Property and Casualty Insurance (for auto and home solutions).
Click to enlarge
Dividends: $1.10 Annualized, Up 49%
On June 13, 2013, MetLife paid a quarterly dividend of $0.275 per share ($1.10 annualized), up 49% sequentially. The company has continuously paid consecutive annual dividends since FY 2000 and moved to quarterly distributions this year (FY 2013).
MetLife shares closed at $48.54 on July 15, 2013, up 55% over the last 12 months and near the top of their 52-week range of $28.33-$49.25. Shares have a dividend yield of 2.20%, a market capitalization of $53.1 billion and a price-to-earnings ratio of 225. Shares are significantly below the company's book value per share of $58 and slightly below book value per share excluding AOCI of $47.37.
Impact of Rising Interest Rates: Positive
On Wednesday, June 19, 2013, the Federal Open Market Committee indicated that it expects to keep interest rates low till 2015 given higher than ideal unemployment and moderate economic growth. The Fed also hinted at tapering its monthly bond buying later this year causing markets to drop sharply with the S&P 500 dropping 1.4% at that time. The bond yields rose sharply with the benchmark 10-year Treasury rising 13 basis points and 6% in one day to 2.31% -- suggesting interest rates could start rising sooner than expected despite the Fed's highly accommodative stance.
MetLife has $374 billion or about 73% of its assets invested in fixed maturity securities. While MetLife could see near-term losses in fair market value of its fixed maturity securities as rates rise, it should ultimately see higher interest income as rates rise -- and this will boost earnings, cash flow and potentially boost dividends and share prices.
Company
MetLife has six operating segments -- four under the Americas group and two International. Within the Americas, MetLife has Retail; Group, Voluntary and Worksite Benefits; Corporate Benefit Funding and Latin America. International includes two segments -- Asia and EMEA (Europe, the Middle East and Africa).
MetLife has extensive operations in Japan, one of the world's largest insurance markets where individuals have high per capita income, high savings, a growing senior population and a preference for insurance over stock market investments. Internationally, MetLife recently reported double-digit growth in Asia and Europe, and is aggressively pursuing business and revenue expansions in emerging markets where life insurance is still a relatively small percentage of GDP and could grow two-fold to six-fold (see graph below). For example, countries like Romania, Egypt, Russia and Turkey could easily see a four-fold growth in life insurance over the coming years -- of which a substantial portion can be captured by MetLife if it positions itself well in these emerging markets and overcomes business formation and other regulatory hurdles. The company is actively targeting emerging markets for growth and is offering life, health, dental, group short-term and long-term disability, property, casualty, critical illness and accidental death coverage products on a large scale in emerging markets.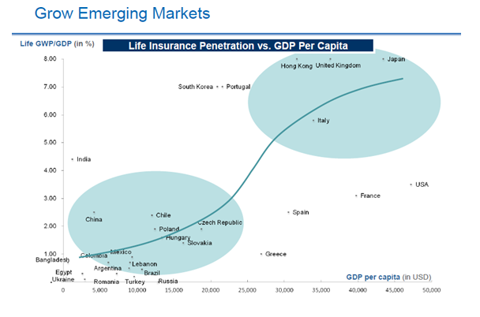 Click to enlarge
In May 2013, MetLife laid off 2,500 advisers of its 7,500 U.S. advisers on slowing variable annuity sales so the company could focus on emerging markets and leverage lower-cost online and channel sales, in line with the CEO's 2012 cost cutting plan. In April 2013, two of MetLife's independent broker-dealer affiliates -- Tower Square Securities and Walnut Street Securities, with $25 billion in assets under management and 850 advisors -- were acquired by Cetera Advisor Networks at undisclosed terms.
In February 2013, MetLife announced a $2 billion definitive agreement to acquire AFP Provida SA -- Chile's largest private pension fund manager from Banco Bilbao Vizcaya Argentaria SA (NYSE:BBVA) where MetLife will conduct a public cash tender offer for outstanding Provida shares and acquire BBVA's 64.3% stake in Provida. Provida has about $45.3 billing in AUM and over 1.8 million customers. The deal is expected to close by Q3 2013. This acquisition is in line with CEO Steven Kandarian's stated goal of growing MetLife's emerging market businesses so they contribute at least 20% of operating earnings by 2016. Provida should boost emerging markets' earnings contribution to 17% from 14% of the total. With this acquisition, MetLife is betting that Chile's projected GDP growth of 4.5% will boost earnings.
In January 2013, MetLife completed the sale of its MetLife Bank deposits business and transferred $6.4 billion in deposits to GE Capital Retail Bank - as part of its plan to exit retail banking and focus on employee benefits and global insurance. In February 2013, MetLife received regulatory approval from the Federal Deposit Insurance Corporation (FDIC) and the Board of Governors of the Federal Reserve to de-register itself as a bank holding company.
On its balance sheet, 92% of MetLife's total assets are held as investments of which fixed maturity securities account for 73% and commercial mortgage loans account for 10% of total investments. Its fixed maturity solutions yielded 4.83% and delivered quarterly investment income of $3.8 billion, down from 4.96% in the year-ago quarter on falling interest rates. Mortgage loans yielded 5.52% and delivered $738 million in quarterly investment income in the quarter, down from 5.62% in the year-ago quarter. Rising interest rates, likely over the coming quarters, should increase investment income significantly.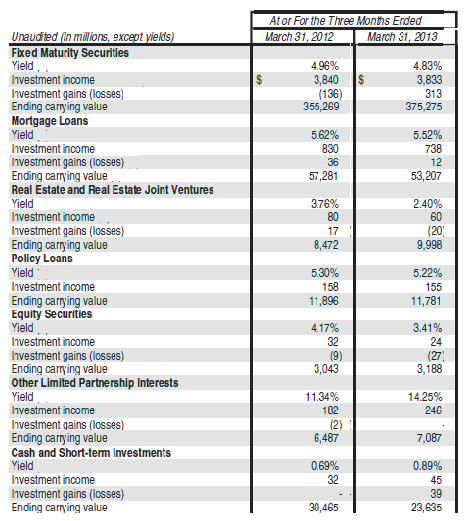 Of the company's $374.3 billion in fixed maturity available for sale investments, 48% were invested in corporate securities (30% U.S., 18% foreign corporates), about 30% were invested in government securities (15% foreign, 14.5% U.S.), 15% were in mortgage backed securities, 4% in asset backed securities and 4% in state and political subdivision securities (see table below). The high percentage of corporate securities is because of higher yields than government bonds.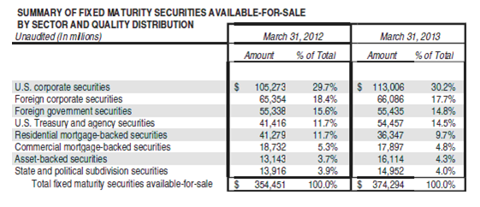 Click to enlarge
As a result, MetLife, like most other insurance companies, is vulnerable to sovereign risk, credit risk, interest rate risk and re-investment risks related to fixed income securities. If the company does not manage its fixed portfolio well, the current environment of volatile and rising interest rates could hurt the fair value of its investments. Therefore, MetLife has hedged its portfolio through derivatives, mostly interest rate swaps.
Management
Steven A. Kandarian became President and CEO of MetLife on May 1, 2011, and took on the added role of Chairman in January 2012. He has been with the company since April 2005 and has contributed towards many cost cutting measures and global expansion strategies for the company. In his earlier years with MetLife, as Chief Investment Officer, he supervised the company's $450 billion general account portfolio with focus on effective risk management and diversification. His earlier employments included working with the Pension Benefit Guaranty Corporation (OTC:PBGC), Lee Capital Holdings and Rotan Mosle Inc. Mr. Kandarian holds a BA from Clark University, a JD from Georgetown University Law Center and an MBA from Harvard Business School.
Steven J. Goulart was promoted to Executive Vice President and Chief Investment Officer in May 2011. He also served as Treasurer and was integral to MetLife's $16.4 billion acquisition of American Life Insurance Co. in 2010 in addition to 15 other strategic transactions. Prior to MetLife, Mr, Goulart worked with Bear Stearns, Morgan Stanley and Merrill Lynch with primary focus on global insurance. He holds a BS from University of the Pacific and an MBA from Harvard Business School.
The executive team is rounded out by heads of various regions (Americas, Asia, EMEA) and business functions.
Competitors
MetLife competes with Allianz (OTCQX:AZSEY), American International Group, Inc. (NYSE:AIG), and Prudential Financial (NYSE:PRU). Of the four, MetLife is No. 3 on market capitalization and revenue, and has healthy quarterly revenue growth of 9%. Its operating margin (as a % of revenue) is also in line with peers. On valuation, MetLife appears to have a reasonable P/E ratio that is well below its competitors' and industry averages and a PEG ratio of 0.91 (any number below 1 suggests reasonable to under valuation).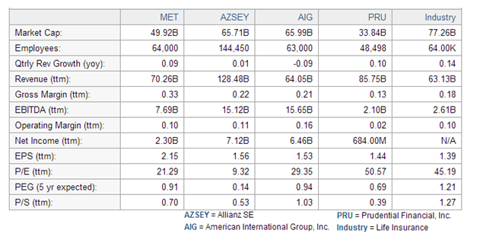 Click to enlarge
MetLife has a healthier and more manageable debt-to-equity ratio than some of its competitors. The company has price-to-book value of 0.79 that is well below the industry average and suggests significant remaining upside on this stock, particularly as the economy strengthens and rising yields boost investment income.
Financials -- Q1 Ended March 31, 2013
Income Statement
MET reported solid revenue and earnings for Q1 2013. Revenues were up 11% to $17.7 billion from $15.9 billion in Q1 2012. Policy premiums contributed 52% to total revenues but dollar amounts were only marginally higher than the year-ago quarter at $9.2 billion. Policy fees gained 10% while net investment income was down 2% to $6.1 billion and contributed 34% to total revenues. Net investment losses dipped significantly, down 85% to a loss of $316 million from $2.1 billion in the year-ago quarter. As a result, net earnings of $956 million or $0.87 per share reversed the year-ago net loss of $144 million or $0.16 per share in Q1 2012. Total comprehensive income was $169 million, down from $1 billion in Q1 2012.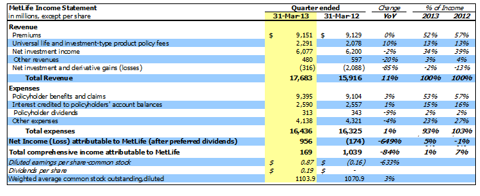 Click to enlarge
Segments
MetLife reports revenues under six segments. The company recently realigned some of its segments - with some accounts shifted from Group, Voluntary and Worksite Benefits to Retail and accounts accruing to India and South Asia moved to Asia from EMEA.
Across the industry, there has been a decrease in sales of variable annuities. Other than that, all business segments reported positive gains for Q1 2013. The Retail segment contributed the most (38%) to total segment profits at $626 million with earnings up 33% over the year-ago quarter. Segment profits declined 5% at Group, Voluntary and Worksite Benefits, stayed flat for Corporate Benefit Funding and were down 3% in Latin America. Overall, Americas contributed 79% to total segment earnings. Segment profit was up 11% in Asia and 21% in EMEA, with these two segments contributing 25% to total segment profits. Corporate and Other expenses rose 5% to $83 million. Total segment profit was up 11% to $1.6 billion.

Click to enlarge
Balance Sheet
At quarter end, MetLife had $512.5 billion, over 90% of its assets, allocated to investments, of which 73% were fixed maturity, available for sale investments with an estimated fair value of $374.3 billion. The company held $55.6 billion (10% of total investments) in commercial mortgage and other loans. Total assets stood at $841.7 billion, including $10 billion of cash and cash equivalents. Long-term debt totaled $18.7 billion, about 2% of total assets and a manageable 29% of stockholders' equity of $64.9 billion which is significantly higher than MetLife's market capitalization of $49.5 billion.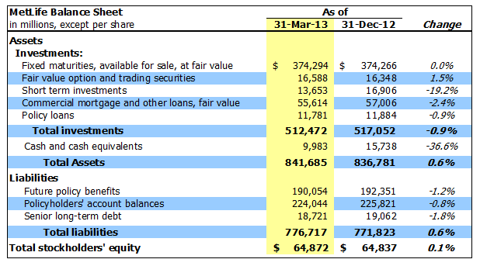 Click to enlarge
Cash Flow
The company ended Q1 2013 with generating $2.7 billion in cash from operating activities. Net purchases, primarily of fixed maturity securities, and the $6.4 billion sale of cash deposits (the MetLife Bank closure transaction) resulted in the use of $9.7 billion in investing activities. Net policyholder deposits, offset by preferred and common dividends, delivered $1.3 billion from financing activities.

Click to enlarge
Synopsis
MetLife reported robust financials for Q1 2013. It is the largest company in the US insurance space and is steadily expanding emerging markets' operations to boost revenue and earnings growth. MetLife is also sharply focused on reducing expenses, leveraging online platforms and reducing headcount on slower growth products such as variable annuities, all part of a May 2012 cost cutting plan that has, in part, boosted shares considerably over the past year. In its most recent quarter Asia and EMEA recorded double-digit segment profits. The company has a price-to-book value of 0.79 and is making good progress on reducing investment losses. MetLife's long-term debt is fairly manageable at 2% of total assets and 29% of equity. Over the coming quarters, shares could catch up from the $45 level to their book value of $58 per share. MetLife, like its industry peers, is susceptible to interest rate risk, reinvestment risk, sovereign risk and credit risk.
Relative to its peers, MetLife appears to be a safe buy with shares potentially benefiting from rising interest rates, expanding emerging markets profits, and share price reversion to at or above book value.
Disclosure: I am long AIG, MET. I wrote this article myself, and it expresses my own opinions. I am not receiving compensation for it (other than from Seeking Alpha). I have no business relationship with any company whose stock is mentioned in this article.