By Todd McDonald, analyst
Overview
IBM Corp. (NYSE:IBM) is slated to report Q2 2013 earnings after the close of trading on Wednesday, July 17. Results are typically released at approximately 4:05 p.m. ET and will be followed with a conference call at 4:30 p.m. IBM is a member of the Dow Jones Industrial Average, with broad market influence and could have direct impact on the index futures when it delivers quarterly results.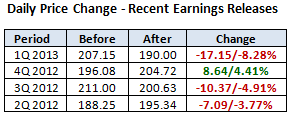 Outliers and Strategy
IBM typically produces a value for the measure adjusted earnings per share and non-GAAP earnings per share that is comparable to the Street consensus estimate.
Adjusted/non-GAAP earnings per share is forecast to come in at $3.77 per share (source: Yahoo Finance) with a range of $3.61 to $3.85, up from $3.51 in the prior year.
Revenues: The estimate is $25.39 billion (range is $24.90 billion to $26.04 billion). On a handful of recent occasions, IBM has missed on the top line, triggering noticeable sell-offs in after-hours trading.
Gross margin is a key measure for IBM. The current estimate is 48.9%.
Adjusted earnings per share guidance (FY) -- back in April, IBM said its outlook for 2013 operating (non-GAAP) diluted earnings per share was for "at least" $16.70. The Street is looking for a downward adjustment to this forecast, with estimates ranging from $16.00 to $16.85. The consensus is $16.63.
Keep an eye on Accenture (NYSE:ACN) as a potential sympathy play off of the IBM numbers.
IBM could see meaningful volatility off the Q2 2013 earnings release, with the options market currently pricing in a 4.8% move following the release. The average move over the past eight quarters has been 4.9%.
Recent News
July 15: According to Benzinga.com, Jefferies lowered the firm's price target to $210 from $225. Analysts cited soft enterprise spending. Jefferies also thinks weak service bookings and a delay in the System x sale may cause lowered guidance.
July 10: Goldman Sachs lowered their rating on IBM to Neutral from Buy, while bringing the firm's price target to $200 from $220, according to StreetInsider.com. Analysts at Goldman Sachs cite margin pressures in some of IBM's highest growth segments.
June 27: Accenture, IBM's closest competitor, reported earnings below Street estimates. According to a post on StreetInsider.com, UBS downgraded Accenture to Neutral, while noting that there are now risks to IBM, because the report signaled that enterprise demand is not improving. IBM fell as much as 3.7% in the trading session following Accenture's earnings release.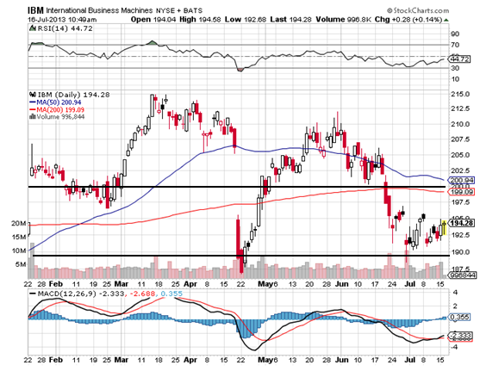 Technical Review
IBM's shares are trading near a critical technical level, just above a longer-term support near $189. The 50-day SMA looks poised to cross the 200-day SMA, a bearish technical signal. There also seems to be a bear flag forming, which will remain intact as long as IBM trades below $196. If results disappoint, initial support is near the aforementioned $190 area. If that fails to hold, the next real level of support is near $180. If results surprise to the upside, initial resistance is near $200, with the potential for $205 or higher.
Summary
IBM's shares are trading well of their highs on concerns over decreased enterprise demand, weak earnings from core competition, and the potential for significant margin pressures in 2013. Given the recent price action and change in analysts' outlook, there is a chance that a solid report could send shares much higher. In order to retest or break the $200 level, look for a solid reading on each of the relevant measures in outliers and strategy.
Disclosure: I have no positions in any stocks mentioned, and no plans to initiate any positions within the next 72 hours. I wrote this article myself, and it expresses my own opinions. I am not receiving compensation for it (other than from Seeking Alpha). I have no business relationship with any company whose stock is mentioned in this article.
Disclaimer: By using this report, you acknowledge that Selerity, Inc. is in no way liable for losses or gains arising out of commentary, analysis, and/or data as part of this report constitutes a recommendation that any particular investment, security, portfolio of securities, transaction or investment strategy is suitable for any specific person.