As highlighted in our prior article, the NAHB Homebuilder Sentiment Index rose to its highest level in more than seven years this month. Notably, though, the homebuilder stocks are down once again today, and they've struggled to make gains for pretty much all of 2013 even though the broad market is now up nearly 20% YTD.
Over the last decade, the homebuilder stocks and the NAHB homebuilder sentiment index have tracked each other very closely. Below is a chart comparing the S&P 1500 Homebuilder group to the NAHB Homebuilder Sentiment index since 1998. As shown, the two have pretty much moved side by side since the housing market peaked back in 2005. Both moved sharply lower throughout the financial crisis, and both bottomed right around the same time in 2009. But over the past few months, the two have really started to diverge. As homebuilder sentiment has continued to charge higher, housing stocks have pulled back. Going forward, it will be interesting to see if this recent divergence corrects itself either by housing stocks picking back up again or homebuilder sentiment pulling back.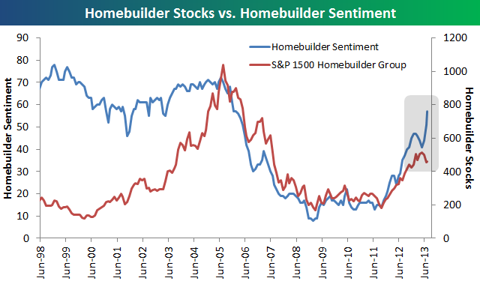 The most glaring reason for the recent decline in homebuilder stocks has been the spike in mortgage rates. But unlike homebuilder sentiment, mortgage rates have not tracked the homebuilder stocks very closely when looking at a chart of the two (shown below). So far, the spike in mortgage rates has not dampened the spirits of homebuilders, but investors seem to think that it soon will.