Sometimes it's best not to buy the top-quality companies. This is one of those times when the worst stock can outpace its peers. It's hard for me to give up on buying companies with the best fundamentals. That's my training. But that's not where the action is. This is a market that loves "junk".
Look at retail. Take the Buckle (NYSE:BKE) and Chico's (NYSE:CHS). Back in February, you would have read that BKE had 14% same store sales while CHS's were -13%. So, if you'd bought BKE rather than "dud" CHS, would you have been pleased with the result? No way, CHS tripled in value while BKE underperformed gaining 22%.
The best sector right now to look for the worst of the worst is housing. It's been killed, blistered, kicked for over two years now. The market believes that housing has bottomed. (Please no discussion about it not being the bottom -- the market believes it and, therefore, so must you.) So which has the most miserable chart, the company that should have died? Why, Beazer Homes (NYSE:BZH).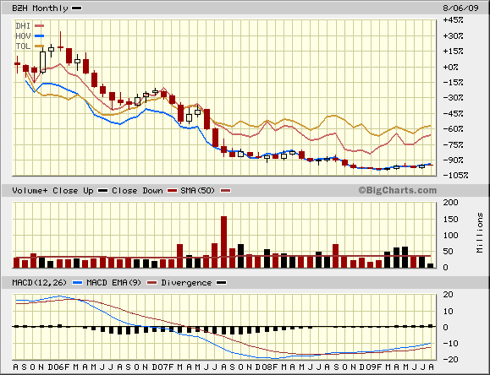 Click to enlarge
And, if you still aren't convinced, about how awful the stock has been.
Click to enlarge
Beazer (AKA the dog) has been taken down from $80 to 24 cents. Understandably. They've had SEC, federal, state investigations, financial improprieties, scandal, mold, housing bust, credit problems. Everyone hates them. Gee, I hated the company too. The analysts hate the stock; they've got a sell on the thing. 24% short interest. I wouldn't be surprised if their CEO had a short on BZH. I thought they were going bankrupt. No company could withstand the onslaught.
But BZH survived. The Beazer managed to resolve the SEC, fed/state investigations, financial improprieties, scandal, mold, and credit problems. It's still alive. In fact, it's more than alive.
Its shareholders this past month are happier.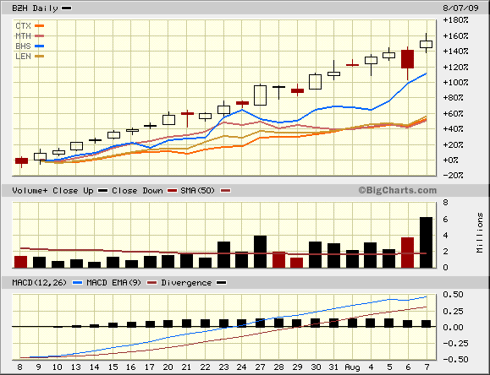 Click to enlarge
BZH reported on Friday an 81 cent beat. The quarter was still pretty miserable at -72 cents (Remember the exercise: find the dog and teach it to run). Management smartly bought back $115 million for $58 million. I don't think they're done buying back debt at huge discounts. They have $480 million in cash. During their conference call, management intimated they would continue buying debt on the cheap. They've hired Moelis & Company and Citigroup, and "expect to take steps in the future ... namely to protect our liquidity, increase our net worth, and reduce total indebtedness." (Read: Great time to buy their "junk" bonds.)
How's next quarter look? Well, a comparison should be easy. After all, in Q4 of last year, they lost almost a half a billion dollars. (How can a company with revenue of only 700 million lose that much?) In other words, the company performed so badly in the past they can only do better. The company now trades at under $4 compared to $80 two years ago.
Well, that's the Beazer. A true dog. A clunker. You've got to suspend your disbelief. This one's going to run. I think it is has the potential to double or triple.
P.S. The time is come to sell Thompson Creek (TC) which has had a remarkable climb from $3 to $14.
Disclosure: Long BZH