"Don't mess with the bull
He can get real mean
Don't forget to shut the gate
Stay out of the beans
If it starts to rainin' will just head to the barn
We're country boys and girls gettin' down on the farm"
--Down On The Farm, Tim McGraw
Trouble may be brewing down on the farm for the stock market. Agriculture companies have collectively seen their share prices steadily rise over the last year, but underlying agricultural commodities prices have been steadily falling over much of the same time period. Although such disconnects are not uncommon over short-term periods of time, this divergence is not likely to continue into long-term. As a result, something has to give. Agricultural commodities prices will soon need to rise sharply to catch up. Otherwise, agriculture stocks are likely to face increasing pressure to the downside. And if agriculture stocks end up breaking lower, the broader stock market may soon follow.
The deviation in performance between agricultural commodities, agriculture stocks and the broader market has been particularly notable over the past year. Since the outbreak of the financial crisis in late 2008, agricultural commodities as measured by the iPath Dow Jones-UBS Agriculture Sub-Index Total Return ETN (NYSEARCA:JJA), agriculture stocks as measured by the Market Vectors Agribusiness ETF (NYSEARCA:MOO) and the broader stock market as measured by the S&P 500 Index (NYSEARCA:SPY) all moved in virtual lockstep with one another for several years. While short-term deviations between the three indices have been known to occur such as in early 2010 and early 2012, the length of these gaps have typically been one to two quarters at most before these three indices reconverged. This is what makes the recent departure between these three markets so notable today. Literally since the U.S. Federal Reserve first began MBS purchases as part of its QE3 monetary stimulus program back in September 2012, agricultural commodities have been stuck in a steadily grinding decline in falling over -23% over this time period. And while agriculture stocks initially followed the broader stock market higher through January 2013, they have been grinding sideways ever since while the broader market continues to climb. Thus, all three markets are now widely deviated from one another, which is an unusual development that is unlikely to sustain itself into the long term.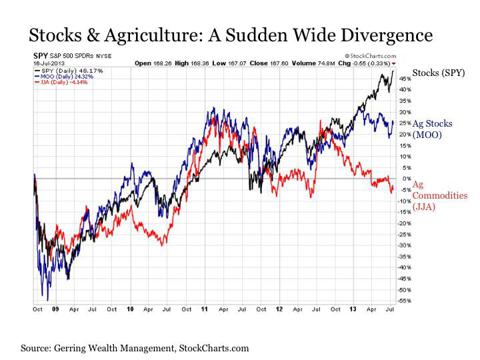 The fact that agricultural commodities prices continue to decline does not bode well for agriculture stocks in particular or the broader market in general going forward. When any such deviations have occurred in the recent past, it was agricultural commodities prices that accelerated to the upside to close the gap. And such a burst would likely have the power to push agricultural stock prices higher before too long. But such an outcome appears unlikely this time around for several reasons.
First, we are increasingly entering an environment where the tailwind of global central bank stimulus that has done so much to inflate asset prices to this point is going away. The People's Bank of China appears intent on emphasizing structural reform and enduring short-term adjustments and the pain that goes along with them in order to better position their economy for sustainable long-term growth. And the U.S. Federal Reserve, while they won't be tightening anytime soon, is likely to begin scaling back on providing additional stimulus starting in the coming months. Thus, the flood of liquidity that has lifted asset prices including commodities over the last several years is likely to be subsiding going forward.
Also, the global economic growth outlook remains sluggish and soft. While hopes are high for the U.S. economy, the pace of growth is lackluster at best and not necessarily supportive of a major agricultural commodities price boom at least in the near term. And the growth outlook outside of the U.S. is far more disconcerting, with Europe already in recession and the rate of growth decelerating in many other parts of the world.
Moreover, the technical setup for agricultural commodities prices remains generally lifeless. Since September 2012, the price chart has been locked in a sustained downtrend with lower highs and lower lows all along the way. JJA also remains locked below both its 20-day and 50-day moving averages with any breakout attempts along the way quickly turned back. And both relative strength and momentum readings remain mired in decidedly bearish readings. When sifting through the subindices that make up the JJA, only the Cotton subindex (NYSEARCA:BAL) that makes up only 8% of the index is showing any signs of life. Thus, virtually no signs suggest that agricultural commodities prices are poised to burst to the upside any time soon.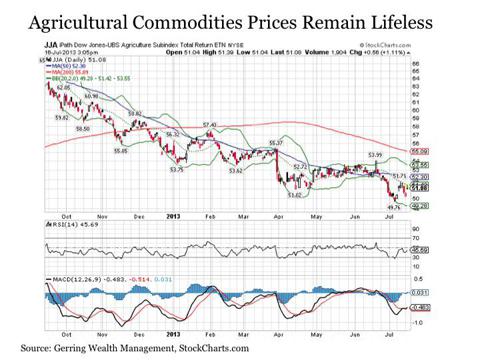 A closer examination of agriculture stocks adds to concerns that they may be part of the trade shifting to the downside instead. After peaking in late January, the MOO has also been in a sequence of setting lower highs and lower lows. It has spent a good deal of time over the last several months trapped below its 20-day moving average and has struggled to hold above its 50-day moving average for any length of time since late February. And while it recently reclaimed its 200-day moving average over the last few trading days, it has done so with declining relative strength and momentum. In short, it appears that the air has been slowly leaking out of the agriculture stock balloon over the last several months. And if agricultural commodities prices continue to decline, the rate of stock price deflation may soon pick up pace, particularly if the Fed begins to become more forceful about tapering asset purchases as part of QE3 in the coming months.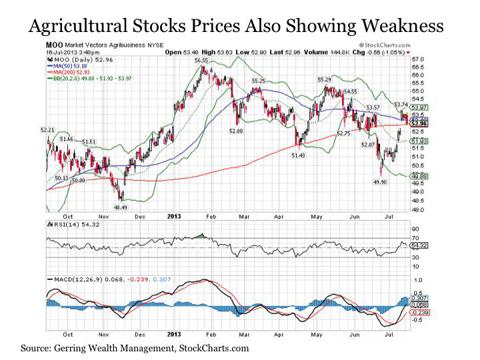 The potential downside pressure on the broader agriculture stock sector has varying implications for the numerous stocks that make up the index. While these companies are affected in various ways by the economic forces and underlying commodities price trends, the impact has the potential to become more universally negative for the entire sector if these influences are undermining overall farm production. To this point, those companies that have outperformed the sector by a wide margin over the last several years and may now be considered overvalued relative to their historical earnings such as Syngenta (NYSE:SYT), Monsanto (NYSE:MON) and Archer Daniels Midland (NYSE:ADM) may come under disproportionate pressure if the broader sector falls into decline. Leading agricultural machinery providers such as Deere (NYSE:DE) have already revised their outlook lower in recent months and may face additional downside pressure if declining agricultural commodities prices persist. And even relative laggards such as Potash Corporation (NYSE:POT) and Mosaic (NYSE:MOS) that have already been dealing with lower potash and phosphate prices may also face additional headwinds, as the market has been particularly unforgiving to relative underperformers in recent years during sharp pullbacks.
These are all outstanding agriculture companies and I have owned many of the names listed above on several occasions over the last few years. And I will likely own many of these names again in the future. But forces seem to be building against further upside in these names at least for the near term.
And as for the broader stock market, it is disconcerting that it finds itself increasingly walking alone to the upside. The last few months have reminded us that bull markets can get really mean in their final stages. As a result, it may just make sense at this juncture to simply shut the gate on much of the market for now and head to the barn before it starts to rain.
This post is for information purposes only. There are risks involved with investing including loss of principal. Gerring Wealth Management (GWM) makes no explicit or implicit guarantee with respect to performance or the outcome of any investment or projections made by GWM. There is no guarantee that the goals of the strategies discussed by GWM will be met.
Disclosure: I have no positions in any stocks mentioned, and no plans to initiate any positions within the next 72 hours. I wrote this article myself, and it expresses my own opinions. I am not receiving compensation for it (other than from Seeking Alpha). I have no business relationship with any company whose stock is mentioned in this article.