Introduction
Total System Services (NYSE:TSS) is a $4.81 billion electronic payment firm that facilitates transactions between consumers, financial institutions, and non-financial organizations. Founded in 1983, it operates globally with three business segments: North American Services (51.0%), International Services (21.9%), and Merchant Services (21.71%). The North American Services segment supplies issuer account solutions for financial institutions and other companies primary based in North America. The International Services segment provides the same facilities, but to associations outside of the US. The Merchant Services Segment delivers issuing and payment technologies to clients primarily based in the US. The firm's services cover card issuing/payment platforms of consumer-finance, credit, debit, loyalty packages, prepaid programs, and mobile.
The firm's price at $25.72 is sitting quite close to its 52 week high of $25.87, yet still has potential to grow: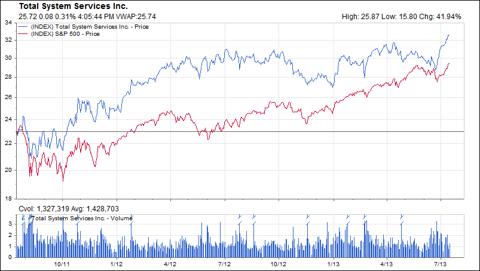 TSS price vs. SP500 - Indexed at 23 (7/15/2011), Source: FactSet
Since the company's inception, it has consistently grown its top and bottom lines, demonstrating a great play for a core portfolio. The firm's indicated dividend yield is at an attractive 1.6%, and yet the stock's price has been undervalued from an institutional perspective at only 72.1% institutional ownership (Lionshares). Once the larger players in the market see the value in TSS, the price will only climb higher.
Catalysts
In terms of the street's outlook of this stock, there are conflicting views of where the price should lie. Goldman Sachs downgraded the stock from "Neutral" to a "Sell" 8 days ago and estimates vary wildly (StreetInsider). Overall, I believe that the market is overly conservative concerning key earnings drivers: residual losses overshadowing a positive outlook, and cautionary value regarding a recently completed acquisition of NetSpend (NASDAQ:NTSP).
Total System Services's last fiscal quarter produced less than stellar earnings and sales from lingering negativity. A large reduction in earnings ($58.82 mil from $60.68 mil) for 1Q2013 was due to residual card contract losses from ABN Amro Bank and Bank of America (-$7.5 mil) converting to other card competitors. Both de-conversion processes ended in 2012, yet had lasting results until the middle of this year. After the most recent earnings call, the stock's price was slammed by -7% (in one month) by short-sighted investors. Looking forward, the company will no longer feel these adverse effects for the remainder of the 2013 period. Since the worst is over, EPS and price figures will rise accordingly.
In addition to outstanding losses in 1Q2013 the company had price reductions in relation to transactional card services for Bank of America, lowering sales by $4.3 mil. However, these price reductions were due to an increase in number of contracts won, adding approximately 100+ million new global card accounts over the next year. In essence, the company lowered revenues now in order to make considerably more in the future. With lost contracts settling and an abundance of new contracts coming in, the company will see both higher sales and earnings for the long-haul.
Total System Services has been busy with a handful of horizontal acquisitions in 2013. ProPay and CPay have cumulatively added 4.4% to the company's top line by expanding TSS's customer base. However, the business really kicked into gear on July 1st when it completed its $1.4 bil acquisition of NetSpend. NetSpend adds an additional business line of payroll card payment systems. Management has forecasted satisfactory guidance of low teens for sales growth from NTSP, but as most of NetSpend's quarterly sales ($117 mil) transition into TSS's, revenue numbers will increase by roughly 20% (1Q2013 Earnings Call, TSYS). Furthermore, the synergies from this low-debt acquisition will allow for TSS to cross-sell products to its existing client base and effectively drive sales higher. Overall, the company is starting to produce a sound revenue stream and has its hands in many diversified jars.
Financials and Valuation
The most attractive part of Total System Services is its strong financial valuation. Sales and earnings have shown extremely consistent growth and stability. When compared to a simple time series, both are incredibly linear with a correlation coefficient of ~0.9: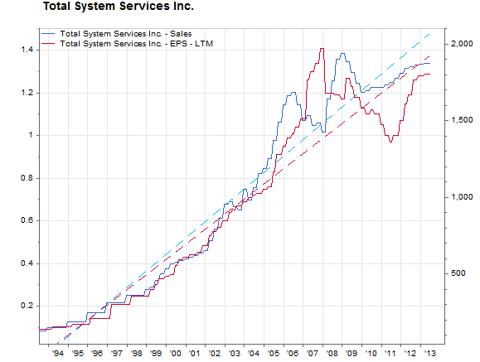 Sales and EPS Figures with Least Squares Fit Regression, Source: FactSet
Looking at the quarterly EPS surprise history of the company, an investor can see that it has consistently beat pessimistic broker predictions over the past 4 years. The last two periods of negative surprises have produced buying opportunities as the firm realigns:

Surprise History with Green/Red dots as Reported EPS and Bars as Projected, Source: FactSet
The firm is cheap with comparing size and valuation ratios to it's competitors:

Size Metrics of the Firm to Competitors, Source: Factset, Hoovers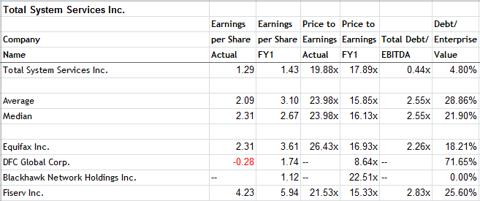 Valuation Metrics of the Firm to Competitors,Source: Factset, Hoovers
Conclusion
TSS is currently trading at 13.57x EV/EBIT and 9.16x EV/EBITDA, with its competitors' averages residing at 15.34x and 11.74x respectively. Only 4.80% of the firm's enterprise value is debt with an extremely low current ratio near 0.13. With such small debt, the main appreciator of an increase of EV is price. An appropriate EV multiple valuation would push the stock price into the high-twenties. Overall, FY1 EPS is projected to grow by 1.43% and have a price target at 17.79x (FactSet Estimates). This suggests a stock value around the mid-twenties. Taking all metrics into consideration, I'd put a long term price target at $28, trading at roughly 15x EV/EBIT and 19.5x earnings.
With the firm's increase in new accounts, additional acquisitions, and rock-solid financial statements, Total System Services will proceed to climb in value.
Disclosure: I am long TSS. I wrote this article myself, and it expresses my own opinions. I am not receiving compensation for it. I have no business relationship with any company whose stock is mentioned in this article.