Tuesday morning, footwear company Wolverine World Wide (NYSE:WWW) reported strong results thanks largely to the company's acquisition of Collective Brands' PLG brands in 2012. Our readers may remember Collective Brands from the inception of our Best Ideas Newsletter - a position that returned 38% in less than one year - and featured several strong brands such as Sperry Top-Sider, Keds and Saucony (dragged down by a weak Payless Shoes). Wolverine now owns those premium brands, which helped revenue increase 88% year-over-year to $588 million, roughly in-line with expectations. Excluding acquisition costs, earnings per share rose 10% year-over-year to $0.46, well above consensus estimates.
With a new fleet of higher-margin brands, Wolverine's gross margin increased 320 basis points year-over-year to 41%. Although gross margins increased substantially, operating expenses jumped 420 basis points year-over-year to 34.7%, dragging the firm's operating margin down 100 basis points to 6.3%. Wolverine's much larger revenue base, however, more-than-compensated for the decline, and the firm now carries debt (so interest payments will weigh on the velocity of profit expansion).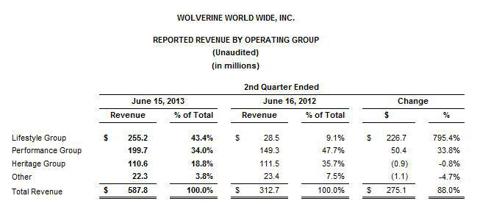 Image Source: WWW Q2 FY2013 Earnings Release
On top of giving Wolverine a larger revenue base, the PLG acquisition helps diversify Wolverine's revenue sources. As we can see from the data above, the firm now has a large presence in Lifestyle footwear that wasn't nearly as robust last year. We also think Sperry Top-Sider is a wonderful brand to anchor the Lifestyle segment over the long term.
Operating free cash flow during the quarter was terrific, coming in at $165.1 million, which is a fantastic 28% of revenue. Although we doubt this will continue, especially considering the firm generated free cash flow equivalent to 5% of revenue in fiscal year 2012, we do believe free cash flow as a percentage of revenue will increase thanks to the higher-margin brands.
Looking ahead, the firm reiterated its full-year revenue guidance of $2.7-$2.775 billion, but Wolverine raised its full-year earnings guidance to $2.60-$2.75 per share from $2.50-$2.65 per share as acquisition integration is going better than planned.
Valuentum's Take
Overall, we were pleased with Wolverine's second quarter, and the bold move to transform the company via acquisition seems to be yielding instant results. We plan to update our valuation to reflect the favorable results, but in any case, we won't be adding shares to the portfolio of our Best Ideas Newsletter at this time.
Disclosure: I have no positions in any stocks mentioned, and no plans to initiate any positions within the next 72 hours. I wrote this article myself, and it expresses my own opinions. I am not receiving compensation for it (other than from Seeking Alpha). I have no business relationship with any company whose stock is mentioned in this article.