The Federal Reserve released data today on U.S. industrial production for June -- here are some highlights:
1. The total output from America's factories, mines, and utilities increased in June by 2.0% compared to a year ago, and by 0.3% from May. Over the last quarter, industrial production has been flat, and output was actually slightly lower in June than in March.
2. Manufacturing output increased by 1.8% year over year through June, and by 0.3% from May.
3. One of the strongest industry sectors for growth over the last year has been U.S. factory production of motor vehicles and parts, which increased by 6.0% on an annual basis through June (data here). At 106.92 in June, the index for motor vehicles and parts established a new all-time monthly production record last month, and was solidly above the pre-recession high in mid-2007 by 2.5% (see blue line in chart below).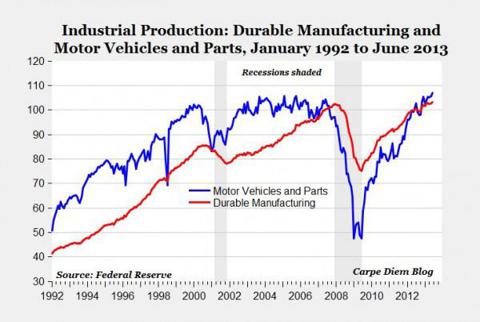 4. Boosted by record motor vehicle production, the durable manufacturing component of industrial production rose to an all-time record high in June, and increased by 3.0% above the level a year ago. And in another important milestone for the economic recovery, durable manufacturing output in March at 103.3 marked the fifth month in a row starting in February that durable manufacturing output exceeded the pre-recession peak of 102.4 in December 2007 (see red line in chart above). Durable manufacturing has now made a complete recovery from the recession, and is back to setting all-time record high production levels.
3. Another strong industrial sector for growth in June was reflected in the oil and gas extraction component of U.S. industrial production, which increased last month by almost 9% from a year ago to the highest level since April 1972, more than 40 years ago (see chart below).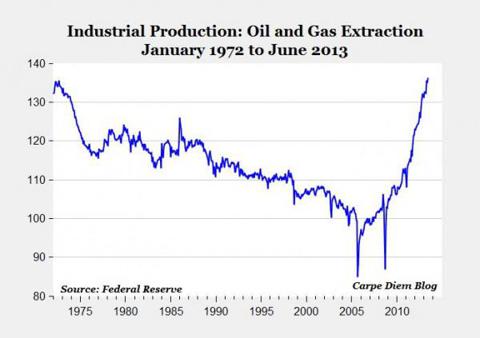 Despite relatively modest growth overall in U.S. industrial production, durable manufacturing, motor vehicles and parts production, and oil and gas extraction activities all increased to new record-setting levels in June, and posted annual growth rates (3%, 6%, and 9%, respectively) that were above the average growth rate of 2%. America's energy and auto sectors continue to be two of the strongest engines of growth for the U.S. economy, and are at the forefront of the economic expansion.
In other economic news, the National Association of Home Builders reported today that its Builder Confidence Index increased by six points in July to 57, which is the highest level of builder confidence since January 2006. The six-point gain in July follows a seven-point gain in June and a three-point gain in May, and marks the highest quarterly gain in builder confidence (16 points) since early 1991, more than 22 years ago. We can add housing and construction to the list of sectors that are at the forefront of economic growth.